Two different sources have stated that the Apple iPad is eating into the sales numbers of notebook computers. First we heard this last month from Asus, when president and CEO Jerry Chen blamed the iPad for their down tick in netbook sales. Now, BestBuy and other sources are claiming that the iPad is cutting into regular notebook sales.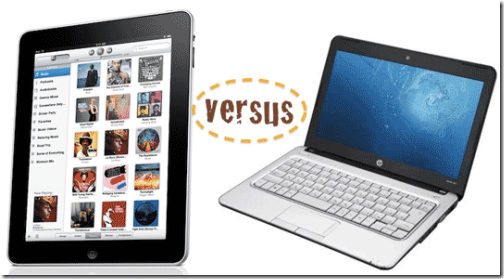 [Asus] saw sales of its netbooks in the second quarter fall short of expectations mainly due to competition from Apple's iPad, and has downward adjusted its target shipments for the third quarter, the traditional peak sales period, to 1.4 million units." (Chen to investors)
This is not hard to believe with such impressive sales numbers, especially in the initial two months. But the chorus of those complaining about the same correlation of iPad sales and notebook declining sales is getting louder. This week we heard from Morgan Stanley, which published numbers showing a sharp decline in sales immediately after the iPad went on sale for pre-orders in March and then actual release in April.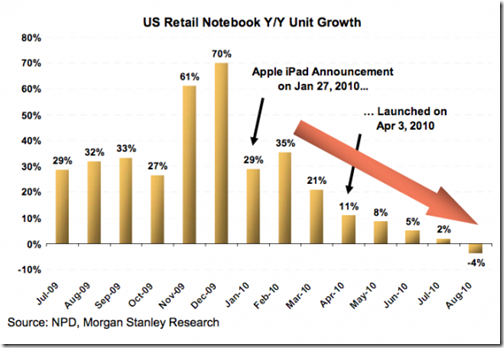 Look at the figures, things seemed to be on the rise over the previous eight months with only two monthly declines that are explained by the drop off after holiday sales (Dec to Jan decline) and the drop off after back-to-school sales (Sep to Oct decline). The moment consumers were able to put down the money for an iPad, the number of notebook sales started to fall.
Best Buy CEO Brian Dunn also backed up this data telling the Wall Street Journal that Best Buy is seeing iPad sales taking as much as 50% away from notebook computer sales!
One outcome of this change is that consumers will soon be able to find an iPad in more Best Buy stores as well as many more iPad accessories. Their reason was people want … to  touch and try the iPad for themselves," said Wendy Fritz, senior vice-president of computing at Best Buy.
Advertisement