Sanho's 750GB HyperDrive iPad Hard Drive is designed to connect to the iPad and transfer pictures and videos to the tablet despite Apple's built-in limitations.
The iPad Camera Connection Kit ($29 from Apple) is designed to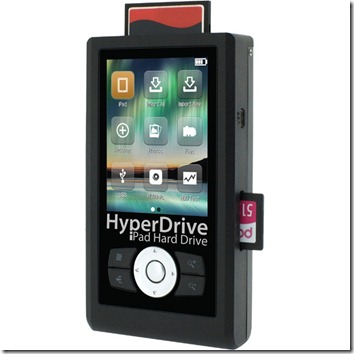 connect to the iPad and allow users to backup their photos and videos from a digital camera or flash drive to the iPad, for viewing on the large screen. There is a catch; the USB to Dock connector in the kit is limited to 32GB drives or smaller.
So Sanho has overcome that limitation with a patent pending technology which makes folders on the drive look like 32GB drives. Each folder on the drive appears to the iPad's operating system as a 32GB drive.
They way it is intended to work, a user can copy the contents from their digital camera's flash card to the HyperDrive for backup. Then the HyperDrive is connected to the iPad via the Camera Connection Kit. The user will select a folder on the HyperDrive to transfer to the iPad and it will then be shown to the iPad as a drive with a capacity of up to 32GB for transfer to the iPad. That way users can view all their pictures and video.
The HyperDRive iPad HardDrive comes in versions with hard drive capacities of 120/160/200/250/320/500/640/750GB and above" according to the company's spec list. The drive runs on a battery that claims to be able to copy up to 250GB of data on a single charge.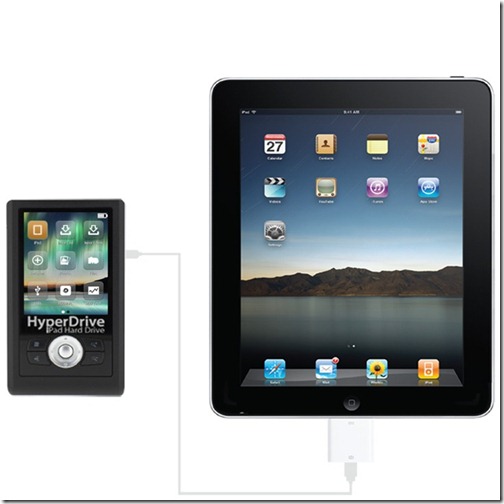 The drive has a 320×240 pixel display so that the owner can view her JPEGs and RAW files from most of the DSLR manufacturers. There are also 2 memory card slots that support compact flash, secure digital, multimedia cards, and the various forms of memory sticks, meaning that just about every kind of digital camera memory card can be read by the drive. This makes it more than just an iPad accessory.
The HyperDrive does not come cheap. Just the casing is $249. For the 750GB it will set you back $599. They seem to only be available from the company's online store.
At such a steep price, once wonders why anyone would bother. Why not just plug the camera directly into the iPad. Of course there are many such hard drive backup solutions for photographers, but the iPad naming seems like a gimmick.
A quick Amazon search found the NEXTO eXtreme 3 160GB backup device that will do the same thing, except for connecting the iPad at a much smaller price. That is a hefty premium for connecting the iPad when one could just go direct from the camera faster than using the HyperDrive.
Advertisement