I am a Twitter user. I love Twitter and even came to Notebooks.com thanks to a Tweet by Xavier Lanier,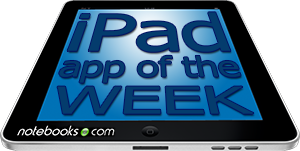 our editor-in-chief. But when the iPad came out and I tried all the Twitter apps I could get my hands on, I never found one I liked. Each of them had something that drove me nuts. Twittelator was my favorite for the iPhone, but it didn't act the same on the iPad.
A little while ago, Warner Crocker recommended Osfoora HD over at Gottabemobile.com. I gave it a go and loved it. It is not only my favorite iPad Twitter App, but it is my preferred mobile Twitter experience across the board. Since loading it on my iPad, I seldom even use the iPhone to Tweet. I only do it if I don't have my iPad or I cannot get on the Internet with it – it is Wi-Fi only. For that reason, I made it my iPad App of the Week. Here is my video review. One apology: Osfoora HD is a dark app and for that reason my Panasonic camcorder occasionally had trouble focusing on the screen.
One of the things I like in this app is the way it helps you catch up if you are away from your Twitter Client for a while. Since most clients only load up to 200 unread Tweets, you often will have a gap between the last Tweet you have read and the list of 200 unread Tweets. The list will show a Tweet that is 14 hours old and the next one is 5 hours old. When Osfoora senses a gap like this, it places an icon with two curved arrows pointing in opposite directions between those two Tweets. Tap it and it will load another group of Tweets. Keep tapping it and you can get all the missing Tweets. If you just want to just ignore them all, it has a mark all read feature. Tap it and you can start fresh.
Other great features include:
Multiple accounts
Tweeting media like pictures, audio files and songs
Location based Tweeting and finding nearby Tweets on a map
Follow Friday generator that randomly selects friends you want to post; it also will save a list to post each Friday
Threaded conversation mode so you can see what a person was replying to
Dark interface
Translates Tweets
Integration with cloud utilities like bit.ly, Instapaper, TwitPic, etc.
Saved drafts and snippets for posting alter on
Many more …
My only complaint or suggested upgrade would be the ability to sync both the iPad and iPhone app. Some clients like TweetDeck do that. There are just too many other things about TweetDeck I don't like.
You can get it for $3.99 in the App store. The iPhone version is $2.99.
Advertisement