Today at Apple's World Wide Developer's Conference, Steve Jobs updated the world on how well the iPad is doing. The numbers show that the iPad is a big success. According to Apple,  an iPad is sold every three seconds for a total of more than two million iPads in the first two months. The iPad is now selling in several countries and will be available in 19 countries by end of the year.
But as most iPhone OS device owners know, the iPad experience is all about the apps. The Apple App store now has more than 8,500 iPad native apps that are designed specifically for the larger screen device. Those apps have been downloaded over 35 Million times so far. That is an average of 17 apps iPad specific apps per device.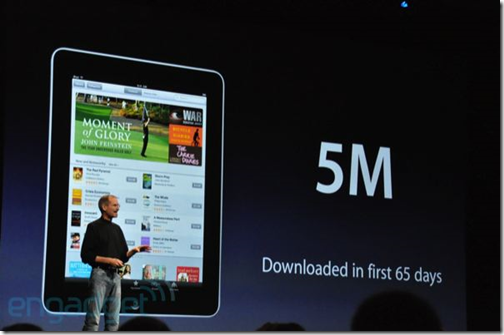 In general, the Apple App store has 225,000 apps that can be used on the iPod Touch, iPhone and iPad. Each week 15,000 apps are submitted in 30 different languages. Over 95 percent of those apps are approved within a week.
With the release of the  iPad, the Apple dove into the eBook business in a big way. The iBook app along with their eBook store accounts for 22% of all eBooks sales. Users downloaded 5 Million eBooks in the first 65 days after the iPad's release.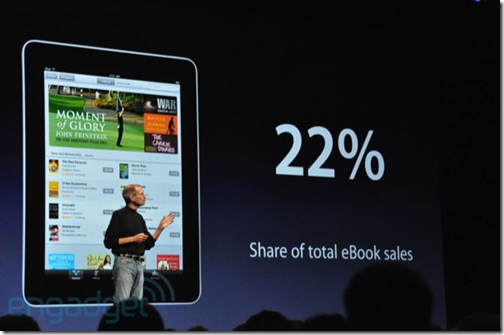 There is a lot more going on at WWDC so check back all day for more coverage of announcements coming from Steve Jobs and the conference.
Photos via Engadget.
Advertisement