The Samsung Galaxy Tab, one of the earliest Android tablet devices, was unboxed by Steve Chippy" Pain at Carrypad.com. He shows off the device as it boots up and actually plays flash video on YouTube from within the browser.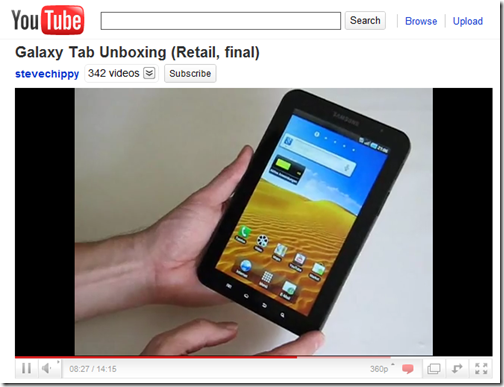 The unboxing video is below:
They also gave a much longer review of the device in two parts as part of their live web show. Those videos are below:
This first one actually includes a fake unboxing. They put it back in the box and then opened it up again as they did above. Then they begin to show off the apps about a third of the way through the video.
Some of the key things Steve says about the Tab includes a good user interface, but not quite as fluid as the iPad. He also said it was very slippery and would need a case to keep it from sliding out of his hands. And the video shows that the display does not rotate as quickly as the iPad. However, it must be noted that the Tab can do some things the iPad cannot, including take pictures and video as well as play Flash video.
The music player is limited, he said. There is no search. But it does have most of the basic features besides that. They pointed out that there are plenty of high quality music players in the market place.
Towards the end of the video it seems like the Tab freezes up while showing off the camera app. However, in the second video he figured out that he accidentally locked the device.
In the second video they demo what they call "really really good" speakers. That is another improvement over the iPad.
Part One
Part Two
Technical Specs
For full tech specs, go on over to the company's website.
7-inch WSVGA (1024×600) display with 169 dip TFT with multi-touch
Android 2.2 FroYo
1.0GHz processor
512MB of memory with 16GB or 32GB of storage plus MicroSD reader
7-hour battery
3MP camera with LED flash
GPS, 3G wireless, a/b/g/n Wi-Fi
Gyroscope
3.5mm audio
Samsung and Android market for apps
380 grams, 190.09×120.45×11.98mm
Advertisement