In their attempt to make the iWork apps Pages, Numbers and Keynote interoperable between OS X, iOS 7 and the new iCloud online version, Apple stripped out dozens of new features. The changes forced people who rely on these apps for mission critical work to return to the iWork '09 app and might send them packing for Microsoft, if Apple doesn't add features back soon.
The Apple website highlighting iWork calls Pages "The last word in word processing." That sounds catchy, but this kind of unmitigated bravado shows that Apple doesn't understand what their office suite customers want or need, doesn't care or plans is willing to frustrate users in the interim while they rebuilt their office solution adding the needed features back over time. If iWork remains Apple's last word in the office suite world, it means very good things for Microsoft or Google.
Apple does this often, most recently with Final Cut Pro. They dumbed down the professional video editing application and angered users who started to leave for Adobe. They've begun adding back features, but not all.
Changes in Pages
The Apple discussion forums include many threads confused and frustrated over the changes Apple made to the word processor. One 63-page thread attempts to list all of the new and removed features. The list of removed features dwarfs the list of new ones. Here's a sampling of a post from user PeterBreis0807
Added

Right to Left text ie Arabic, Farsi & Hebrew. Uncertain about Pashtu
Single model templates. You turn off document text to get rid of the default. Not sure if this then can be mixed and matched with Word Processing templates
Able to share outside iCloud

Missing

Selecting non-contiguous text gone
Outline view appears gone
Customizable Toolbar is gone
Many templates appear gone
Captured pages gone
Reorganize pages by dragging gone
Duplicate pages gone
Subscript/superscript buttons gone
Select all instances of a Style is gone
Retain zoom level of document gone
Facing pages gone
Endnotes gone
Media Inspector can't find iPhoto library on external drive
Update is missing for older installations, Apple is reportedly working on a solution via a redeemable code or update on the ir Support Download site

Altered

Language set under Edit > Spelling and Grammar > Show Spelling and Grammar now document wide
Subscript/superscript text is now a convoluted route Gear > Advanced options > Baseline > Subscript/Superscript
Header appears to be multi-column
New file format (but still .pages?) not backwardly compatible
Page numbering method changed
T.O.C. appears buggy
Template file storage location moved – to where?
Imported older .pages files are not translating properly
Text language is detected automatically now
I miss the Style drawer and customized keyboard shortcuts which let me add styles to text by hitting a few keys instead of a bunch of mouse clicks.
Users can't customize the iWork toolbars. See the old Pages toolbar above and the new one below.

Many students and academics will miss the Endnotes feature.
Keynote Problems
While Apple didn't change Keynote as much as Pages, the presentation tool suffers from stability issues for some. A lengthy thread discusses a specific error that some users faced immediately after updating Keynote from the Mac App Store on Mavericks. Read through the posts as some report a few workarounds that fix the problem. They didn't work for others. A few users reported that Apple asked for crash longs from those who reported crashes. This hints that Apple should release a fix soon for this issue.
Like the Pages app, users began collecting a list of features removed and the thread numbers 9 pages of complaints. Here's a few of the things we noticed that seem significant:
Can't import photos from Aperture
No formatting bar just below toolbar
Some animations missing since they removed the option to enable old transitions in the app's settings
Links to other iWork files fail
A couple Presenter Display options don't show up
"Paste & Match Style" right-click menu item removed
Here's the new presenter display with all options turned on below. Notice that the slide thumbnails now rest along the left instead of the top of the screen.
And here's the old one with all options turned on below. The time signatures in the slide below show current time and elapsed time while the above newer version only shows the current time. Users can choose which to show in the display options.
The new Keynote doesn't stink as badly as the new Pages and we like some of the layout changes, but it took a step back in functionality while adding very little.
Numbers Nuisances
In numbers we see a lot of features gone too. Here's a thread outlining missing tools from Apple's support communities. And here's the list from user Jerrold Green1, who wrote:
Here's my updated list.

Reorganize Panel gone, no multi-level sort.
Categories View gone
References now don't follow sorted rows as they did before.
Table Fills are not supported
German user can't use decimal points from numeric keypad.
Split Cells is gone
Sheet View seems to be the only view available during editing. Page view only available in the Print dialog.
Page Headers and Footers are gone
Edit Toolbar (add, delete, rearrange tool icons) is gone.
Scatter Charts no longer can accept Dates on X axis
Dates can't be used for X-Axis values in Scatter Charts
Custom Formats gone
Ability to set margins gone
Cell border custom line weight is sometimes lost when using Filter Rows
Ability to sort selected rows is gone
Header text is used in cell references and you can't turn this "feature" off
Can't set Page Margins; they default to about 1" all around
Formula Bar is gone, replaced by a field at the bottom of the Numbers window in which the expression is displayed but can not be edited
Graphics Inspector no longer treats a Table as an Object that can be formatted by the Graphics Inspector tools
Comments only display as Tool Tips now, can't be static displays
Can't open Numbers 08 documents
A spreadsheet that doesn't let users split their cells can't really call itself a spreadsheet. The above image comes from the new Numbers while the one below shows old Numbers.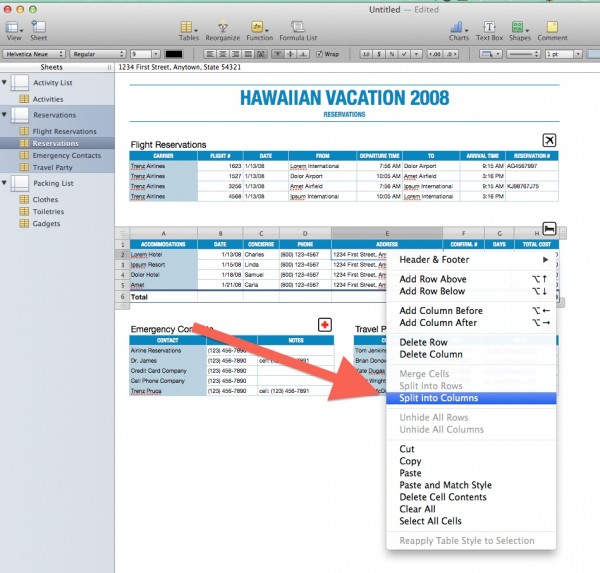 Users can't change the formula of a cell from a formula bar, which used to sit below the top toolbar in old Numbers. The bar is gone in new Numbers. Instead there's only a small box at the bottom that shows the formula. Users must double click the cell to edit formulas, which many Spreadsheet users don't like.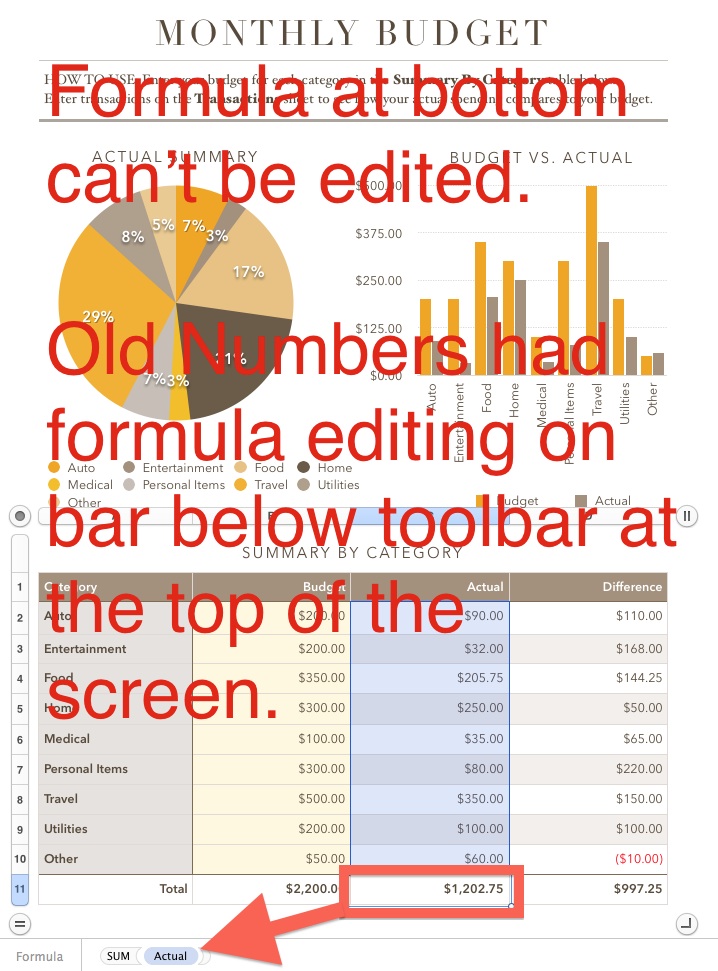 It's astonishing that Apple thinks collaboration ranks higher than important features like the ones we've highlighted. These changes make all versions of the iWork apps work the same way and users can work on a document, spreadsheet or presentation at the same time and see the changes in real-time. Is this as important as the features listed in these Apple support community posts? We don't think so.
We think they patterned the OS X apps after the iOS apps because they were simpler. Adding all these features to the iOS and the new online version might've made the changes too hard.
When updating to the new iWork apps, don't delete the old iWork '09 folder in the Applications folder. You may need the features in the old apps.
My first look review at GottaBeMobile seemed somewhat positive, but I'm not very disappointed with the update. Because of the lists above, we have to call this version of iWork a disaster, at least on OS X.
Advertisement