The Lenovo IdeaPad u260 emerged late last year as one of the few ultraportable laptops that could challenge the MacBook Air in terms of design. The fact that this beautiful looking notebook came with a powerful Intel Core i5 processor, Windows 7 and could be found on sale for less than $900 didn't hurt. Sadly all is not perfect with the u260 which suffers from an odd keyboard layout and less than stellar battery life.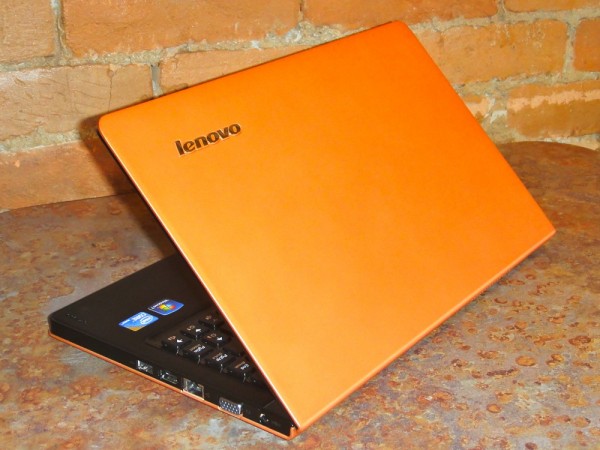 IdeaPad u260 Quick Specs: The Lenovo IdeaPad u260 comes with a 1.33Ghz Intel Core i5 processor, 4GB RAM and a 320GB hard drive. The u260 also packs in a 12.5″ display with 1366 x 768 resolution, Bluetooth, a .3 MP webcam and a multitouch mouse.
Lenovo IdeaPad u260 Video Overview:
Who is this Notebook For?
The IdeaPad u260 is a notebook for users who want a lightweight system that still has a good deal of power. While there is no discrete graphics card to provide a lot of strength for graphically intensive tasks the Core i5 processor has much more power than a typical netbook. The looks of this machine make it a good fit for users who want a machine that also looks really really nice. This machine won't last all day however, which means that while it is OK for students and others near power outlets it isn't as good of a fit for travelers who are away from plugs for extended periods.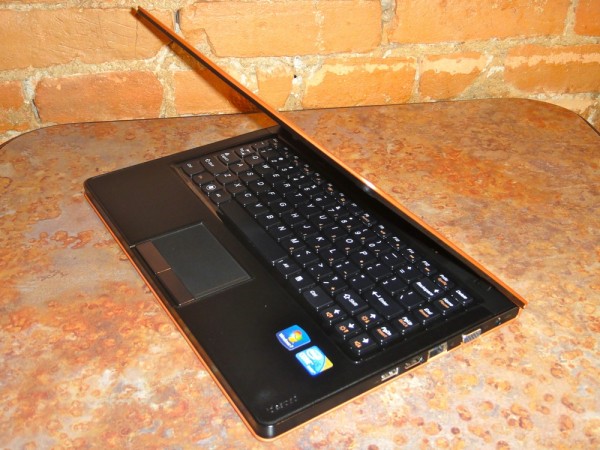 Build and Design: The design is the most striking feature of the IdeaPad u260 which has a book-like look to the edges and side that help it stand out in a sea of sharp corners. Lenovo Obviously paid a good deal of attention to where users touch the laptop and made sure to cover these areas in materials that deliver a rewarding tactile experience. The exterior of the laptop is a stunning orange that offers a soft touch and won't keep your fingerprints on file and the palmrest is coated in a faux leather that also feels marvelous. Even the mousepad is soft to the touch!
As far as durability goes the U260 feels quite rigid and should hold up to the rigors of use as an ultrportable that is always on the go. The screen has a bit of flex, but not enough that we would be concerned for the life of the device unless you regularly sit on the notebook.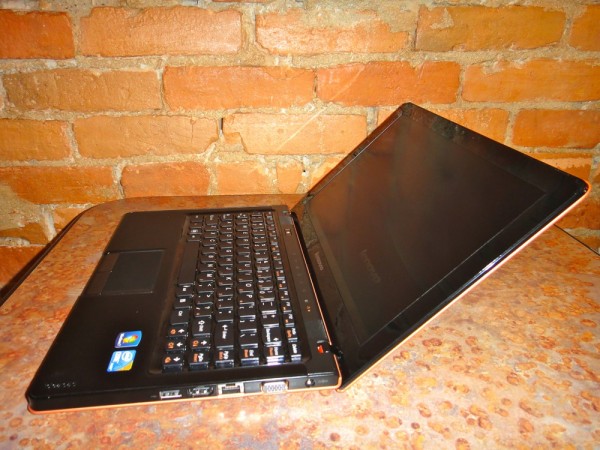 Screen: The IdeaPad u260 has a 12.5″ screen with a 1366 x 768 resolution which is anti-glare so that you can actually use this device outdoors. The screen has a pretty wide range of brightness with levels to suit almost any condition.
Side to side viewing angles are very good, enough that you could share the screen to watch a movie with two others — though we're not sure you'd want to do that with a screen this small. Horizontal viewing angles are OK, though you can quickly see a loss in color at high brightness settings. The display opens far enough that this won't be an issue of most readers.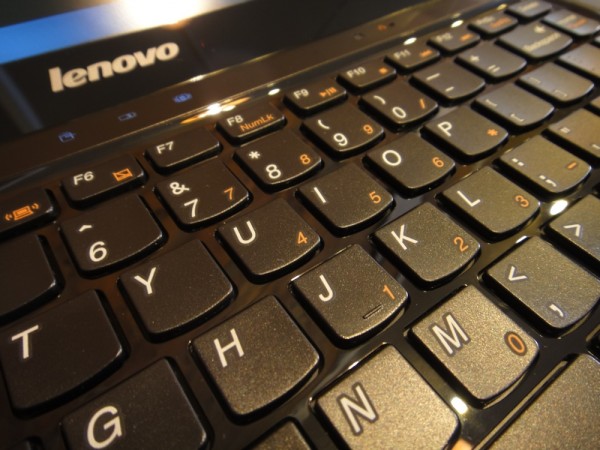 Mouse and Keyboard: The keyboard on the IdeaPad u260 is much better than you'll find on many notebooks with good key spacing and decent feedback, but it suffers from some odd choices in key placement and size. Specifically the right side of the keyboard has a row of keys that offset "Enter" and "Backspace". Additionally the "Right Shift Key" and "Backspace" are smaller than normal which will take a good deal of patience to get used to.
We'd rather see Lenovo take some chances and remove a few lesser used keys or move them to a "Fn" key combo instead of compromising in this manner.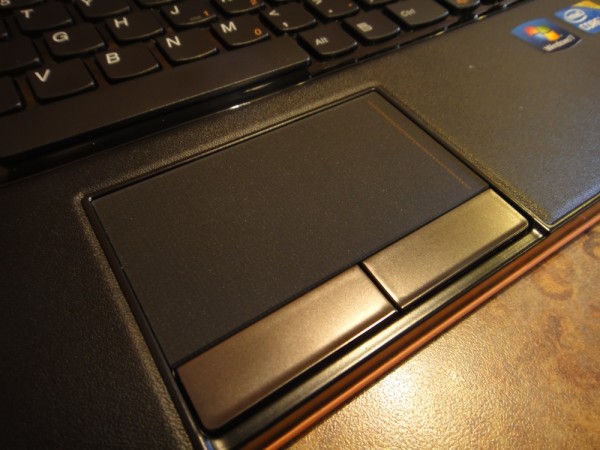 The mousepad, as mentioned, has a nice feel to it and is flanked by two large mouse buttons that offer great feedback and no audible click. The mousepad is multitouch, but like most multitouch mousepads on Windows machines it isn't perfect. Two finger scrolling is either really slow or really fast, which left us using the dedicated scroll zone. In all it is better than the mousepads on many Windows laptops, but still behind the mousing experience of a Macbook.
Processor and Performance: The Intel Core i5 processor in the u260 gives it enough speed and power that most users won't be left wanting more power, and we didn't need any more while we used it to surf the web, edit some documents and watch HD video.
While professional video and photo editors will likely want a machine with a dedicated GPU that can help handle some of the load, we were able to use Windows Live Movie Maker to make a movie without slowing down our browsing sessions at all, even with numerous tabs open and a few other items in the background. There's also enough power for photo editing that most home users will want to do.
This isn't a gaming laptop, so don't expect to play Call of Duty, but you could get away with some casual games if you want to entertain yourself.
Heat and Noise: The IdeaPad U260 is both cool and quiet with an almost silent fan that does a decent job of keeping the laptop cool. the right side does tend to get a little warm, but after a few hours it was just enough to notice, but not enough to cause discomfort. The heat was both on the bottom of the unit and on the palmrest.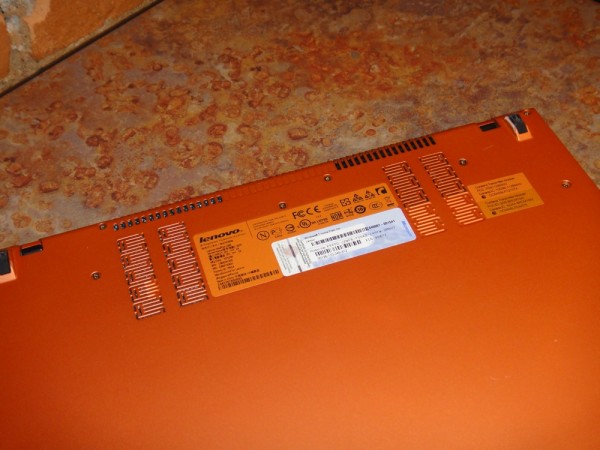 Battery: The battery on the IdeaPad u260 is a disappointment, draining in just 3 and a half hours with the screen set at 40% during a web browsing test. This short battery life is due to a 4-cell battery and is made worse by the fact that the battery is not one that you can replace for longer computing. We really expect to see longer battery life on a system that is built to be portable, otherwise you're lugging around a power adapter, which is at least very small, and looking for outlets all day.
Connectivity: The Lenovo u260 has a good assortment of ports and connections, but the notebook is missing one critical slot — an SD card reader. While there appears to be enough space, and there is an empty Expresscard 34 cover, the u260 is lacking one of the ports that most users actually use on their laptops.

Left (left to right): Kensington, USB 2.0, headphone/mic jack, wireless switch
Right (left to right): USB 2.0, HDMI, Ethernet, VGA, Power
Value: The [amazon_link id="B004IZN3XE" target="_blank" ]IdeaPad u260[/amazon_link] is available from several retailers for $899 with the Core i5 processor which, combined with the design, makes the IdeaPad u260 a good value for users who don't want or need long battery life on their ultraportable laptops. If battery life is an important feature for you, this laptop doesn't offer enough value to get past the poor battery life, especially since the battery cannot be replaced halfway through your day.
Conclusion: The IdeaPad u260 is a beautiful notebook that shows just what PC makers can do when they pay attention to design, but unfortunately on the u260 that focus comes at the price of keyboard compromises and poor battery life. The u260 is a notebook that looks really good and if that's important to you then this is still a notebook to consider — otherwise you may want to wait to see if Lenovo can address some of these issues in a future version of the u260.
The Lenovo IdeaPad U260 comes with the option of an Intel Core i3 or Core i5 processor and is available in Mocha and Clementine colors. The IdeaPad U260 Core i5 models are available from Lenovo for $899 right now and the [amazon_link id="B004IZN3XE" target="_blank" ]u260 can also be found on Amazon[/amazon_link] for the same price.
You can also find the [amazon_link id="B004IZN3O8″ target="_blank" ]Intel Core i3 IdeaPad U260 models for $799 on Amazon[/amazon_link].
Pros:
Great Design
Attractive Colors
Anti-Glare display
Cons:
Poor Battery Life
Odd Keyboard Layout and Size
No SD Card Reader
IdeaPad U260 Gallery:
IdeaPad U260 Detailed Specs:
Processor:
Intel Core i5-470UM Processor ( 1.33GHz 800MHz 3MB )
Operating system:
Genuine Windows 7 Home Premium 64
Graphics:
Intel HD Graphics
Total memory
4 GB PC3-8500 DDR3 SDRAM 1066MHz
Display:
12.5″ HD AntiGlare with integrated camera 1366×768
Pointing device:
Industry Standard Multi-touch 2 button touchpad
Hard Drive:
320GB 5400
Battery:
Li-Polymer
Network Card:
Intel Wireless Wi-Fi Link 1000
Bluetooth:
Bluetooth Version 2.1 + EDR
Warranty:
One year
Advertisement