In the HP Pavilion DV4T, with its 14″ display and Intel Core i3 processor, you get a decent general-use laptop that won't wow your friends or colleagues, but will help you with the basics at work and has just enough chops to entertain you a little on your off time. Starting at around $500, you get a budget all-rounder with just a few compromises.
I used this laptop for about a month and wasn't blown away, yet it quietly impressed me. For someone with basic needs who wants enough horsepower to occasionally tackle more demanding tasks — like making movies, working on family vacation pictures or playing a few causal games at a great price — the DV4T is your computer.
Pros and Cons
| | |
| --- | --- |
| Pros | Cons |
| Decent value for the price | Under-powered graphics card |
| Nicely spaced keyboard | Grimy feeling touchpad that's too small |
| Decent display with good viewing angle | Same old charging brick |
| Good battery life | |
| Better than average sound | |
| Glossy cover and wrist rest don't attract as many fingerprints | |
Video Review
Design
In the day of MacBook Air or Samsung Series 9 styling, a small machine like the DV4T actually seems chunky, but pick it up and you realize you have a decent mobile machine with a screen large enough for older eyes. The dark lid with a subtle diagonally crossed patter would have grabbed attention ten years ago, but today looks more business than consumer. The metallic accents add a little to the design, making it stand out a tad more than the run-of-the-mill budget laptop.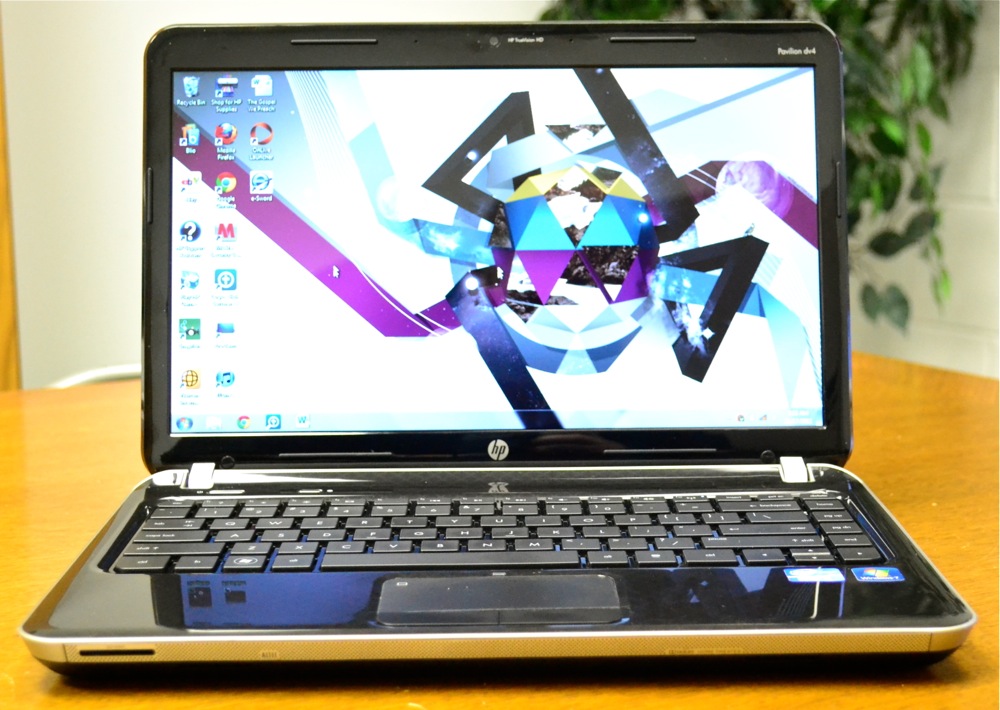 Despite the glossy finish on the lid and wrist rest, the computer doesn't show as many fingerprints as some machines. I have naturally oily skin so almost all laptops attract my fingerprints, but this one doesn't collect them as badly as some.
The DV4T has all the ports you'd expect on a budget all-rounder. Along the right side (below) you get a DVD burner, mic/audio ports, USB 2.0 port and charging connector.

On the left (below) there is a Kensington lock, the air vent , VGA out, Gigabit Ethernet, HDMI and 2 USB 2.0 ports. Closest to the front left corner you have two LEDs for power and disk activity.

The front only sports an SD card reader on the left side (below) with the rest taken up by decent Altec Lansing speakers with Dolby Home Theatre 4 sound.

The back features nothing but the hinges and HP's name.

Keyboard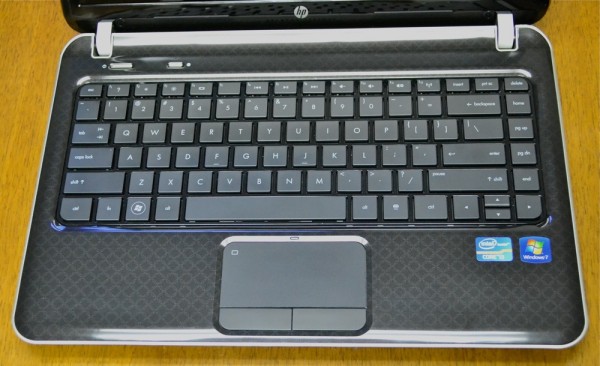 The island or chiclet style keyboard gives the user a full-sized feel and keys are spaced well. After awhile you to get used to the feel and I was banging away on it without much trouble. I'd say the DV4T keyboard is middling at best.
The fn/F-keys along the top row give the user a typical set of features like brightness and volume control among others. You can get a nice upgrade over the baseline configuration with a backlit keyboard, something that makes typing in lower light a dream. At just $25 more I'd jump on it if you're configuring your own system at HP.
Touchpad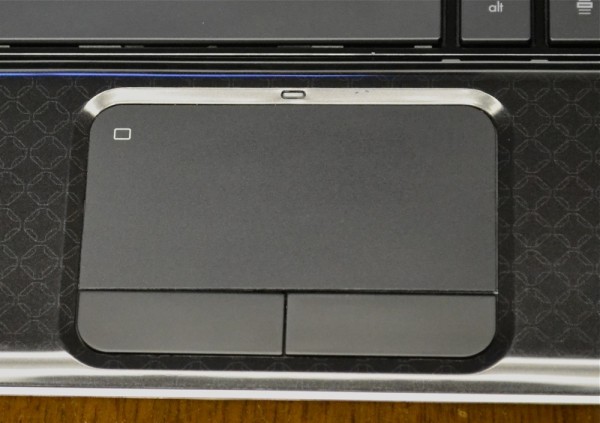 The DV4T has a typical under-sized Synaptics touchpad with split keys for right/left click. Touch was responsive but the two finger scrolling gesture needs to be smoother. Also, why can't PC makers learn from Apple? They have great trackpads on MacBooks.
The HP trackpad had a textured feel that seemed grimy. It's not dust, since I cleaned it. I didn't like the feel.
Display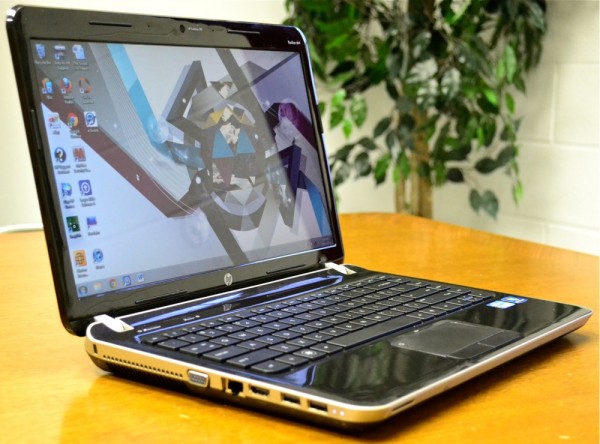 For a budget laptop, the DV4's 14″ inch display with a 1366 x 768 resolution provided a decently bright image. I prefer brighter screens and am willing to sacrifice battery life to get it. Few laptops give me a bright enough screen at a frugal 50%, but this one was plenty bright enough with enough contrast to make it very usable at half brightness. The resulting battery life was a pleasure, giving me over 6 hours most of the time.
The wide viewing angle makes the DV4T  useful for working with a some coworkers flanking you on either side without either missing out.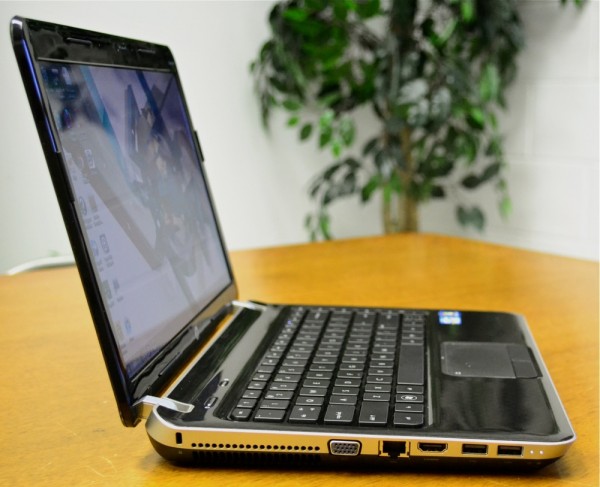 Text and color both looked good. Text was crisp enough for long typing or reading sessions, and colors were faithful. Pictures and videos looked nice.
Sadly, it still has a glossy finish, making it hard to view in direct light. While not as bad as some laptops I've tested, I won't be using it out on the porch at my favorite local coffee shop, something I can do with better screens. However, in a normally lit room it works fine.
Audio
The Altec Lansing speakers with Dolby Sound may not have the richest sound, but they do provide ample volume for use in the average work environment. Headphones or external speakers are better still. Most budget laptops skimp on sound, but not HP. These speakers create a good listening experience compared to other budget laptops. Music, movies, and video all sounded fine.
Performance
The DV4T provides enough power for simple tasks and a little headroom for occasionally performing more demanding tasks. I am the kind of user that HP had in mind when configuring this machine. I seldom play graphics-intensive games and mostly do office work or Internet browsing. While I do like to do some visually creative tasks like photo and video editing, I don't fault this computer for not measuring up in those area at this price point. You don't buy a $500 laptop and get mad because it takes a little longer to encode video.
Still, I do wish the video card was beefier. An Intel HD Graphics 3000 handles most of my tasks but I do have one application that takes most computers to their knees if they don't measure up in hard drive speed, processor speed and graphics power. Soon after launching it the fans started whirring and everything slowed down.
If you have powerful software that needs a lot of high-end specs thrown at it, then look elsewhere. If you type papers, work in an office, or just need a basic computer for around the house but not for serious gaming, then the DV4 has enough power without making you tear your hair out.
Battery Life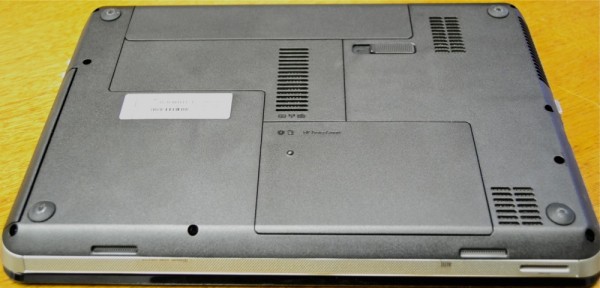 With the basic 6-cell battery HP promised 7.25 hours. In my real-world test I was able to get a little over 6 hours. In our battery drain test using it still hit the 5:45.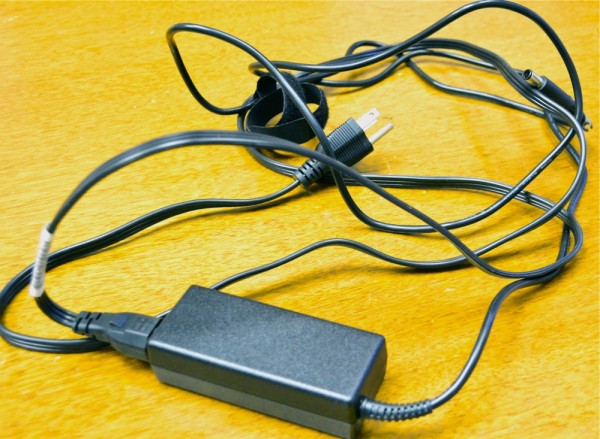 The HP power brick is standard. I'm spoiled by the Apple Magsafe power cords, which are small with great cord management. Why can PC manufacturers get a little imaginative in the little things, like power bricks. With the decent battery life, you may not need to carry it.
Value
For the average Windows 7 user, the HP Pavilion DV4T will serve you well. At $500 it competes with netbooks and low-end laptops. With a machine like this available I'd never get a netbook, since I can have a little more screen real estate at just $100-$150 more. With some customizations at HP's web site, you can overcome a few of the limitations by adding a faster 7200 rpm hard drive or jumping to a 750GB 7200 rpm hard drive without adding too much expense. As I suggested above the backlit keyboard only adds another $25. With the upgrades you still have a decently priced computer with just a little more power and function at around $700. And remember that just after shipping me this review unit HP updated the processor to a faster Core i5.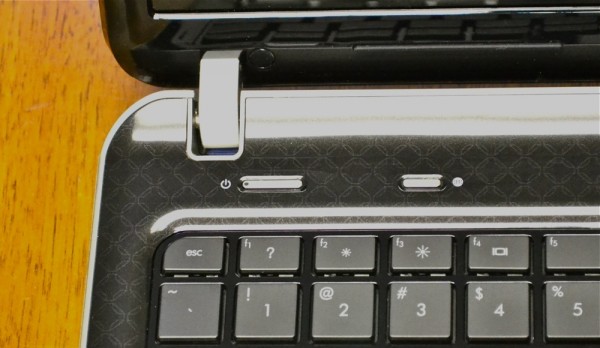 With my oldest son going off to college soon, this would be a great machine for him. I might just get him one to replace his 5-year-old HP DV5T, which died only recently.
Function trumps specs every time, so, I can say that I'd recommend this system to friends and family if they were looking for an inexpensive computer to get some basic work done at home or while on the road. So long as you are not a creative type or a gamer, you should be happy with it.
Head on over to HP to configure yours starting at $479.99 or check out the deals at [amazon_link id="B005LLS66I" target="_blank" container="" container_class="" ]Amazon[/amazon_link].
Pros
Decent value for the price
Nicely spaced keyboard
Decent display with good viewing angle
Good battery life
Better than average sound
Glossy cover and wrist rest don't attract fingerprints
Cons
Under-powered graphics card
Grimy feeling touchpad that's too small
HP DV4 Gallery
Advertisement