The HP ProBook 4520s is a very nice refresh of the 45xx line with a sturdy case, great keyboard, and some interesting extras. It is a mid-level business notebook available at a lower cost than the HP Elitebook line, but with more business features than the HP Pavilion or Compaq lines. While a very good notebook, it has room for improvement when it comes to the battery life and the touchpad.
The HP Probook 4520s we reviewed was running Windows 7 Professional 32-bit, has a 15.6″ display with a 720P HD resolution(1366×768), an Intel Core i5 M430 at 2.27GHz , integrated Intel graphics, 4 GB of RAM and a 320GB 7200RPM hard drive. The Probook 4520 can be configured with many hardware options ranging from an Intel Core i3 processor up to the Core i7 and supports up to 8GB RAM. The hard drive size also ranges from 250 to 500GB and the notebook can be configured with an ATI Mobility Radeon HD 4350 with 512 MB of dedicated video RAM too.
Data Input
For three weeks, I've used only the 4520s for my mobile computing and was quite impressed with the notebook. From the moment I first booted it up and started using it I really liked the keyboard. It has an island or chiclet style black keyboard. There is a full number pad and all the keys are in the right place, as you would expect. In my experience, long writing sessions didn't make me wish I was back at my desktop. I'm not a fan of notebook keyboards with full number pads because they put you off-centered from the screen, but that is a personal preference rather than a weakness.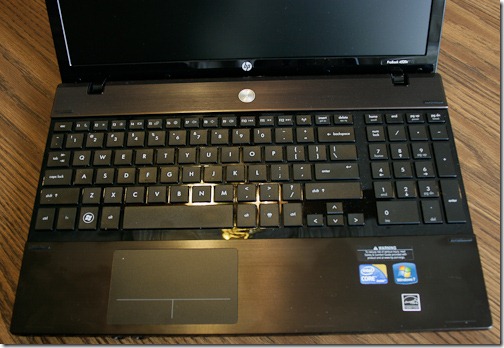 The HP 4520s keyboard is very good
While the 4520s has a great keyboard, the touchpad is spacious but also a little annoying. I like the double tap on/off feature that turns the touchpad on and off with a quick double tap in a user defined region. The default is in the upper left corner but you can change this in the Synaptics settings; a little light shines when the touchpad is off.
Tapping on the touchpad provides a small bounce that can be annoying and the bottom portion of the touchpad, where the buttons are, required too much of a push to register a click. I would rather have separate buttons than this clickable touchpad. The entire touchpad including the buttons is once surface. I solved this by plugging in a notebook mouse, which I also use on my own personal notebook. I would not want to use the touchpad for too long.
Case
The 4520s case is sturdy and attractive without being flashy. It has a dark black brushed aluminum feel with brown trim.  The hinges are tight without being hard to open and close. The wrist rest area does have a little give to it, but it is not a problem.The bezel around the display is glossy and does attract fingerprints, but most people don't grab that area of the case with their oily fingers. The area around the keys has the same material and in some light actually reflects overhead light which can be distracting. But for the most part the case feels like it is solid and will not break easily. The top of the cover doesn't have a button or any way to easily grab the cover to open the notebook, but you can get your finger under it to open it up which took some getting used to.
Multimedia
Business users will be taking the 4520s on the road for writing, number crunching and doing presentation. But they also will want to watch a movie on a plane or in a hotel and viewing demo videos is another important function of a business notebook. The 4520s handles all of those tasks without a problem. One of the first times I used the notebook was during a recent trip I took with members of my church. We took some time out to watch the live stream of our church's worship service over the Internet. I pulled out the 4520s and to watch the stream and the video looked good on the matte screen. I also noticed that the speakers were much louder than most notebook computers. It filled the restaurant we were in with sound. This would make the 4520s a great solution for showing a video in a conference room hooked up to a projector. You would not need external speakers unless the room was auditorium sized.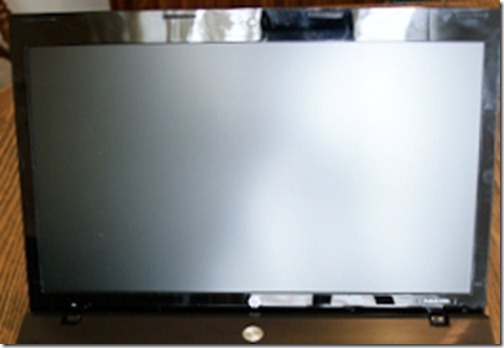 The HP Matte screen makes viewing in very bright settings easy
Later I also watched a Hulu video and enjoyed it. The display is bright and viewable from wide angles. One of the things I really love is that it is a matte screen instead of a glossy screen. Glossy screens look nice in the right lighting, but most mobile users will have some sunlight shining on the the display which can make it hard to use. A matte screen, like the one on the 4520s, does not show fingerprints and is not as reflective making the display much more viewable under bright light than a glossy screen.
Despite only having Intel's integrated graphics solution, the video looked very nice with no lag or tearing. I didn't test it with any games knowing that the machine was not made with that in mind. But if you wanted to you could get the ATI HD4350 option and enjoy some games.
QuickWeb and QuickLook
Boot times are a real issue with most Windows notebook computers. The HP 4520s boots up in about 75-85 seconds but was more like 90-100 seconds before it would respond to user input. Shutdown was a quick 15 seconds. But what if you need to quickly get online to check something out on the web before a meeting or to check the time of an appointment? If you don't have a smartphone, then your notebook computer will be the only way to get at the information you need.
HP has a feature called QuickWeb. You press the F6 button (it has a little globe symbol on it) and it loads a fast booting web browser interface. It only took about 20 seconds from the time I pushed the button to the time it fully loaded the HP home page.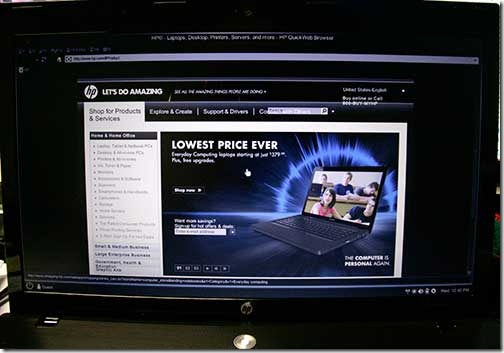 HP's QuickWeb boots to a fully loaded browser in 20 seconds
Similarly there is QuickLook, which is the same thing as QuickWeb but instead it shows you your Microsoft Outlook data so you can check appointment times or tasks you need to complete. It also loads as quickly as QuickWeb. You will have to configure both of these entering your Wi-Fi network password and in Outlook you will have to set it up with your information. But after that first time it is very fast.
I really like these features. Getting online quickly is a real plus in many situations and HP's solution works very well.
HP Protect Security
If you have ever used special biometric security features like finger print readers then you know they make logging onto your computer when booting much easier and actually more secure as no one will be watching you type in your password. The 4520s has a very good webcam that will take a series of pictures of your face and then use that to log you into your user account by simply turning on the camera and looking" at your face.
I tested to make sure that it in fact would only log in with my face by having one of my sons who look a little bit like me sit in front of the notebook while it tried to log on with the camera. It fortunately failed. Unfortunately, as you will see in my video review above, the camera doesn't always work in low light.
Other security tools include the Disk Sanitizer which will destroy your data if you ever sell your notebook or give it away. SpareKey will give you access to your notebook if you forget your password by asking a series of questions. The notebook is also equipped with Drive Encryption which will encrypt your data so that only you can view it without authorization. These are important tools in the enterprise sector where this business notebook will most likely be used.
Battery Life
The HP 4520s promises up to 5 hours of battery life with the 6-cell. To test this, first I used the notebook on battery power just as  I would normally work. I plugged in my wireless Logitech mouse's receiver and dimmed the screen to about 75%. I turned on Wi-Fi but turned Bluetooth off. Sadly I only got about two and half hours. After contacting HP about it they said that is within expected parameters under those conditions. Without the mouse and with a dimmer screen I got just under four hours, long enough for a morning of computing but not good enough for all day. There is an optional 9-cell battery which should offer a couple more hours according to HP.
Conclusion
After using the HP 4520s for a few weeks, I would wholeheartedly recommend this notebook to someone who wanted a computer for basic business tasks and some watching video and even light gaming, video and photo editing. It is powerful enough for all of the things I normally do with a notebook, including document creation/editing, presentations, web surfing, and watching movies.  I also do some basic video and photo editing and it worked well for that too. It is not as portable as smaller notebooks, so you will want to remember that this is not a tool for a real road warrior who needs something lighter with longer battery life. If you put your notebook on a desk and occasionally take it with you, then you will be happy with the 4520s. If you are constantly working on the go, then look for something smaller with a longer battery life.
The model I reviewed starts at $799 making it a very good value. Other configurations are available starting at $719 with a smaller hard drive and slower Core i3 processor or for $879 with a larger hard drive and Core i7 processor. A very basic model starts at $549.
Specifications
HP Pavilion dv6z Detailed Specs:
| | |
| --- | --- |
| Brand | HP |
| Model | ProBook 4250s |
| Operating system | Windows 7 Professional 32 Bit, also available in XP Pro, 7 Home Premium, Basic and Starter, Vista Business and Home Basic, SUSU Linux Enterprise Desktop 11, FreeDOS, Red Flag Linux |
| Processor / Graphics | Intel Core i5 Mobile Processor with Turboboost and Mobile Intel HM57 Chipset/Intel HD Graphics; Also available with Core i3 and i5 as well as ATI Mobility Radeon 4350 with 512 MB Dedicated video RAM |
| Memory | 4 GB DDR3 RAM, up to 8 |
| Hard drive | 320 GB HDD 7200 rpm, Also available with 250 or 500 GB HDD |
| Display / Resolution | 15.6-inch HD 1366×768 High-definition LED-backlit, also available with glossy BrightView display |
| Removable Storage | DVD±RW – Dual Layer 8x; Also available with Blu-ray |
| Wireless Support | Wireless-B+G+N and Bluetooth, Also available with an EVDO wireless broadband and GPS |
| Input Devices | Full-size keyboard with number pad, Multitouch clickpad with Gesture support |
| Power | 6-cell battery for up to 5 hours; optional 9-cell |
| Memory card reader | SD, MMC, Express Card Reader |
| Ports | Headphone/speaker/line-out jack, Microphone-in jack, DC-in jack for AC adapter, Ethernet, modem, 3 USB 2.0, eSATA USB 2.0 combo, VGA, HDMI |
| Audio | High Definition Audio with stereo speakers |
| Weight | 5.5 lbs. |
| Dimensions | 14.64 in x 1.09 in x 9.83 in |
| Webcam | 2 MP Webcam with face detection log in |
| Warranty | 1-Yr Parts and Labor |
Advertisement