HP announced a new, affordable mobile thin client today. The HP 4410t is based off of the recently released ProBook series and is designed with security in mind. Mobile thin clients look just like any other notebook, but lack local storage devices. Instead, they connect to a server to access files and applications.
The HP 4410t has a 14″ widescreen LED display  and weighs in at 4.3 pounds.
Losses of customer databases, social security numbers, healthcare records and credit card information can cost companies millions. Yet, many organizations allow their employees to carry gigabytes of this information wherever they go. Remove the hard drive and you pretty much eliminate the risk of losing valuable data.
As a computer enthusiast, a mobile thin client is the last device in the world I'd want to get on the first day of a new job. But thin clients are exactly what I'd want my health insurance agent or accountant to carry.
Last year, HP introduced mobile thin clients based off its Elitebook line, which is much more expensive than the ProBook line. The new 4410t will start at just $549, making it much more reasonable to outfit employees with thin clients.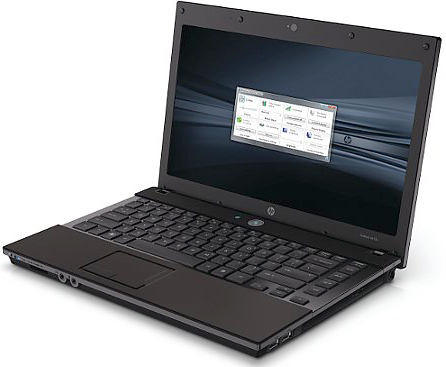 I spoke with Jeff Malm of Noodles Inc. last year about how his organization uses HP's mobile thin clients and he was very satisfied. The company's area managers used to have desktop thin clients,  which meant they spent a lot of time tied to their desks. He considered traditional notebooks, but decided against them because of cost, maintenance and potential security issues. He said he no longer really worries about one of his managers losing a thin client because he knows none of the company's sensitive information will fall into the wrong hands. In terms of maintenance, his team can update the virtual machines without any downtime.
In an HP media release, Malm was quoted as saying: These reliable and secure mobile devices allow our area managers to spend more quality time face to face with our growing team of restaurant managers. The area managers also enjoy the enhanced user experience, while IT benefits from the cost-efficiency savings."
HP bundles a number of remote management tools with its thin clients that allow IT managers to easily mange the thin clients.
To learn more about HP thin clients, visit HP's Thin Client page.
Here's a video with an explanation of the new ProBook series. The ProBook in this video is a 15″ model, which is larger than the HP 4410t.
Advertisement