It's no secret that the Notebooks.com staff is more than a bit enamored to the ScotteVest clothing line. So, when Scott Jordan, founder and CEO, showed off 4 new ScotteVest products including a Carry-On Trenchcoat that can fit your entire wardrobe and a SeV Sports Jacket that can hold your iPad.
The new items, which also include  jackets dubbed the Revolution and the Revolution Plus are part of a new product launch that is expected to happen later this year and no pricing or clear exterior shots of the new items are yet available.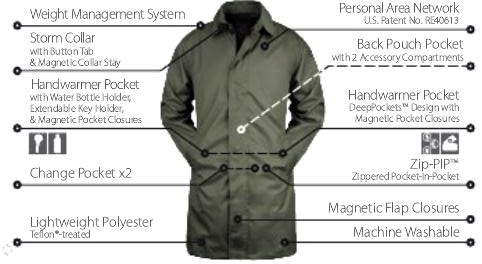 Jordan has long teased ScotteVest fans with a trenchcoat style ScotteVest coat on Twitter and other outlets so the announcement of the Carry-On Coat isn't a surprise, but you may be shocked at everything you can fit in this coat. With 33 pockets, it may be able to live up to the ScotteVest's claim that it "can replace a carry-on." Amongst other things the coat, which is made of a breathable waterproof Teflon, can hold your  iPad, iPhone, passport, TSA liquid bag, 2 changes of clothes and a pair of shoes. Thanks to the built-in weight management system and personal area network you shouldn't feel the weight of these items as you would in a normal jacket and you'll have easy access to your items. Fly a few times without paying for extra luggage and you'll have your Carry On coat paid for in no time.
Also, in a style James Bond would be jealous of is the SeV Sport Coat. This 24 pocket sport coat has enough pockets to carry your iPad, iPhone and travel documents making it easy to glide from plane to the boardroom and back out. Or, infiltrate an evil headquarters, steal the plans to save the world and get the girl without showing any unsightly gadget bulge. No word on pricing, but for someone like me who needs a sports coat very rarely, this could be just the right jacket for the job.
For a look at what you can fit in a ScotteVest jacket or pants, check out the following videos which show how I used the ScotteVest Fleece 5.0 and the Ultimate Cargo Pants to cover CES.
Advertisement