At CES Microsoft head Steve Ballmer announced that the company would release a version of the popular Kinect sensor for Windows machines. Just as promised the units [amazon_link id="B006UIS53K" target="_blank" container="" container_class="" ]began shipping today[/amazon_link]. Currently it costs $249 but an educator version with a $100 discount will apparently come out later.
What can you do with a Kinect for Windows? Not much right now. This release is more for the developer community (the Kinect Windows SDK and runtime is available for download today). It won't be long before we start seeing some native apps that work with the Kinect that don't involve clever hacking.
When Microsoft first introduced the Kinect for Xbox consumers fell in love. Using your body as a controller isn't so great when moving through menus, but when playing games like Dance Central or the various fitness titles it added a new and fabulous layer to gaming.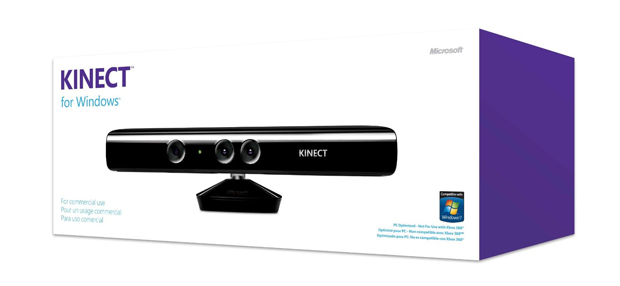 Shortly after its introduction hackers and DIYers began poking at the Kinect to see what it was capable of. Since it connects to the Xbox via a standard USB port it could also connect to a regular computer. Within weeks someone had cracked the device and a slew of fun innovations followed. The Kinect was used as a 3D video camera, a sensor on self-driving robots, and to control a computer with gestures.
At first Microsoft appeared appalled by this turn of events, chiding people for appropriating their accessory in this way. Then within days they changed their official stance, embracing the DIYers. And soon after that they went even further and started working on a release version of the SDK, which allows developers to create apps or hook the Kinect's functions into a program.
While the Kinect for Windows will likely bring the body as game controller thing to PC gaming, I'm more excited for other prospects. Gesture control for Windows isn't even a far-fetched idea. Last week Josh wrote that there are already prototypes of laptops with a Kinect sensor embedded. That's a little ways off from being a commercial product, but not that far.
I can't wait to see what developers create for Kinect on Windows. Windows 8 in particular. Swiping around a computer as if it's a tablet while not even touching the screen? Yes, please. And that's a minor implementation. I expect to be wowed.
(Related: Tobii Demos Gaze Interaction For Windows 8)
Advertisement