AMD's roadmap for 2012 and 2013 reveals more details of the chip maker's plans for competing in the ultra mobile space. The upcoming APU line — advanced processing units that combine a CPU and powerful graphics in one chip — will emphasize low-voltage and increased cores.
In practical terms this means that manufacturers will be able to make very thin laptops that still offer good performance and graphics. If that sounds similar to the idea behind ultrabooks, it is. AMD just can't call them that.
Apparently they're going with the Ultrathin moniker.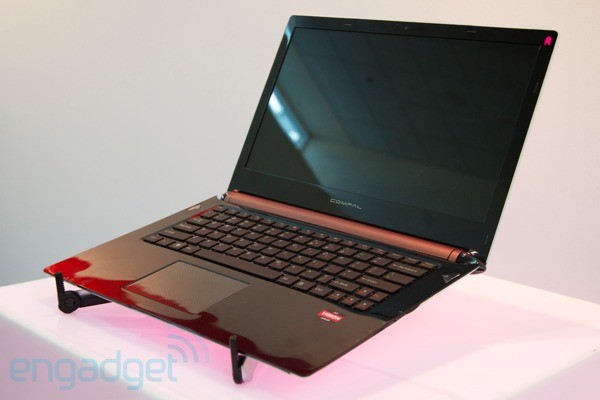 No matter what they're called, the idea is to satisfy the market's current desire for slim and sexy hardware. Thus the reference design by Compal Engadget spotted. We won't see this specific laptop come to market, but manufacturers are meant to draw inspiration from it. I wouldn't mind seeing this sexy red beast on a store shelf, for sure.
These new chips aren't just for ultraportables. There's a high-end model for multimedia and gaming laptops and a mainstream chip destined for thin and light machines.
The best part about the ultrathins isn't just the form factor, but also the price. The goal is to sell them in the $500 – $700 price range, much less than the current crop of ultrabooks. That price will certainly tempt consumers even if AMD can't deliver the same power as Intel and Nvidia. Though the company certainly aims to compete in that area, too.
Advertisement