Trying to find a desk that's right for you and your laptop? We've put together a list of our five favorites to help find the best standing desk for you.
Standing desks might be all the rage, but most of them are big, expensive models designed to support a big monitor or computer – fortunately, they don't have to be.  If you're a laptop user, there are several really nice standing desk models that let you try things out on a small scale with the desks and tables you already own – there's no need to run out and spend a thousand dollars.
Read: Best Standing Desks in 2019
Ergotron WorkFit-P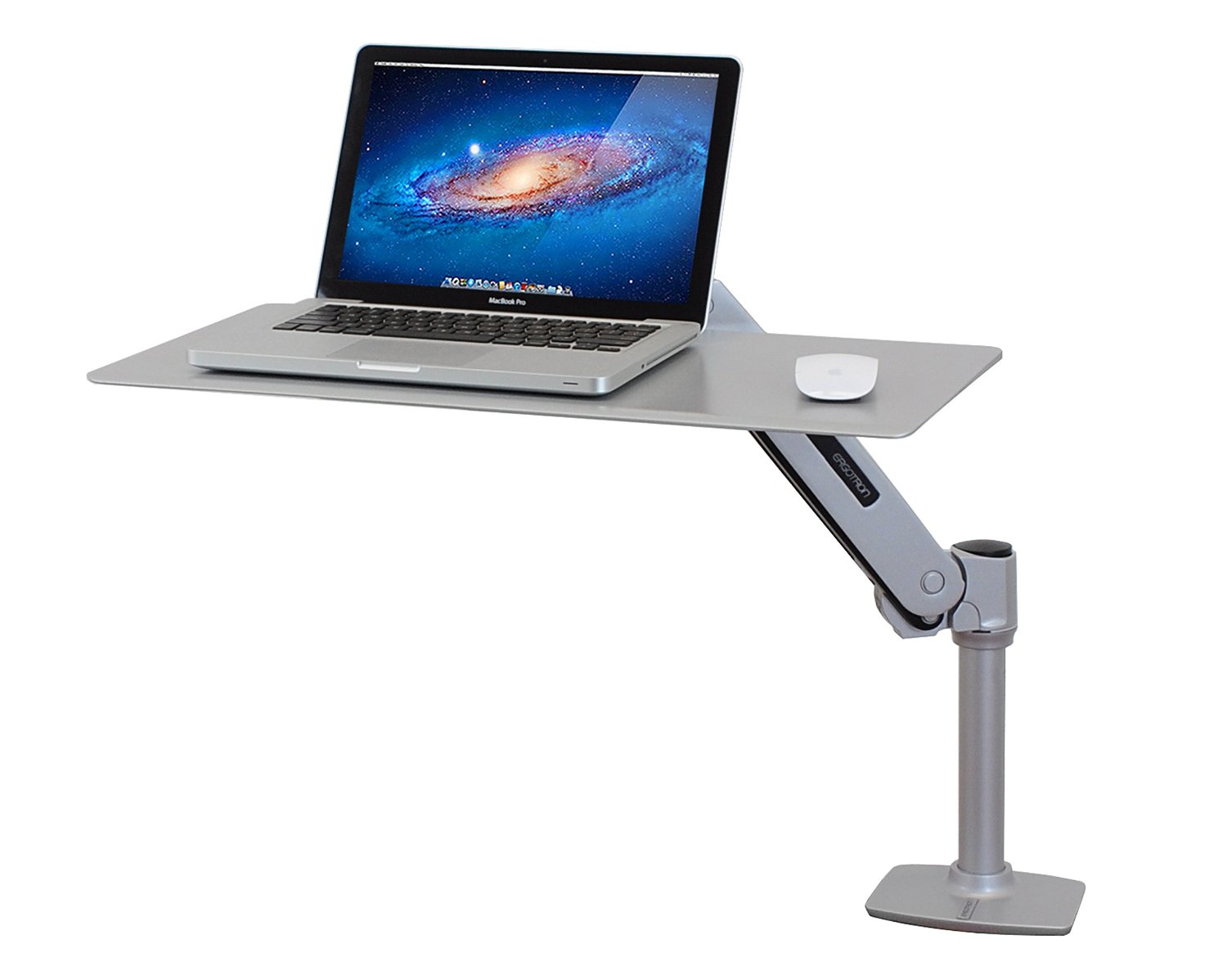 Our pick for the best standing desk for laptops is the Ergotron WorkFit-P. Ergotron is probably most well-known by the average computer user for their extremely high-quality monitor stands – big jobs with solid metal construction and chunky hinges that make mounting and moving monitors a breeze.
The Ergotron WorkFit-P continues the tradition with its minimalist, solid aluminum construction. The worksurface is a full 24 inches wide by 12.5 inches deep, which offers plenty of space for both small and large laptops, as well as a mouse, graphics tablet, or notepad. The WorkFit-P clamps to the back or side of your desk or table, and a series of clips on the underside of the arm keeps cables like your power adapter from falling all over your desk. When you're done standing, the WorkFit-P can come and rest completely on your desk top.
Price: $210 | Buy
---
While the Ergotron WorkFit-P might be our pick for the best standing desk for laptops, it's definitely not the only game in town. Here are some of the other standing desks that are designed to work with your laptop.
---
VARIDESK Pro Plus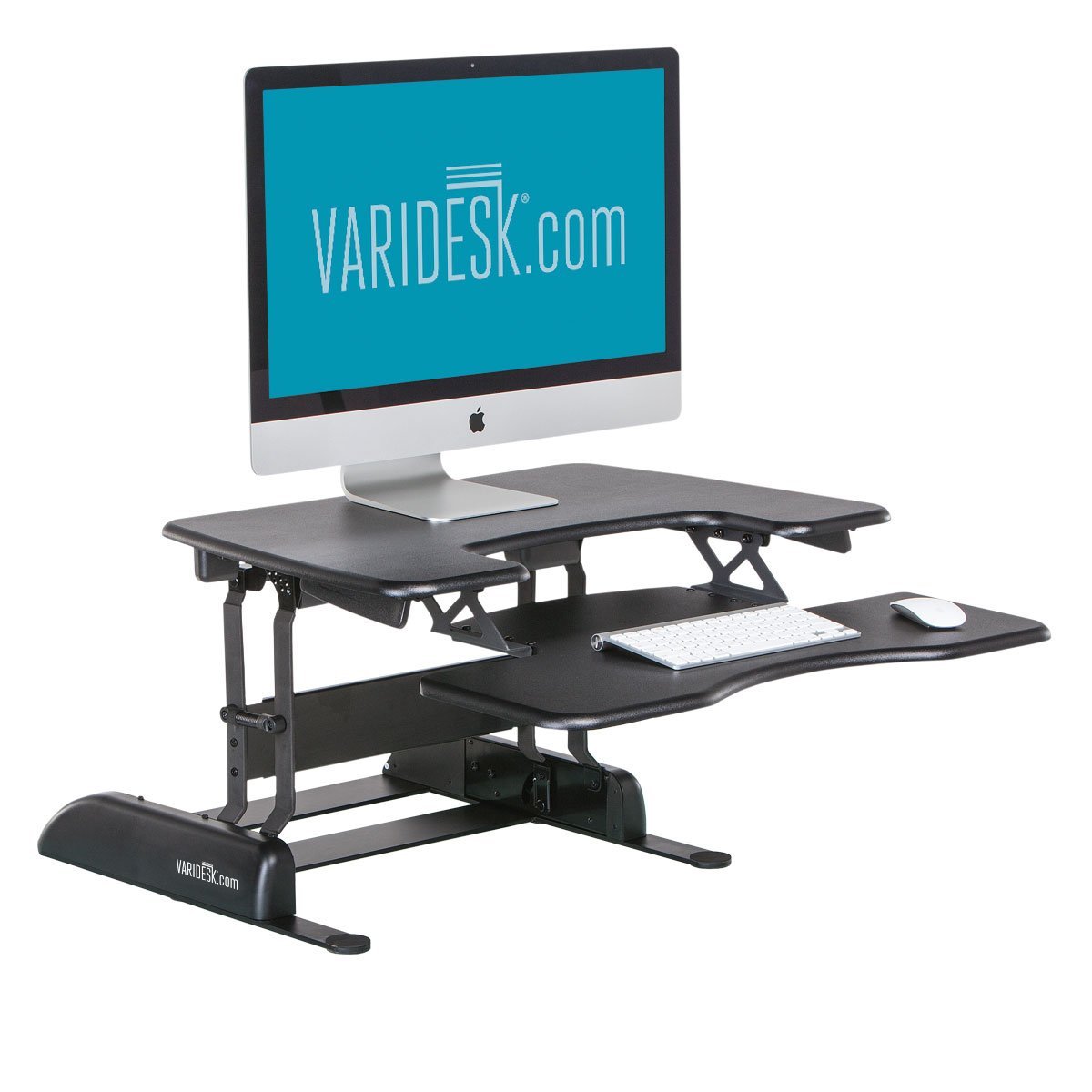 The VARIDESK Pro Plus doesn't require any kind of mounting or clamping to your desk: you take it out, set it up, set it on top of your desk, and you're good to go. Unlike the WorkFit, the VARIDESK Pro has a separate keyboard tray. That means that you can have your laptop at a height that is comfortable for your eyes and neck, and have your keyboard and mouse at a height that's more comfortable for your wrists and arms.
One nice thing about the VARIDESK is that it comes in multiple versions; you can pick whichever one has the best width for you (here, we've picked the VARIDESK Pro Plus 30, which delivers a working surface that is thirty inches wide). It's got a maximum standing height of 17.5 inches, which when combined with your desk, provides sufficient reach for users of almost any height. At its lowest, the keyboard tray touches your desk, so you can use it sitting down without having to move anything around.
Price: $375 | Buy
iCraze Adjustable Vented Laptop Table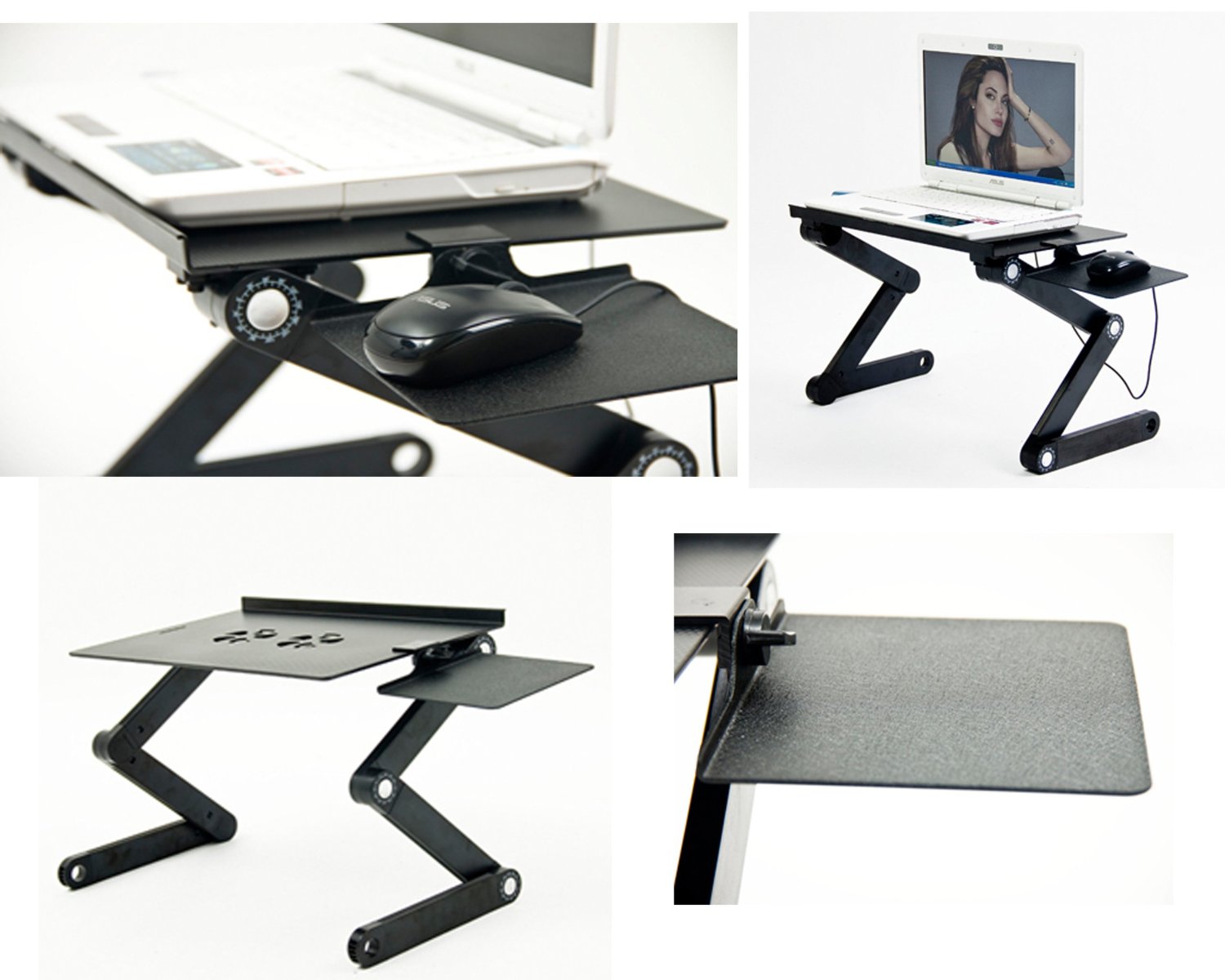 The iCraze is easily the simplest standing desk we've ever seen, but that isn't a bad thing. Another standing desk that offers an all-metal construction, the iCraze also builds in a pair of fans to keep your laptop cool no matter your workflow (like most laptop pads, there's a USB cord to plug into your laptop for powering the fans). There's also a mouse or trackpad shelf a little below the regular worksurface that can be removed or placed on the opposite side.
One of the best things about the iCraze, aside from the price (which is probably why it's currently the top selling desk on Amazon), is that the whole thing only weighs 4.5 pounds. That means that you can move it around from desk to table, or toss it in your bag to try it out at work.
Price: $40 | Buy
X-ELITE PRO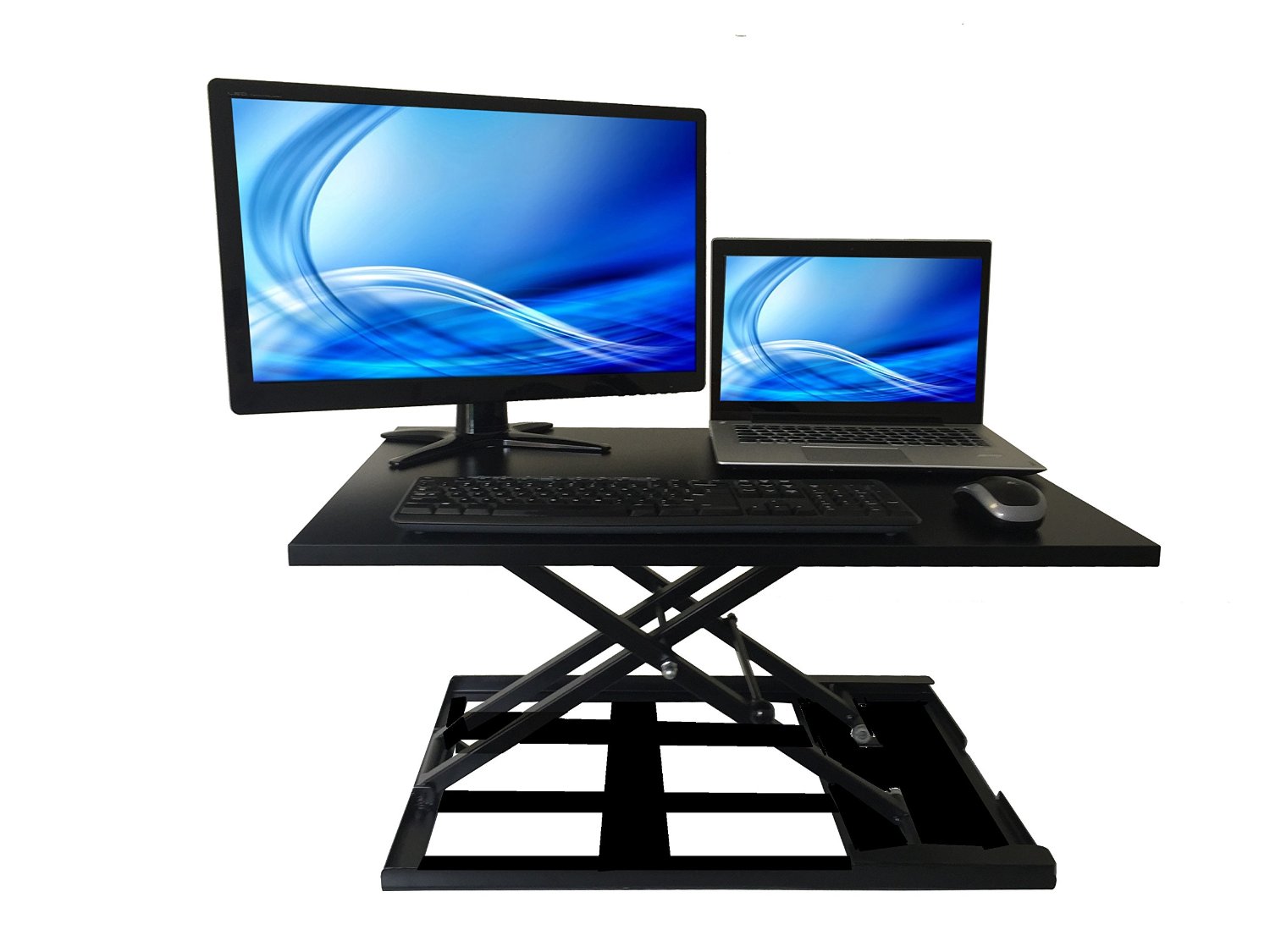 Stand Steady's X-ELITE PRO is pre-built, which means you can slide the collapsed desk out of the box, and that's it – it's ready for use. At 28 inches wide, there's enough room to use your laptop along with a big notepad or an external monitor, plus the standard keyboard and mouse. The desktop is made of particleboard covered with a laminate, while the legs are an all-metal construction.
One downside with the VARIDESK, compared with some of the other alternatives, is that it doesn't sit flush with your desk or table top. As long as you use an external keyboard, however, it's isn't a big deal – a wireless keyboard can slide on and off without too much trouble.
Price: $290 | Buy
https://www.amazon.com/X-ELITE-Height-Adjustable-Stand-Desk/dp/B00Y3P0K1M/
Well Desk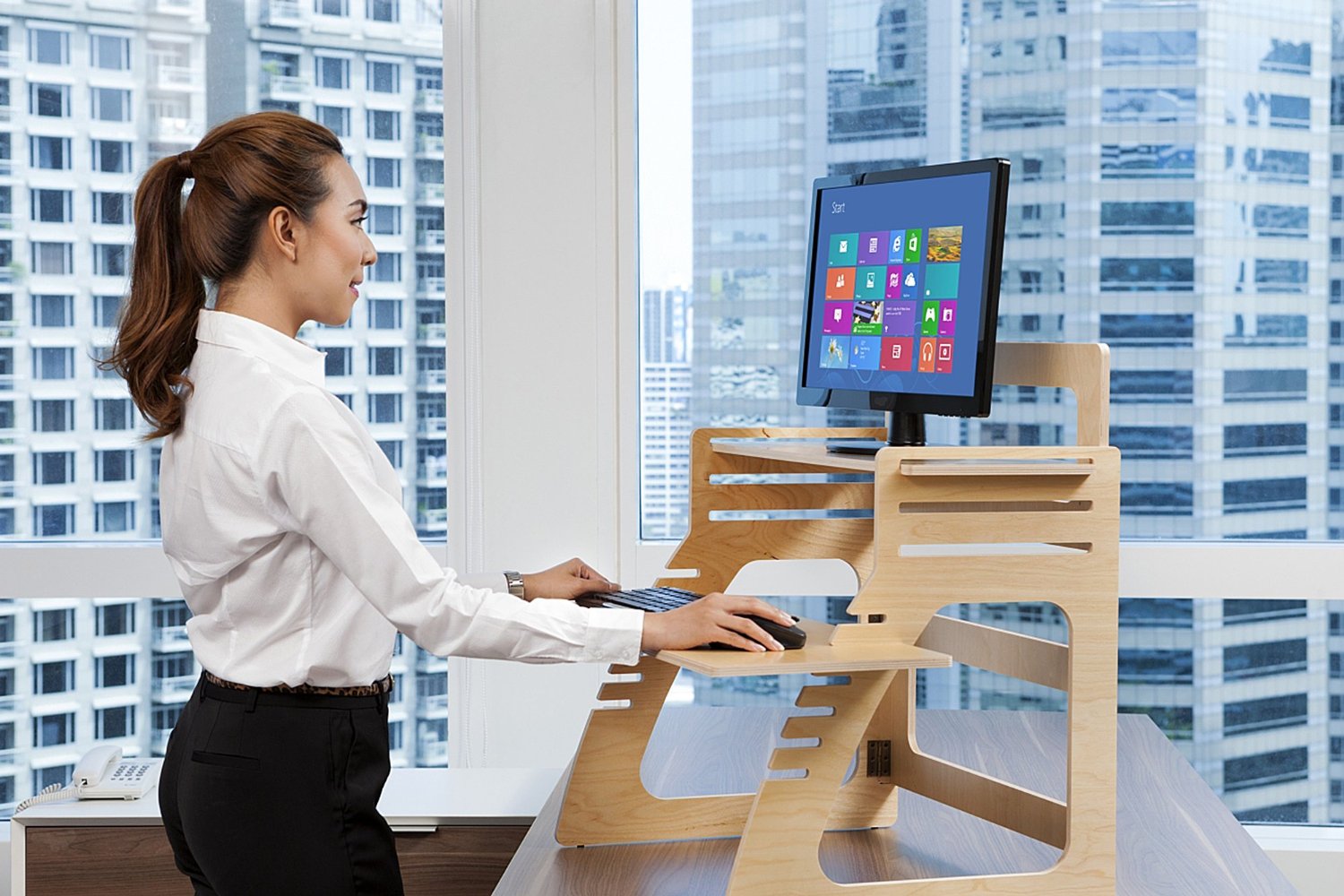 The Well Desk is a unique option among these kits that transform your typical desk into a standing desk; even just among this list, its all-wood construction immediately stands out. If you're the type to prefer wood over plastic and metal, the Well Desk might be what you're looking for.
There are only three pieces that make up the desk, and they all slot into each other without the need for glue or other tools. The main stand has two hinges and easily unfolds, and the desk's 15 pound weight makes it one of the lighter options out there.
Instead of moving up and down like most standing desks, the Well Desk has two moveable shelves. A monitor stand slots into one of three different levels, while the keyboard and mouse tray can be moved into one of five different spots. All told, Well Desk says their model can be comfortably used by anyone from 5′ to 6'3″ in height.
Price: $160 | Buy
Advertisement