Standing desks, stand up desks and sit stand desks are quickly gaining popularity at home and at work. Based on the number of people asking us about standing desks, we would go so far as to say that 2011 will be the Year of the Stand Up Desk.
Read: Best Standing Desks in 2019
We've worked our way through various stand up desks and absolutely love the ability to sit or stand at the same workspace. If you want to get started, we invite you to standup and learn how to get started with a standup desk. We'll share the benefits of standing up while working, the measurements you are aiming for and some of our favorite standing and sit stand desks.
Update: Check out our Ergotron WorkFit S Review with video and accessories.
Benefits of a Standing Desk
Aside from the ability to dance while you work, standing desks offer numerous benefits including higher calorie burn and better ergonomics. Both of these contribute to a healthier you. We'll share some tools and resources with you below, but as someone who has used a standing desk through the Black Friday and holiday season I can share two things.
Working while standing prevents that hunched over posture that hits at the end of a long day, leading to better back health.
The extra calorie burn helps. How else could I drop a few pounds over the holiday season with a constant influx of treats and no time to run.
Working in a correct ergonomic position will help you avoid many of pains which plague computer workers, and a sit stand desk like the Workfit S allows you to change your position throughout the day to avoid muscle fatigue.
Standing up burns a noticeable amount of calories every day, 276 for a 200 pound individual in 6 hours, which leads to a healthier life. Ergotron's Just Stand website has a calculator which will help you figure out how many calories you will burn by standing while you work, which is a nice incentive.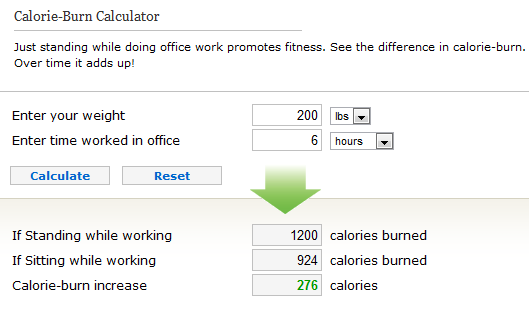 A recent study found that adult males that sat more, were more likely to die from heart disease. If that doesn't motivate you to get out of your seat, we don't know what will.
Standing Desk Measurements
If you want to start using a standup desk, you can easily create your own desk with items you have nearby to see how you like standing while you work. In order to get started, you need to get the right measurements for your standing desk. Because the measurements vary from based on height, we recommend you use the Comfortable Computing Initiative Workspace Planner Tool to find the right measurements for your standing desk.
The Workspace Planner Tool will allow you to see where your monitor, keyboard and elbows should be in a proper ergonomic setup, tailored to your height, the preference to sit or stand and use of bifocals. All you need to do is enter your height and start planning.
How to Make a Quick DIY Standing Desk
If you want to get started with a standing workspace today, you just need some books, milk crates or boxes to build your own temporary standing workspace. We made our fist stand up desk with a collection of old yearbooks and a scrap board as shown below from our DIY standing desk.
Other users have chosen to use milk crates or sturdy boxes to lift thier actual desk off the ground. These solutions are handy for trying out a standup desk, but we found that we soon wanted a more permanent looking desk.
Sit Stand Desks you can Buy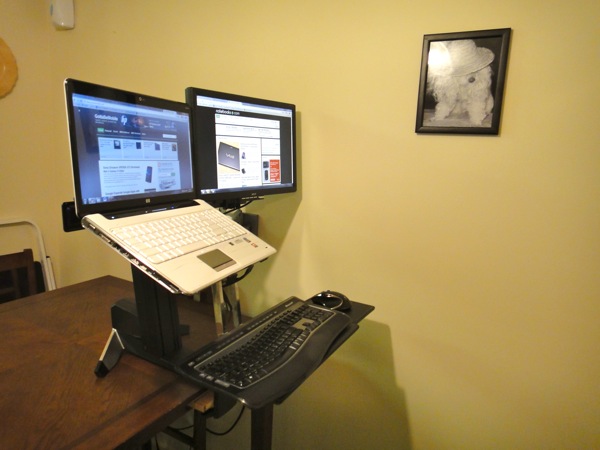 Ergotron Workfit S – $399 – Sit Stand Desk that connects to your existing desk and works with multiple configurations. WorkFit S Review.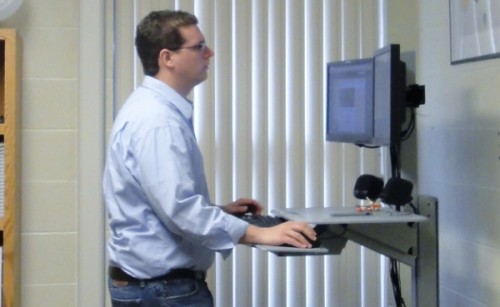 Ergotron Workfit C – $899 – Sit Stand Desk that has wheels to allow travel from room to room. WorkFit C Review.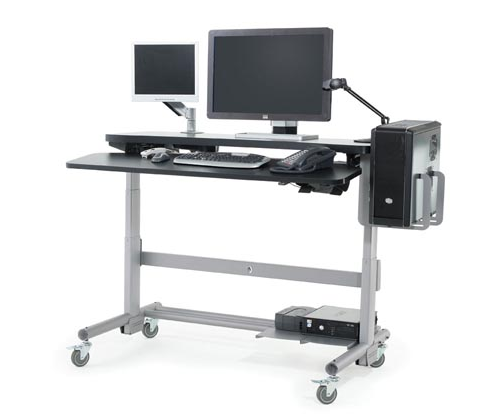 Anthro Elevate – Start at $2,849 – Sit stand desks that raise and lower with the push of a button.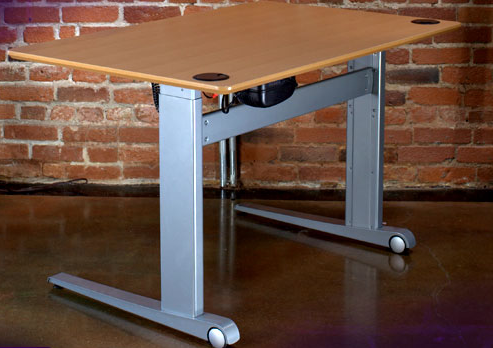 GeekDesk – Starts at $749 – The GeekDesk Mini allows you to control how high your desk is with a built in control and is much more affordable than the Anthro desks.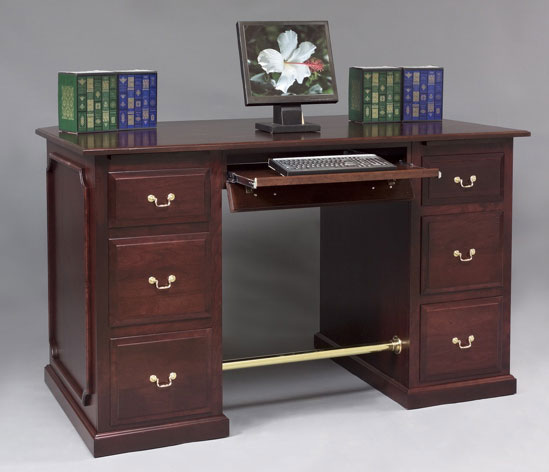 Executive Stand Up Desk – Starts at $1,995 – These standing desks are designed to look at home in an executive office for the CEO that want's to start standing up.
DIY Standing Desks
Ikea Hacked Standup Desk -$260 – If you are willing to stand at the desk all the time, this hacked Ikea desk is the nicest looking standing desk we have seen. It adds tons of storage and lots of workspace which is a huge plus. Head over to IkeaHackers to find out how it was made.
MDF Standing Desk – Flickr user timothybohen has created this amazing looking standing desk from MDF boards. You can see the work in progress over on Flickr.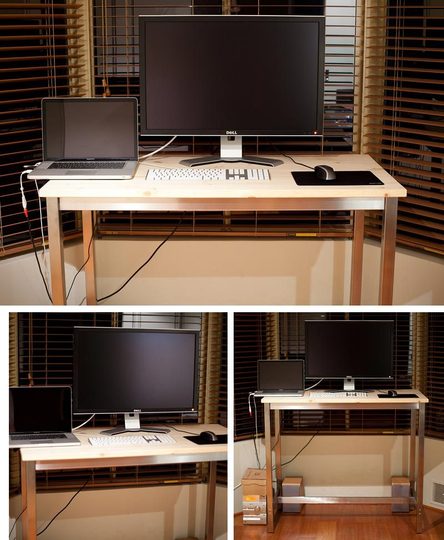 DIY Pine Table Standing Desk – This DIY pine standing desk may leave a notebook hanging off the edge, but it is beautiful and it has a nice footrest to help you change up positions throughout the day.
Standing Desk with Storage – A stand up desk doesn't need to be expensive. It can be as cheap as a shelf bolted to the wall as shown in this great lookign desk we found on Flickr via Unpluggd.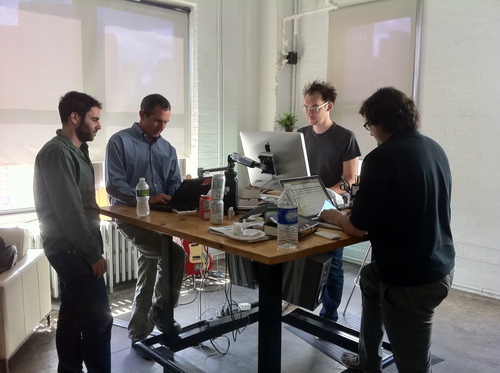 Standing Conference Table – Why limit the standing to your office. This standup conference table has a leg rest and allows you to hold standup meetings. We're sold.
Advertisement