If you own a Sony VAIO F or VAIO C series notebook purchased since January 2010 it may be a part of the 500,000 Sony notebook recall that, due to overheating, could cause your VAIO to overheat so bad that the heat could, "resulting in deformation of the product's keyboard or external casing, and a potential burn hazard to consumers." The good news is that the issue is that according to Sony, the problem is due to a software issue in the BIOS of your computer, which means that you can fix it by downloading and installing a file, rather than sending your notebook in for repairs.
The first step is to find out if your Sony VAIO F or VAIO C series is part of the recall. To do this, look at the frame around your notebook's display. You should see a model number starting with "PCG", "VGN" or "VPC". You can also look on the bottom of your notebook for a sticker that contains the model number, serial number and other information. More details on finding out what Sony VAIO notebook model you have.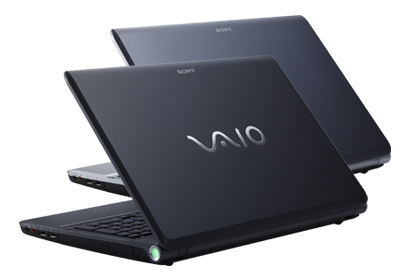 The list of Recalled Sony VAIO F and VAIO C Notebooks includes the following specific model numbers:
VPCF11 Series: VPCF111FD, VPCF111FD/B, VPCF111FX, VPCF111FX/B, VPCF111FX/H, VPCF112FX, VPCF112FX/B, VPCF112FX/H, VPCF113FX, VPCF113FX/B, VPCF113FX/H, VPCF114FX, VPCF114FX/B, VPCF114FX/H, VPCF115FM, VPCF115FM/B, VPCF115FM/BL, VPCF116FX, VPCF116FX/B, VPCF116FX/H, VPCF117FX, VPCF117FX/B, VPCF117FX/B, VPCF117FX/H, VPCF1190X, VPCF119FX, VPCF119GX, VPCF119HX, VPCF11AFX, VPCF11AFX/B, VPCF11BFX, VPCF11BFX/B, VPCF11CGX, VPCF11CGX/B, VPCF11DGX, VPCF11DGX/B, VPCF11EGX, VPCF11EGX/B, VPCF11FGX, VPCF11FGX/B, VPCF11GGX, VPCF11GGX/B, VPCF11HGX, VPCF11HGX/B, VPCF11JFX, VPCF11JFX/B, VPCF11KFX, VPCF11KFX/B, VPCF11KFX/H, VPCF11LFX, VPCF11LFX/B, VPCF11LFX/H, VPCF11MFX, VPCF11MFX/B, VPCF11NFX, VPCF11NFX/B, VPCF11NFX/H, VPCF11PFX, VPCF11PFX/H, VPCF11QFX, VPCF11QFX/B and VPCF11QFX/H
VPCCW2 Series: VPCCW21FX, VPCCW21FX/B, VPCCW21FX/L, VPCCW21FX/P, VPCCW21FX/R, VPCCW21FX/W, VPCCW22FX, VPCCW22FX/B, VPCCW22FX/L, VPCCW22FX/P, VPCCW22FX/R, VPCCW22FX/W, VPCCW23FX, VPCCW23FX/B, VPCCW23FX/L, VPCCW23FX/P, VPCCW23FX/R, VPCCW23FX/W, VPCCW26FX, VPCCW26FX/B, VPCCW26FX/L, VPCCW26FX/P, VPCCW26FX/R, VPCCW26FX/W, VPCCW27FX, VPCCW27FX/B, VPCCW27FX/L, VPCCW27FX/P, VPCCW27FX/R, VPCCW27FX/W, VPCCW29FX, VPCCW29GX, VPCCW2AFX, VPCCW2AFX/B, VPCCW2BFX, VPCCW2BFX/B, VPCCW2CGX, VPCCW2CGX/B, VPCCW2DGX, VPCCW2DGX/B, VPCCW2EGX, VPCCW2EGX/B, VPCCW2FGX, VPCCW2FGX/B, VPCCW2GGX, VPCCW2GGX/B, VPCCW2HGX, VPCCW2HGX/B, VPCCW2JGX, VPCCW2JGX/B, VPCCW2KGX, VPCCW2KGX/B, VPCCW2LFX, VPCCW2LFX/B, VPCCW2LFX/L, VPCCW2LFX/P, VPCCW2LFX/R, VPCCW2LFX/W, VPCCW2MFX, VPCCW2MFX/PU, VPCCW2MFX/WJ, VPCCW2MGX, VPCCW2MGX/B, VPCCW2NFX, VPCCW2NFX/LU, VPCCW2PFX, VPCCW2PFX/L, VPCCW2PFX/R. VPCCW2PFX/W, VPCCW2QGX, VPCCW2QGX/B, VPCCW2RGX, VPCCW2RGX/B, VPCCW2SGX, VPCCW2SGX/B, VPCCW2TGX, VPCCW2TGX/B, VPCCW2UFX, VPCCW2UFX/B, VPCCW2VFX, and VPCCW2VFX/B
If your Sony VAIO is part of the recall you should download the VAIO F or VAIO C software update and install it immediately to prevent damage to your computer.
To update your Sony VAIO BIOS do take the following steps.
Download the file for your Notebook and operating system from the Sony VAIO® F11 and CW2 Series – Firmware Updates page.
Save the file to your desktop.
Make sure your computer is plugged in so that it has enough power to complete the upgrade process.
Double click the downloaded file.
Windows will prompt you to allow it to run with a User Account Control popup – Click Yes.
When prompted with the BIOS Update window choose Next.
Agree to the license agreement.
You should see a VAIO BIOS Update Tool box, make sure it has the version R0170Y7.
Click Update
When you see a box open that is labeled WBFLASH click OK to update your BIOS.
After the BIOS is updated click OK to shut down the computer.
Wait 30 seconds and then turn the computer back on.
You are done.
If you have trouble you can call Sony Technical Support at 1 (866) 496-7669 or ask a question in the comments below.
Advertisement