The ability to stand while you work is a freeing experience, one made affordable and easy with the Ergotron Workfit S stand up desk. This desk is a newer, and in our opinion more refined, version of the Ergotron WorkFit C we reviewed recently. Unlike the Workfit-C, which is a cart, the WorkFit-S is designed to be attached to an existing desk with an easy to operate bolt that should fit most desks.
Read: Best Standing Desks in 2019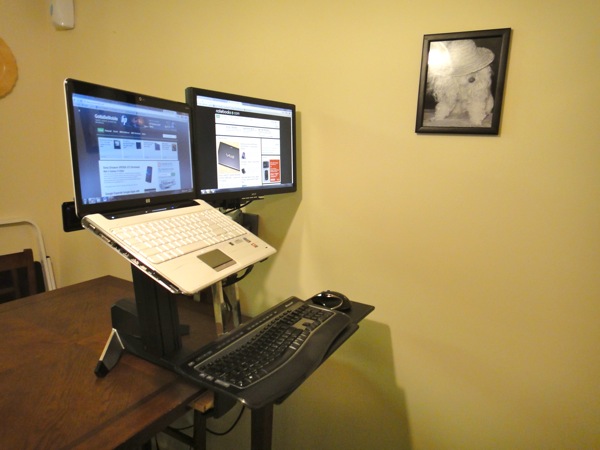 Thee WorkFit-S retails for $399, 60% less than the WorkFit C, and comes in several configurations ranging from single and dual monitors to the laptop and monitor model we have in to review. This version of the WorkFit S has multiple points of adjustment; the overall unit has a range of 23″; 18″ in tandem and the monitor/laptop mount also has a range of 5″ which in our early tests allows for more than enough customization. We found this model to hit our sweet spot for monitor and keyboard placement, comparatively the WorkFit-C was really close but not exactly perfect.
Coming from the WorkFit C to a WorkFit S, you can tell that the WorkFit S is a second generation ergonomic working solution. The installation process took half the time and there appeared to be much more thought put into how this unit looks in an office as well as the actual placement of the keyboard tray. Additionally, the WorkFit-S feels more stable as we have not noticed the side to side wobble that was noticeable on the WorkFit C.
Like the WorkFit C, you can adjust the WorkFit S to stand or sit in a broad range of positions. When you want to close up for the day, you can fold up the keyboard tray and slide your chair in. We like this keyboard tray more than that on the WorkFit C, but we still wish there was an optional larger mousing surface. We also wish that the WorkFit S had a better wire management system, perhaps some velcro strips and a dedicated wire channel, instead fo 4 zip ties.
To learn more about the benefits of standing while you work, visit JustStand.org.
Stay Tuned for our full WorkFit S Review soon.
Advertisement