Standing while you work isn't something most office workers think about, but it's an easy way to work healthier and be more productive.
The Ergotron WorkFit-D is the best sit-stand desk I've used, solving many of my complaints about the half-dozen sit-stand desk configurations I have used over the past few years.
The Ergotron WorkFit-D delivers a sit-stand experience without losing the benefits of a traditional desk, including space to put papers, coffee and accessories while sitting and standing.
Users can adjust the height of the WorkFit-D's 23-inch by 48-inch workspace up to 20-inches in height, from  29-inches tall to 49 inches tall. Users can place monitors or notebooks right on the desk, or opt for a monitor mount that attaches to the center for an ideal experience.
I love sit-stand desks because I don't need separate workspaces to stand and sit while working. Sitting all day can play a factor in various physical ailments and even earlier death than those who stand for a portion of the day. It also plays a role in weight gain and increase in cardiovascular troubles. Check out Sitting is Killing You for more information.
Now that I've scared you into standing up while you read this Ergotron WorkFit-D review, here's what I like about the Ergotron WorkFit-D.
Ergotron WorkFit-D Review Video
Check out a tour of the WorkFit-D, including where the desk shines and what needs improvement.
Where the WorkFit-D is Great
The height adjustments fit me better than the previous models I have tried, and the WorkFit-D is much sturdier than the WorkFit-C, a sit-stand desk that shook some when I was typing heavily. There is still some movement on the WorkFit-D, but not nearly as much.
The WorkFit-D includes a large work area for my tablet, phone and other desk accessories, and the optional keyboard tray is large enough to hold a keyboard and a mouse, in my case the magic trackpad from Apple, but it is large enough for a traditional mouse.
I paired the WorkFit-D with the LX Dual Side-by-Side Arm monitor mount from Ergotron that slots into an opening in the middle of the desk. This mount is available for around $250 on Amazon. This allows me to move the monitors to the perfect positions. If I had it to do over, I would buy the Stacking Arm version.
Where the WorkFit-D Needs Improvement
The Ergotron WorkFit-D is almost perfect, but it could improve in a few areas.
The desk or the keyboard tray needs a few more inches of height. If I stand straight, the keyboard try is a little too low for comfortable use. I often use a wider stance to hit the correct height.
The WorkFit-D needs an optional powerstrip and built in cord, hidden inside the back-end. Combined with a small basket to hold wires, this would make for a nicer looking unit and solve the problem of wires catching when moving the desk up and down.
Why I Love the WorkFit-D
I've used the WorkFit-D for 5 months, as my main desk. This is the best sit-stand desk I have used. I love standing while I work, because it helps me stay focused, avoid afternoon lulls in productivity and the many health benefits mentioned earlier.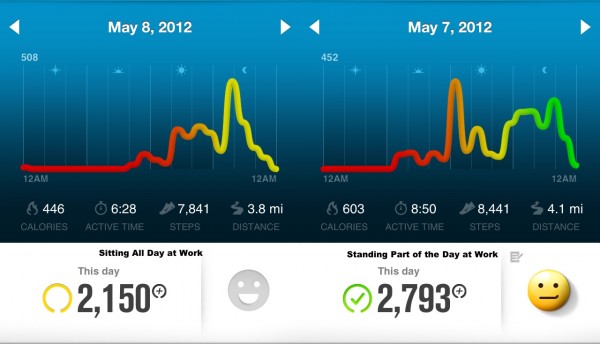 Using the Nike Fuelband to monitor my activity level, I found that I am 20-30% more active when I incorporate standing into my workday, even for just an hour or two of standing. This is thanks to the small movements I take while standing and moving to music.
Is the WorkFit-D Worth It?
The WorkFit D retails for $900 without the keyboard tray or monitor mount, but is for sale at around $800 on Amazon.
This is an expensive sit-stand desk, but it is well worth the price for users that want to sit and stand during the day without the need for separate workstations or loss of a desk to place their office clutter.
Read: Ergotron WorkFit-S Review
If the price is too much, I recommend the WorkFit-S, a sit-stand desk that clamps onto almost any existing desk, converting it into a sit-stand desk for around $360-$380.
Sit-Stand Desk Guide: Measurements, Examples and Benefits
If you are new to sit-stand desks, you can turn any desk into a standing desk with a bit of work. With a few measurements and office scraps, you can turn your desk into a standing desk. It won't look as pretty as the WorkFit-D, but it's a great way to try a standing desk.
Advertisement