We've been using the Ergotron WorkFit S Sit Stand desk for a while now and while we love it there have been times where we wanted to keep a document, or our iPad, within view while we worked on a project. Now, Ergotron has come through with a Tablet /Document Holder for the WorkFit S desk solutions.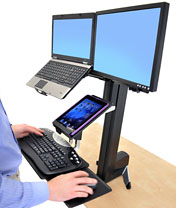 The attachment is an affordable $29 and adds the ability to keep your tablet such as the iPad or documents at hand right below your workspace. This is important since the WorkFit S does move you back away from your desk.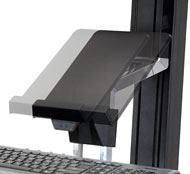 The iPad/Tablet/Document holder works with the single dual and notebook+ Monitor versions of the WorkFit S and can be moved into 3 positions to fit your needs. We are hoping to see this in person soon, but it appears to be aligned left, center and right much like the mouse pad.
The movement is critical because on the WorkFit S Laptop and monitor model we have the laptop would obstruct our view in the center mode. Now all we want to know is when is Ergotron adding a coffee cup holder?
Advertisement