Ergotron has once again delivered a new Sit Stand desk configuration that is sure to entice the growing number of people who are using a standing desk.
Following along in the footsteps of the WorkFit series which we have reviewed, the new WorkFit A allows you to sit or stand at the same desk. This is a big plus for users who are trying to switch to a standing desk, and fr longtime users like myself who have days where you just need to sit down.
Read: Best Standing Desks in 2019
The new WorkFit A Sit – Stand Desk starts at $379, with a single display, and adding a laptop holder or second monitor mount is just $20 more. If you want a workspace while standing you can add one for about $100.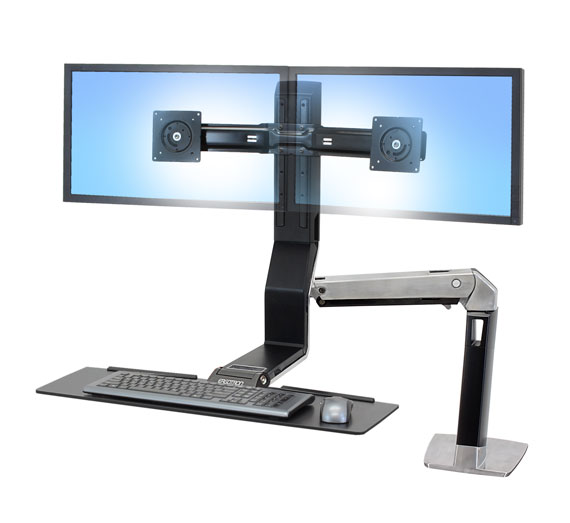 One of the reasons I really like this new system, and why I call it a refined sit stand desk is that this one mounts on the back of your desk. This means you aren't a foot away from your desk at all times, perfect in small cubicles. Also, because the mount sits down right to your desk, you can still use your desk surface for a cup of coffee or to spread out papers while you are sitting.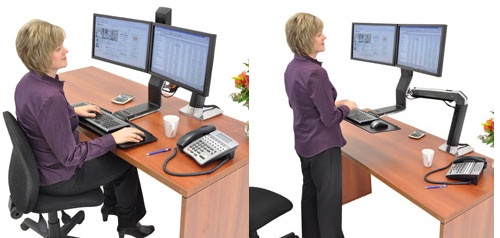 The Ergotron WorkFit A has 20 inches of up and down movement, allowing you to find a height that works great for you, and is a nice touch if you have to share a workstation. The monitor mount has an independent 5 inch adjustment so that you can also find the right height.
For more on standing desks and our reviews of Ergotron Sit Stand Desks check out our previous coverage.
Stay tuned for an Ergotron WorkFit D review later this month.
Advertisement