When a notebook goes missing, whether it's stolen or lost, it can be a real nightmare. Not only is your notebook gone, but so is your data. We are going to show you how to set up notebook and laptop tracking in under 5 minutes so that if your notebook is lost or stolen, you can track it down and get your notebook and your data back.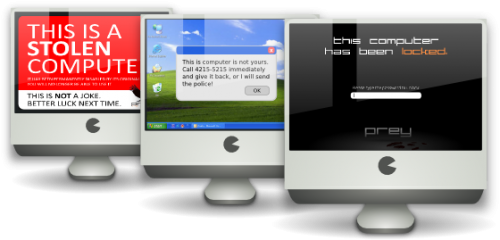 We recently showed you how to back up your computer in 5 minutes and highlighted an individual who had her laptop stolen, while she was typing on it, losing all of her data. You definitely need to back up, but if you want to take things a step further, you can install laptop tracking software too. Again, this is straightforward and easy. If you can install an app on your iPhone, this should be easy to do and takes about 5 minutes.
How to Set Up Notebook Tracking
To start tracking your notebook's location, we will use the free tool called Prey, which earned an Editor's Choice award for the ease of use and ability to track down your notebook, take a picture of the thief and more.
Prey is a free tool will let you track up to 3 devices including MacBooks, Windows Notebooks and Android smartphones. If your device is stolen, Prey can track it down for you and help police recover the notebook or smart phone.
1. Download: Download the Prey Software to your computer. This software works on mac OS X, Windows XP, Windows Vista, Windows 7, Ubuntu, Linux and Android. When you visit PreyProject.com you will see the download appropriate for the notebook you are using.
2. Install: Install the Prey Software tool and register your notebook to the account. After downloading, double click on the tool and follow the on screen prompts.
3. Test: Test out the features by logging in and reporting your notebook missing. There's no point in setting up Prey and not checking it. This is a good time to see if the webcam capture and location information is working. In our tests, the accuracy was astounding using just the nearby WiFi networks.
In most cases everything will check out and you will be ready to track your notebook. Don't forget to change the status off of missing until you need it.
In all, you should be up and running in about 5 minutes and better prepared to deal with a lost or stolen computer. We recommend sharing the information with the police and filing a report if it is stolen rather than chasing down the thief yourself. You can see their location and IP address which will give police the info they need to go further.
Of course, you could also take embarrassing photos of your thief and shame them, similar to the hilarious video captured by a geek who had his notebook stolen.
Advertisement