Losing a laptop can be a painful experience, especially with all of the information we keep on highly portable laptops these days. We just found a cool new app that takes a bit of the pain out of losing a laptop, or having one stolen, by helping you track the notebook down and annoying the thief.
Prey is a service and application which runs on Windows, Mac, Linux and Android and can help you track down and recover a lost or stolen laptop or cell phone through a variety of means. Prey is similar to services likeLojack for Laptops and Phoenix Failsafe except it's completely free for up to three devices. If you need more you can purchase pro accounts which deliver from five to 500 devices for $5 to $399 a month, but many personal users will be able to secure their notebooks and gadgets for free.
Prey installs easily on our test computer and within 5 minutes of marking our test Windows 7 laptop as stolen Pry had delivered an eerily accurate location, list of active connections, IP addresses, nearby WiFi access points and a picture of the thief. Because of the way Prey installs your thief won't know it's running and in order to uninstall it they'll need an account password.
If you lose your laptop or it is stolen Pry can track a lot of information that will help you track it down and get it back. If you're hunting for a lost laptop you'll have everything you need to retrace your steps. If you are unfortunate enough to have your laptop stolen we recommend handing over your information to the police rather than knocking down the door yourself.
What can Prey Track?
Network information (IP addresses etc)
Active Connections
Nearby WiFi Hotspots
Trace Route of full connection to the Internet
Screenshot of current activity
List of modified files
Running Programs
Image from the WebCam
Geographic Location
With all of this information you can get an eerily accurate location for your laptop. How good is it you ask? Good enough that it the Prey was able to track the laptop to my specific apartment building and placed the marker within 25 feet of my actual residence. That's using the free version of Prey and only WiFi geo-location.
Our "thief"
To make sure that the information gets uploaded to the Internet you can configure Prey to auto-connect to unsecured WiFi hotspots when you report your laptop missing.
Screenshot of thief's activity
Prey also provides the hardware configuration of your device, serial number and Unique Identifier (UDID) so that you can prove to police that the notebook is really yours.
Sample of Info collected by Prey
In addition to tracking your lost notebook or Android Phone Prey can perform a series of actions to annoy a thief and or convince him to send return your precious device.
Prey Actions:
Sound an Alarm  – 30 Seconds of blaring police sirens
Alert – Provide a popup alert and change the background to tell the thief he is being watched
Lock the computer – Password protect the computer
Secure – Hides emails, deletes browser cookies and stored passwords
Prey Conclusion: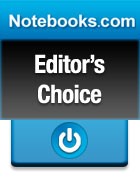 Prey may not run as stealthily as some other applications, but it is hidden enough that your average laptop thief won't find it. The application cannot be uninstalled without your Prey password which means even if the thief finds Prey he won't be able to remove it…that is unless he formats your hard drive. Prey recognizes this shortcoming an recommends that you add a BIOS password and disable booting from an external drive to help prevent it.
While Prey may not be as hidden as the pay competition it is an amazing application and service that offers users an invaluable service at a price that you can't argue with. Because Prey works on numerous systems, is easy to install, works as advertised and is free for up to three devices we have awarded it a Notebooks.com Editor's Choice Award. If you have a notebook or laptop you should install Prey on it today.
Advertisement