As we take out laptops on the road more and more, the threat of laptop and notebook theft becomes an even bigger issue.
While there are a number of programs out there to help you find your stolen computer, not all of them come with a team of notebook ninjas that can coordinate with local law enforcement to handle the potentially spooky and dangerous recovery process.
In honor of Halloween, Absolute shared the following scary notebook recovery stories with us. These recoveries are made possible with LoJack for Laptops , which starts at $40 for the standard edition. For a limited time, you can get a year of Premium LoJack for Laptops recovery for $30 on Groupon.
LoJack for Laptops can track down your stolen laptop, and the Absolute Theft Recovery team can coordinate with the police to recover your notebook, keeping you clear of scary situations.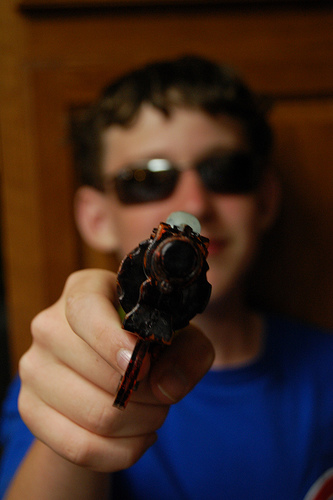 Held At Gunpoint, An Absolute Software Customer Gets Revenge & Her Laptop Back
"I was robbed at gunpoint during my freshman year in college. After having a gun pointed at me and being threatened multiple times, my laptop bag was taken which had my laptop, wallet, keys, etc. Luckily I had LoJack for Laptops on my laptop. After two months of waiting patiently, I got a call from the detectives saying that my laptop had finally been turned on and that LoJack was tracking it. Not only did I get my laptop back, but the man who robbed me is now in jail, no longer with the ability to threaten anyone with a gun. I also believe the police recovered other laptops which he had stolen, and these recoveries were all because I had LoJack. The only negative thing was that everything was erased from my laptop when I got it back so I lost all my pictures, documents, etc. But I was impressed that although he cleared the hard drive, LoJack was not erased. LoJack for Laptops is definitely a must have. :]" – Brooke, Southern California
Routine Questioning Leads to Armed Standoff
In Tucson, Arizona, Absolute's Theft Recovery Team identified a strong suspect and provided evidence to local police. When officers confronted the thief, what should have been routine questioning quickly escalated into a tense, armed standoff before the customer's laptop was safely recovered. The lead investigator on the scene said, "This one really got my heart pumping," proving that the incident could've easily become deadly for an ordinary civilian.
Recovery Uncovers Identity Theft and Drug Ring
While investigating a case in Ventura, California, Absolute's Theft Recovery Team informed police that a potential suspect changed locations repeatedly. Using LoJack for Laptops' patented technology and tools, the Team was able to assist the Ventura County Sheriff's Department with what they needed to trace the suspect to a seedy motel, and then on to a fancy hotel, where police were able to successfully recover the laptop in question. Not only did the stolen laptop contain evidence of identity theft, the suspect was also in possession of a large cache of drugs and was taken into custody immediately.
Two Arrests for the Price of One
In Metairie, Louisiana, a high school student's laptop was stolen in a vehicle break-in. Because the computer was protected by LoJack for Laptops, Absolute's Theft Recovery Team was able to quickly gather the evidence needed to enable police to execute a search warrant. When officers arrived on the premises, the suspect barricaded himself inside, requiring police to make a forced entry. Once inside, police recovered the laptop and made a two-for-one arrest. The suspect was taken into custody along with his roommate, who had multiple outstanding warrants.
Residential Break-in Leads Police to a Stockpile of Stolen Weapons
Following a residential burglary in which a suspect spent three days loading property out of an ex-army officer's home, including a laptop and an arsenal of more than 50 guns, Absolute's Theft Recovery team used its forensic techniques to provide police with the names and addresses of two possible suspects. Upon further investigation, authorities determined that one of the suspects was in fact a secondary victim, whose identity was stolen and was being used by the other suspect to gain assets online. Because of the information that the Theft Recover Team provided to law enforcement, police were able to execute a warrant on the top suspect in question. Not only were police able to recover the customer's computer, they were also able to recover additional computers (one belonging to the secondary male victim), as well as a stockpile of weapons.
It is important to remember that there are free laptop tracking solutions, like Find My Mac and Prey, but these solutions don't include recovery support that works directly with police.
Read: How to Protect Your Notebook From Loss and Theft
If you don't use a solution that works with police, please be sure to contact them on your own before you attempt to recover a lost or stolen laptop — you never know what's going to be waiting on the other side of the door.
Image via Libelul on Flickr
Advertisement