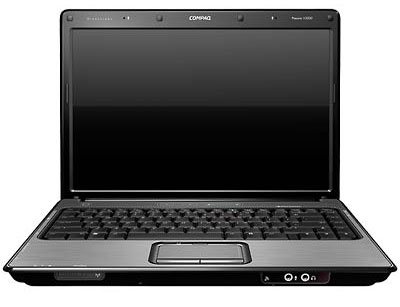 Weâ€â"¢ve found an awesome deal for bargain hunters from HP.com. The Compaq Presario V3000 normally starts at $699, but after a$180 discount, $100 rebate and free memory upgrade, itâ€â"¢s only $399. If you're a student or teacher, you get an even better deal by first registering for HP's Academic Purchase Program. The program knocks the price down another $40.
Again, donâ€â"¢t expect a powerhouse for under $400, but you do get a 1.8 Ghz AMD Sempron processor, 512 MB of memory (after free upgrade), a 14.1-inch widescreen display, and DVD/CD-RW drive and WiFi. For all of you who missed out on the Wal-Mart deal (Compaq Presario v5305wm for $398), this oneâ€â"¢s for you. Similar specs, but the Compaq v3000 has a slightly smaller screen and is less bulky. The V3000 is also a current model, while the v5000 is being phased out.
The Presario V3000 is one of the cheapest notebooks you can buy online as of now. No need to wait in line or fight the crowds on Black Friday. Just head over to the Compaq notebooks store (link below) and select âہCustomize.â€ÂÃƒâ€šÃ' Leave all the specs alone, except for memory. Check the 512MB free upgrade option and youâ€â"¢re all set. If you're a student or teacher, make sure to sign up for the Academic Purchase Program first.
One advantage with this deal over the in-store holiday specials is Compaq will let you up the specs on your V3000 for only a few bucks more. $50 will bump your new notebook's memory up to 1GB or your hard drive to 80 GB. For $40 you can move up to a DVD burner, while $25 will get you a brighter screen.
Update: HP is currently throwing in an all-in-one printer/scanner/copier, making the deal even better.
Product Page: HP Notebooks
Advertisement