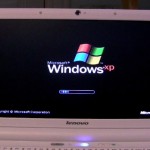 I've been using the Lenovo S10 quite a bit lately and really enjoy using the little netbook. One of my friends asked me how fast he could get online with it so I filmed this quick video.
The S10 I'm using has a 160GB 5,400 RPM drive and runs Windows XP. It took just 39 seconds to go from powered off to the desktop. It took another 21 seconds to launch Internet Explorer and load the Windows Live home page. The default Lenovo-branded Windows Live home page is relatively heavy and if you set your home page to something light like Google's home page you could shave another 5-7 seconds off this exercise.
This isn't the fastest boot time in the world by any means, but it's more than acceptable considering the S10's $399 starting price. If you're in a real hurry to get online you should just put your S10 to sleep instead of shutting it down.
Advertisement