Dell announced some new Dell Inspiron 5000 Series laptops for students and families. The laptops will offer touch displays, backlit keyboards and will weigh less and take up less space than earlier models in this series. They also come with some free cloud-based storage from DropBox.
The Dell Inspiron 14, 15 and 17 5000 series laptops all come with either 1366×768 or 1600×900 resolution touch displays. The higher resolution options will only ship on the two larger Inspiron 15 5000 and 17 5000 models. The computers will sport a brushed aluminum lid, giving them a high-end feel at a mid-level price. The computers use facial recognition for extra security through the 1MP webcam built into the bezel above the screen.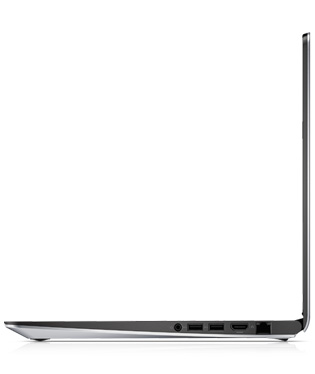 Dell designed these as general purpose all-rounder laptops, meaning they're great for simple tasks like surfing the web, writing papers for school, getting some work done at home or on the go, viewing media both online or locally, and playing some casual games. The models with the optional discrete graphics cards. higher end Intel Core i7 processors and 8GB of memory could also handle some mainstream gaming. Hardcore gamers will want more power than these machines offer. However, most consumers will find something useful in the 5000 series from Dell.
Most of these Inspirons will come with regular spinning hard drives ranging from 500GB on up to 1TB, depending on the model. Dell partnered with DropBox, the cloud storage and syncing service, to offer a free account with 20GB of storage. DropBox normally gives away 2GB and lets users earn some extra storage by recommending the service to others. However, they never give away 20GB. There cheapest plan starts at $10/month for 100GB of storage. So buyers get a nice little extra.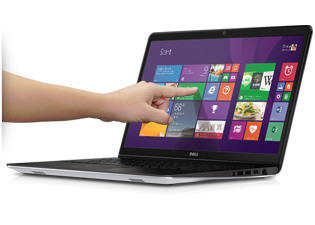 Dell put Intel Core i5 and i7 processors in these laptops and offer base configurations of 4GB or 6GB of DDR3L memory. A buyer can opt for more by configuring their choice at the time of purchase.
These models will come with Intel HD Graphics 4400 integrated into the processor chipset. That means that the system shares the video processing with the computer's processor and the video memory with the computer's memory. This typically means performance takes a hit when someone wants to play high-end games and use software that runs graphics intensive features.
Buyers can configure the 15 and 17 inch models with full 1080p displays starting at $1040.99, while lower res 1366×768 models start at $449 for the 17-inch model, $649 for the 15-inch version and $749 for the 14-inch Dell Inspiron 14 5000 series laptops. The laptops are available for order now at Dell's website and will ship towards the middle of May. They'll show up in retail stores soon.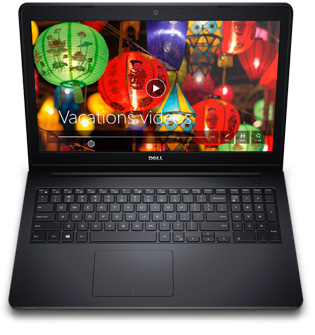 The Dell Inspiron 15 5000 series laptop comes with the Intel Core i5-4210U processor, 6GB of memory and a 1TB hard drive spinning at only 5400rpm. It's a 1366×768 display with touchscreen, a must to get the most out of Windows 8.1. An Intel Graphics 4400 powers this display. There's an optional version of the Inspiron 15 model that includes a DVD burner. Users who like to watch movies will want to go with that model, however the DVD seems like its going the way of the floppy disk. They'll likely become obsolete in the next few years.
The 3-cell battery on these new Inspiron 5000 series computers should last a decent 7-9 hours thanks to the efficient Haswell processor that powers the machine. The smaller 14-inch models will last as much as 9 hours. That's at ideal conditions, so owners of these machines will likely see shorter battery life with normal usage. To get the longer life, a user will probably need to turn off some features like Wi-Fi and/or the Bluetooth 4.0 that comes standard. They'll also need to lower the screen brightness and not use the DVD drive on the models that ship with one.
The Dell Inspiron 17 5000 series model comes with more configuration options than the 15-inch models. Dell offers four optional base configurations. User can pick between an Intel Core i3-4030U 1.9GHz processor, an Intel Core i5-4210U 2.7 processor, or an Intel Core i7-4510U 3.1GHz processor.  The higher the i3 number the faster the machine will run. Users with simple needs don't need a Core i5 of i7 computer. Since these cost more, its recommended that buyers stick with the slower processor unless a user wants to play games, run high-powered software like some Adobe's Creative Cloud tools, like Photoshop, Premiere or Flash creation tools.
The Insiron 17 5000 series use 1600×900 resolution touch screens and Intel 4400 HD graphics. Choose between 4GB or 8GB of memory and 500GB or 1TB of storage. They also include DVD burners. The computer weigh 7lbs. That makes it a desktop replacement that a user will occasionally want to take with them, but mostly leave it in the office or at home.
These models all come with a 1MP webcam, 802.11n Wi-Fi, Bluetooth 4.0, 10/100 Ethernet, an HDMI port, 2 USB 3.0 ports and 2 USB 2.0 ports. There's a multimedia card reader as well.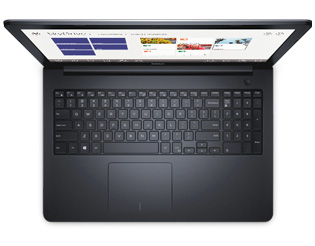 The machine offers a larger 17.3-inch display, something that's harder to find these days in a world of ultra-books and 15-inch laptops.
Advertisement