People who want to either get or give a laptop this Christmas should strongly consider these five top machines. They range in price from $300 to over $3,000 and come in three flavors including an inexpensive Chromebook, a pair of nice Windows 8.1 machines and the terrific Apple duo, the MacBook Air and MacBook Pro.
So which one should Santa get for the person he loves? Stay tuned after the list for some quick buying advice.
13″ MacBook Air

While some might prefer the smaller 11″ MacBook Air (on left above), we think the 13″ MacBook Air (on the right) hits the sweet spot of portability and usability. Buyers get up to 12 hours of battery life on a single charge, plenty of power thanks to a latest generation Intel Haswell processor and enough screen real estate and size to make the computer useful for work and play.
Apple refreshed the MacBook Air earlier this year with the newest Intel processors that excel in speed and battery life. Apple faster added 802.11ac Wi-Fi technology. They also added OS X Mavericks, a nice upgrade over the older version of OS X.
Apple's thin ultra-portable set the standard and became the model everyone else copied! We still think the 13″ MacBook Air sits atop the list of best notebook computers, despite Windows PC makers getting closer.
The base model comes with a fast 128GB drive, but we recommend upgrading and getting at least 256GB for $200 more. Buy the next step up from the basic model, which comes with a 256GB drive, 4GB of memory and a 1.3GHz processor all for $1,299. It gives users the best balance of power and price. For power-hungry ultra-portable fans who don't worry about price, max out the memory, processor and flash storage drive (SSD) for $1,849.
15″ MacBook Pro with Retina Display
Many think the MacBook Air is enough machine, but the MacBook Pro comes with more options including a larger screen and higher capacity storage. That's why we include the 15″ MacBook Pro. Apple lowered the price, added the Haswell processor for more power and longer battery life while still offering the great high-resolution Retina Display.
The MacBook Pro with Retina Display offers more power than the MacBook Air. It also comes in a 15″ model, something users still can't get in an Air. Finally, buyers can bump the storage to a 1TB SSD.
The base model costs $1,999, a reduction over earlier models. That buys a 2GHz Intel Core i7 processor, 8GB of memory and a 256GB hard drive. Max those out and it costs $3,299.
Watch our MacBook Pro 13 unboxing below. It gives buyers an idea of what they'll get with any of the new MacBooks with the Retina Display.
Razer Blade 14
The Razer Blade 14 fits the gaming prowess associated with the Razer brand. We've recommended their products before. Once again we put a Razer toy on the Christmas buying list with this powerful 14″ gaming laptop.
Even if you're not a gamer or not buying for a gamer, this powerful ultra-portable laptop will work wonderfully for power-hungry tasks like video editing or large image editing. Power's the key with the Razer Blade 14, while thin and portable makes it extra special.
We like the super thin ultra-portable design doesn't look like the same old MacBook Air design. It looks cool and feels cool to the touch. The chassis design took the heat inducing guts away from the areas that people touch most of the time so that it won't feel as hot.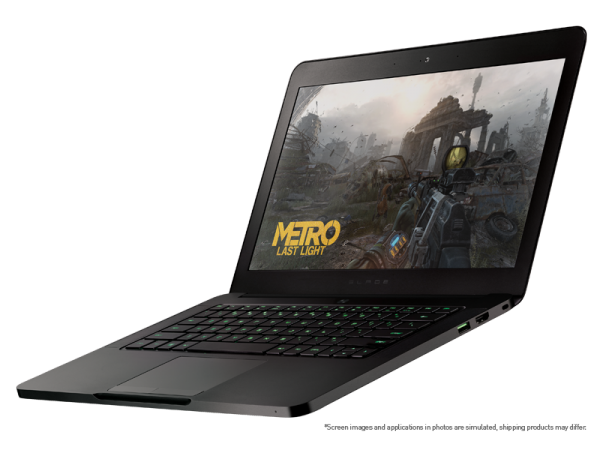 The Razer Blade 14 comes with a powerful Intel Core i7-4702HQ Haswell processor, 8GB of RAM and both Intel HD4600 and NVIDIA GeForce GTZ 765M switching video processing. Buyers can choose from 128GB, 256GB or 512GB SSDs. The 14″ display includes 1600×900 resolution.
The Razer Blade 14 starts at $1,799.99 for the 128GB model. Add $200 for each step up in storage.
Dell Inspiron 11 3000 Series
Users looking for a low-cost touchscreen machine to run Windows 8.1 should check out the Dell Inspiron 11 3000 series line of 11'6-inch notebooks. They costs under $400 and run Windows 8.1 and two come with a nice touchscreen. We don't recommend Windows 8 without touch. Microsoft new Windows UI definitely needs touch to stay productive.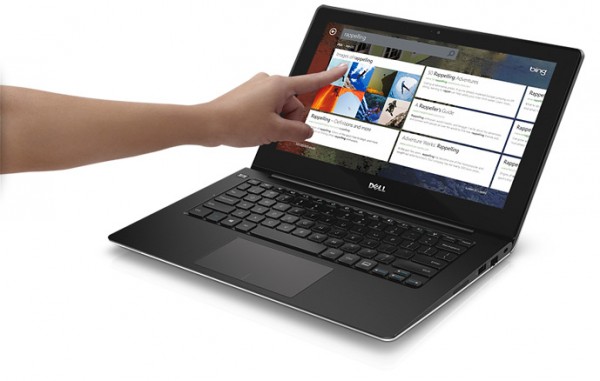 Why did we pick the Inspiron 11 3000 series? Besides the low price tag and improvements in Dell quality of late, the computer will handle basic day-to-day tasks with aplomb. The base models come with a capable latest-generation Intel Celeron processor.
The Inspiron 11 3000 ships with 2GB of RAM and 500GB of optical-based hard drive storage and starts at $379.99.
HP Chromebook 14
In our review of the HP Chromebook 14 we called it the best ChromeOS notebook available today. That's not true if someone prefers a lighter 11.6″ display. In that case go with the Acer C720P 11.6″ touchscreen model for $299.99 at Amazon. We prefer the larger 14″ for getting real work done.
We like the HP because it's sturdy, thin and feels more powerful than the other Intel Haswell processor based Chromebooks out there. Haswell means more power and longer battery life – over 6 hours on this machine despite the larger display. It weighs more than the smaller Chromebooks out there.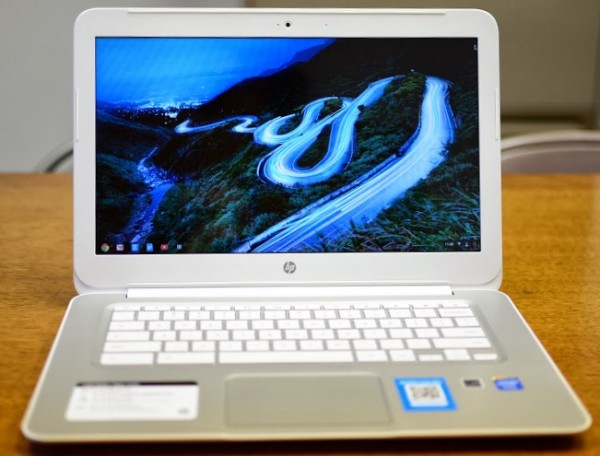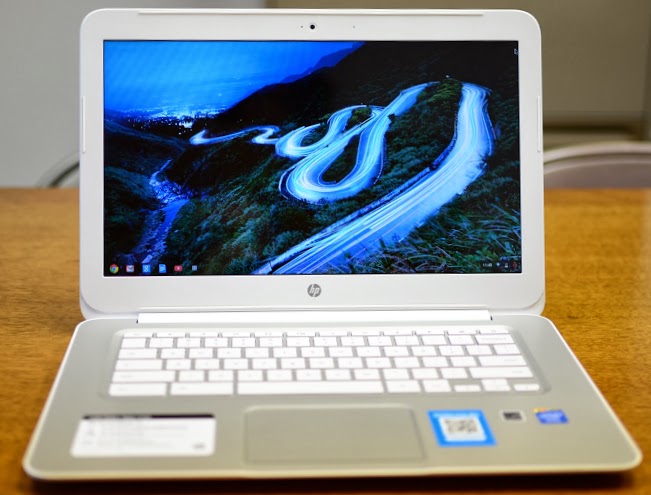 ChromeOS runs the Google Chrome browser as its primary interface. Web apps can do most of what people want to do, but video and photo editors or gamers should look at the Windows and Mac machines listed above.
The HP Chromebook 14 we reviewed comes with 4GB of RAM, 16GB of storage and 100GB of Google Drive storage. People may balk at only 16GB of local storage, but that's plenty for ChromeOS.

For people who need simple document editing, web surfing and email, the Chromebook excels despite the lower specs and low price. Buy an HP Chromebook with 200MB of free lifetime T-Mobile broadband for only $350 at WalMart. Those who don't want the T-Mobile should still get this model since the $300 model without T-Mobile only comes with 2GB of RAM. ChromeOS users will want the extra RAM if they open more than 4 or 5 web apps or browser tabs.
Advertisement