Dell's introduced the Latitude 2100, a netbook built specifically for students. Two dozen Latitude 2100's can be managed over the network and charged with a single power cable and Ethernet cable in Dell's Mobile Computing Station.
The Latitude 2100 has a rubberized finish to make it easier to grip and prevent drops. An optional strap offers added protection. A network activity light lets teachers know when students are online instead of doing their school work.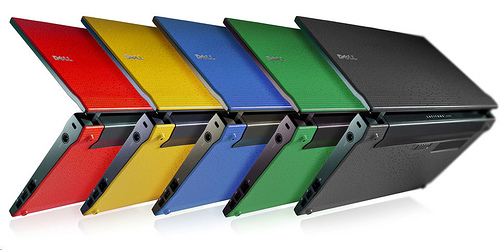 Customers in the Americas and Europe can order the Latitude 2100 starting today for as low as $369
Lionel Menchaca shared the above video explaining how the Latitude 2100 can be used in classrooms.
The Latitude 2100 can be configured with touch screens, which can be particularly useful for younger students.
The Latitude 2100 netbook has the following specifications:
Intel Atom N270 processor
Up to 1GB fixed RAM; Additional memory slot to accommodate up to 2GB RAM total
Display: 1024×576 LED screen, optional touch screen
Storage options: standard hard drive options up to 250GB; SSD drive up to 16GB
Battery: 3 and 6-cell battery options
Wired Connectivity: 10/100/1000Mb Gigabit Ethernet
Wireless Connectivity: 802.11g standard, option 802.11n
Ports: 3 USB, VGA, headphone/speaker out, mic
Expansion slot: SD/ MMC card reader
Dell's obviously put a lot of thought into how students and teachers interact with computers.
Advertisement