The new Dell XPS 13 is the best looking laptop I've seen at CES 2015, delivering a 13-inch screen in a body about the size of an 11-inch MacBook Air with a starting price of just $799.
In true Dell fashion, there is already a discount that cuts the price another $75 down to just $724 for this incredible notebook.
The size isn't the only reason the Dell XPS 13 is possibly the best Windows Notebook every made. Dell crams in up to a Quad HD+ display touch behind a stunning infinity glass design that delivers a stunning canvas to work on and a great part of the overall design.
The Dell XPS 13 is insanely light, at 2.6 pounds, and it delivers a premium look and feel that is well above what you would expect from a $800 notebook. The palm rest is soft to the touch, the top of the notebook is a beautiful looking metal and the base is wrapped in soft to the touch finish.
Dell claims this is the, "smallest 13-inch laptop on the planet," but you don't need to worry about a compromised keyboard. There is a gull size backlit keyboard that delivered a good overall typing experience in our brief hands on with the notebook. Dell also packs a precision trackpad int eh Dell XPS 13 that lets Windows interact with it almost like a small touch screen, this delivered a better than average touch pad experience on the XPS 13, and we look forward to reviewing this soon.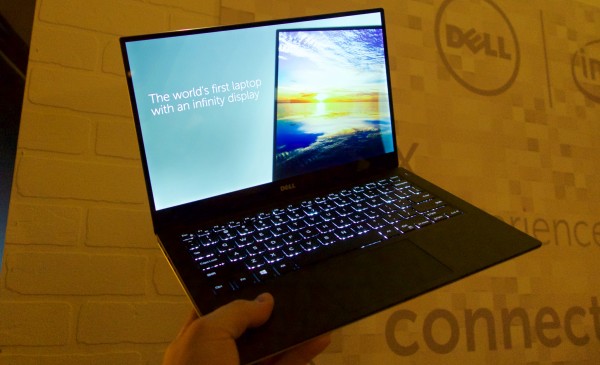 Thanks to the new 5th Gen Intel processors and a Sharp IGZO panel on the entry level XPS 13 Dell claims 15 hours of battery life. That's a big claim, that we will want to verify, but possible with the new power savings from Intel and the Sharp display. The Dell XPS 13 with the Quad HD+ touch screen should deliver 11 hours of battery life according to Dell.
The Dell XPS 13 is the laptop you need to look at in 2015. With a compact size, premium design and long battery life starting at $799 and even as low as $724 after a day-one deal, there is no doubting the attractiveness of this notebook.
Advertisement