Not everyone gets to know the exact date they're going to die and most people don't want to know. But millions of computers worldwide are staring a kind of death right in the face. In just over two years Microsoft will stop supporting Windows XP. On April 8, 2014, to be exact.
That doesn't mean that every XP computer will shut down, give up the ghost, and crawl into the grave. It does mean that there will be no more updates, bug fixes, security patches, or anything of that sort. XP computers will be on their own.
Of course, Microsoft only promises 5 years of support for consumer versions of the OS and 5 extra years for businesses. As Ed Bott lays out here, that's how things have worked for a long time. Which would normally mean that Windows Vista would reach the end of its mainstream support line in April of this year.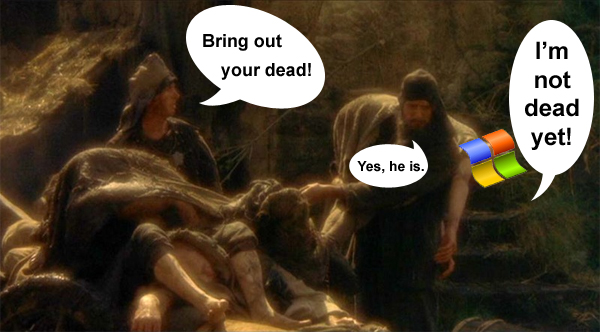 Wow… has it really been just five years since Microsoft unleashed the horror that is Vista upon an unsuspecting world? How time does fly.
At any rate, Microsoft is bending their own rules and extending the end of life for XP, Vista and Windows 7 a little bit longer than normal. XP is over 10 years old at this point, but there are still business and mainstream users clinging to it after seeing everyone else get burned by Vista, which then engendered a distrust of Windows 7. Maybe that's why the company quietly went ahead with the extension. They have a lot of bridges to mend.
Vista support ends in 2017 and Windows 7 support ends in 2020. By then maybe everyone will be brave enough to start thinking about giving Windows 8 a try.
Advertisement