Just in case you don't have the party throwing skills needed to host a Windows 7 Launch Party you can also score free Windows 7 swag and goodies by following @MSWindows on Twitter. Over the next 7 weeks, until Windows 7 launches on October 22nd, users can vie for a chance to win prizes by responding to challenges put forth by the Windows 7 Launch Team.
So far the team has given away pizza to every 7th follower and a pound of candy to the first 7 people to tell them their "sweetest" feature in Windows 7. Playing is easy, just follow @MSWindows on Twitter and be sure to tag your replies with #WinWin7.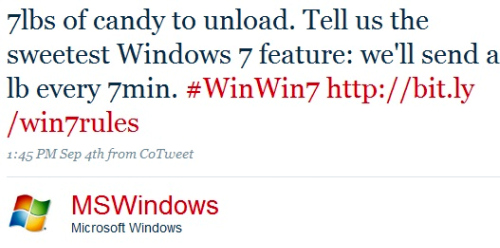 In addition to the fattening prizes that have already been given away the Twitter feed is an interesting way to keep abreast of Windows 7 features and other contests relating to the Windows 7 launch.
The contest will run until Windows 7 launches on October 22nd and is open to residents of the U.S. who are 18 and older. For more details check out the official rules. Good luck!
Advertisement