Want three free songs from Amazon.com or $3 off an album? Then head over to the Amazon.com MP3 store and follow the instructions. This deal is pretty straight forward. Enter a coupon code before browsing for music and your Amazon account will be credited with $3 that can be spent on any downloadable song or album that Amazon offers.
Amazon MP3 requires you to download a Mac or Windows application in order to complete your purchase, but you can play your music in iTunes, Windows Media or virtually any other media app on your Mac or PC.
Amazon MP3s are DRM free, which means you don't have to worry about them not working on all of your mobile devices.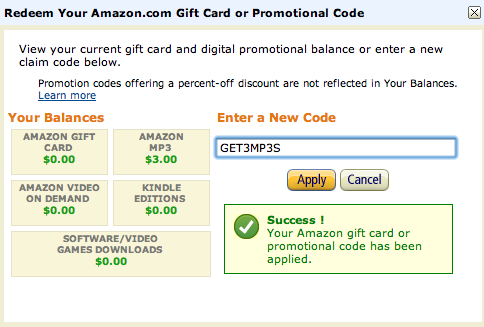 There are no strings attached to this deal. You simply get a few free tracks to kick off the holiday season.
Click here to get your free music.
Visit the Notebooks.com Black Friday page for more information about Black Friday 2010 and find more deals.
Advertisement