CompUSA will discount the HP Pavilion HDX9010NR to $2,599 on Black Friday. While this is $400 off MSRP, the HDX9010NR is readily available for $2,699 at CompUSA and other retailers, making the real Black Friday discount worth only $100. Regardless, if you're in the market for the 20.1-inch, 15-pound HDX Dragon, this is the cheapest we've seen it so far.
The HDX9010NR is a retail version of the HP Pavilion HDX, which is also known as "The Dragon." It is the base model and does not include the available high-resolution WUXGA (1920 x 1200) display.
While the HDX9010NR specs are impressive compared to most notebooks, you might as well get what you really want if you're going to spend this much. The HDX can be configured with up to 500GB of hard drive capacity and the Intel Core 2 Extreme Processor X7900 (2.8GHz, 4MB L2 Cache, 800MHz FSB) processor. Both are expensive upgrades, but HDX users are looking for performance rather than bargain basement pricing.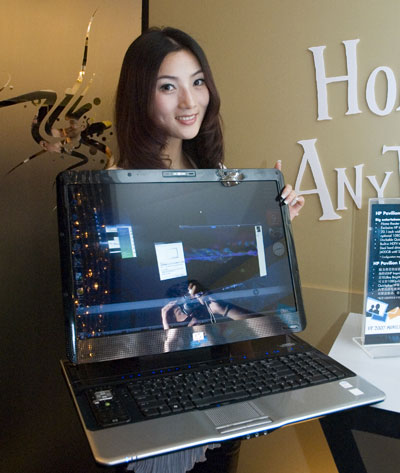 Full Specs of the HDX9010NR:
Processor Brand: Intel Core 2 Duo T7500 2.2 GHz, 4MB L2 Cache
Memory Type: 2GB DDR2-SDRAM
Hard Drive: 120GB x 2 (240 GB total) 5400RPM
Optical Drive: HD DVD-Rom with Double Layer DVD+/-RW SuperMulti Drive:
Video Card: Radeon HD 2600 XT, 256MB RAM
Display: 20.1-inch WSXGA+, 1680 x 1050 resolution
Ports Connectors:
* 4 x Universal Serial Bus (USB) 2.0
* 2 x Audio – Headphone-out
* 1 x Audio – Microphone-in
* 1 x HDMI
* 1 x Video – VGA (15-pin)
* 1 x Video – TV-Out (S-Video)
* 1 x eSATA
* 1 x RJ-11 Modem
* 1 x RJ-45 Ethernet LAN
* 1 x Notebook Expansion Port 3
* 1 x IEEE-1394 FireWire (4-pin)
* 1 x Consumer IR (Remote Receiver)
* Native External Speaker Configurations Ports: Side, Rear, Center/Sub, Front
Tuner:
* Integrated HDTV Hybrid TV Tuner (with F-Jack adaptor) input, S-Video Input, Blaster (IR emitter), Stereo Audio Input
Card Slots: 1 x Memory Stick
1 x Memory Stick PRO
1 x Secure Digital(SD)/MMC
1 x xD-Picture Card
1 x ExpressCard/34
1 x ExpressCard/54
Network Support: Gigabit Ethernet (1000 Mbps)
Wireless Protocol: 802.11a
802.11g
802.11n draft
Bluetooth
Modem Speed: 56 Kbps
Input Devices: Keyboard
Keypad
Remote Control
Touchpad
Security Features: Fingerprint Reader
Kensington Security Slot
Number of Batteries: 1
Installed Operating System: Windows Vista Ultimate
In the Box:
* HP Pavilion hdx9010nr Notebook
* Mobile Stereo Earbud Headphones (1 pair)
* Dockable Remote Control
* HP HDTV Hybrid TV Tuner
* 180W AC Adapter
* 9-cell Lithium-Ion battery
Height: 2.3 in
Width: 13.4 in
Depth: 18.7 in
Weight: 15.5 lbs
Limited Warranty: 1 Year (12 Months)
Advertisement