Black Friday is here once again and already retailers are listing limited quantity Black Friday notebooks for as low as $288 — and that's 3 weeks before the real Black Friday. This is a trend we saw in 2010 and one we expect to become even more popular this year especially as more retailers cash in on the popularity of limited time "flash sales" of Black Friday laptops.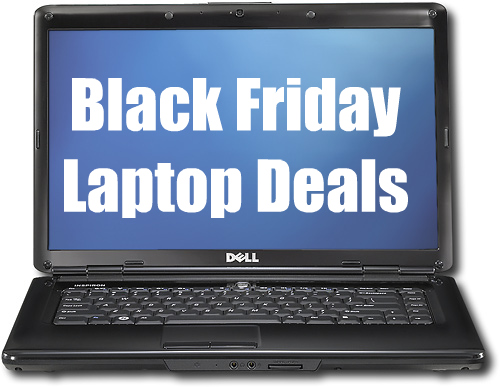 In order to make sure you get a good Black Friday laptop there are some things you should consider, and look for, to make sure that you are getting a good deal and not a close out model from 2 years ago. Sadly even though they are brand new in box, many of the Black Friday laptops, netbooks and tablets that will be listed as Black Friday doorbusters in the leaked Black Friday ads are powered by old technology that may not meet the needs of all users.
1. What type of Processor is it running?
OK, the first thing you should do when you see a Black Friday Laptop deal is look at what's powering the laptop. Yes, understanding which processors can are good be confusing, especially if they are made by AMD, but we are going to simplify it for you. If you want to do more than surf the web and edit a word document — or if you want to do those and listen to music at the same time we recommend at least finding a laptop with a dual core processor.
If you want more power, or the ability to multi-task many tabs and programs you should look for an Intel Core i series processor which will look be either Core i3, Core i5 or Core i7 with a higher number equaling more power and a higher cost. If you see a notebook with AMD processor it's a bit trickier to know if it's a good deal but key in on Fusion processors and make sure it is dual-core or above.
2. How much RAM does it have?
After throwing you a fastball with the processor here's a slow pitch item to consider. How much RAM does the notebook have? If it's a notebook you don't want anything less than 2GB, with 4GB or more being the preference. IF you're looking at a netbook 1GB is the least you should look for and is sufficient in many cases.
3. What Operating System is it using?
There are many different operating systems out there. You're probably familiar with Windows which powers most consumer computers, but there are also versions of Linux and OSX which power some computers. OSX runs on Macs which don't get discounted as much on Black Friday and Linux runs on many low priced computers sold during Black Friday because it is cheaper or free to install, but novice users may have trouble with it.
If you want a Windows computer make sure to find a notebook with Windows 7 which is Microsoft's latest version. For netbooks Windows 7 is also a good choice, but you may run into some with Windows XP, which may still be a good deal if the price is right.
4. Is it a name brand?
Retailers like to roll out off-brand Black Friday laptops and Black Friday netbooks that can be priced incredibly low to lure in unsuspecting shoppers. Unfortunately many of these no-name devices use incredibly old technology that will severely limit and restrict what the average user can do with them. Stick with brand names like Dell, Gateway, Compaq, HP, Toshiba, Samsung ASUS, Acer, Lenovo and others. A name brand like one of these doesn't guarantee a great deal, but you shouldn't run into an incredibly bad deal if you stick to these manufacturers.
5. What do reviews of the Black Friday notebook say?
Before you get all excited over a Black Friday Laptop deal, check out the reviews for the notebook. This may be hard since many retailers have a special notebook model that only exists at their store on Black Friday, but you can do it. If you see no reviews for a Compaq CQ6-109WM notebook then search for reviews of the Compaq CQ6, stripping off the unique identifiers of the notebook or netbook. This may return a different model with slightly different specs but you'll get a good idea of what the notebook or netbook can do.
6. What kind of warranty does it have?
When it comes to the warranty in most cases you will be OK, but we have seen some Black Friday laptops come with just a 90 day warranty instead of a full 1 year. Take a second and read the ad or check online at the retailer's website to make sure you are getting a proper length warranty. If you buy one, use a credit card that doubles your warranty so that you don't have to pay for an extended warranty.
7. Will this Black Friday Laptop do everything I want to do?
This one is simple. Sit down and write out the things you want to do with your Black Friday computer and keep this list handy. Any tie we cover a Black Friday laptop deal on Notebooks.com we will tell you what it can and can't do. If you don't know ask us in the comments.
8. Is Black Friday the best time to buy this type of Notebook?
Black Friday is a pretty good time to buy a mid-range notebook or a super cheap low performance notebook, but if you want a high end machine like an HP Envy 15 or a MacBook Pro you can usually score better deals throughout the year. Apple for example usually offers a free iPod with purchase as part of the back to school deals. You can keep the iPod Touch or sell it and end up with a better deal than you'll find on most MacBooks on Black Friday — even at third party resellers like MacMall.
9. Can I combine coupons for better savings?
Most of the time you won't be able to double dip a coupon and a Black Friday sale price on a laptop or netbook, but every now and then you'll find ales and coupons direct from the manufacturers like HP, Dell and Sony who offer extra savings. Stay tuned for specific offers on Notebooks.com and Check out RetailMeNot's Black Friday coupon portal for site specific Black Friday coupons.
10. Is this Black Friday Laptop or Netbook too old?
Finally, before you buy that Black Friday Laptop make sure you check to see that it's not too old.  Retrevo offers a product timeline that will help you figure out if it is near the end of its life in a second. If a notebook is too old you may end up needing to upgrade sooner than if you had purchased a slightly more expensive machine. It's similar to buying a $500 car and then when it breaks down in 6 months buying another $500 car — over and over until you spent enough to get a decent used car had you done it right from the start.
Bonus: Is the Laptop available for less from the manufacturer on sale or as a refurb?
Our bonus tip is to point you to one of the best places to get notebook deals, as a refurb direct from the manufacturer. While Black Friday deals are on a specific day in very limited quantities manufacturers like HP, Apple, Dell and others are constantly selling refurbished notebooks, even high end ones, at hundreds off in their refurb departments.
Keep all of this in mind, and stay tuned to Notebooks.com's Black Friday Laptop coverage and you'll be ready to score a great deal on your next notebook no matter when you buy.
Advertisement