Walmart is kicking off Black Friday early this year with a $288 15.6″ Compaq CQ6-109WM Notebook which will be available in store and at Walmart.com on Saturday November 6th in limited quantities.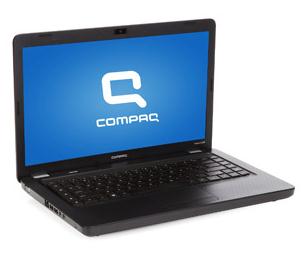 The Compaq CQ6-109WM is a budget notebook that runs on an Intel Celeron 900 processor clocked at 2.2GHz, 2GB of RAM, a 250GB hard drive, Dual Layer DVD Burner and Intel Integrated graphics.
The Compaq CQ6-109WM is certainly a budget notebook given it's older Celeron processor and 2 GB of RAm. If you are looking for a full size notebook in a netbook price range this may be a good fit for you. Keep in mind you will want to reserve this computer for surfing the web, editing documents and chatting on Skype. You could also expect to watch movies or view photos.
If you are looking for a notebook to game on, edit HD video or do intense photo editing (more than red eye removal) you will want to pass on this deal.
According to sources the Compaq CQ6-109WM is expected to go on sale at Walmart.com around 5 AM Eastern Saturday November 7th and in stores at 8 AM Eastern.
Compaq CQ6-109WM Laptop PC:
Key Features and Benefits:
Intel Celeron 900 processor 2.2GHz, 800MHz Front Side Bus, 1M cache
2GB system memory
250GB SATA hard drive
SuperMulti double-layer DVD burner
10/100 Ethernet; 802.11b/g/n Wi-Fi
15.6″ diagonal HP Brightview LED widescreen display
Additional Features:
Integrated microphone
3 x USB 2.0 ports, 1 x VGA port, 1 x headphone/speaker/line-out jack, 1 x microphone jack, 1 x RJ-45 Ethernet port
6-cell lithium-ion battery
Software:
Genuine Microsoft Windows 7 Home Premium 64-Bit Edition
Support and Warranty:
1-year Limited Warranty
Restore discs are no longer included with PCs. We recommend you use the installed software to create your own restore & backup DVD the first week you use the computer.
What's In The Box:
Power supply and power cord
6-cell Li-Ion battery
Quick Start Guide and documentation
Via Laptoping and BlackFriday.info
Advertisement