The $999 Sony VAIO SE (VPCSE190X) tries to straddle two worlds.
The specs, full HD resolution and optional Blu-ray drive make it a solid productivity and multimedia machine, but the sub-1 inch profile and 4.4 pound weight make it more mobile than the average 15-inch notebook.
Add to this an attractive design and good everyday performance and you have the makings of a great laptop.
However, poor battery life makes its portability less exciting.
Pros

Relatively light and portable for a 15-inch notebook
Full HD display
Good overall and graphics performance
Decent port spread

Cons

Poor battery life
Must switch graphics manually
Tinny speakers
Who is the Sony VAIO SE For?
Laptop buyers looking for a balance between power, productivity and portability will find this a compelling choice. People who find 13-inch displays too small and want high pixel density so they can look at windows side by side will appreciate the full HD resolution. Mobile professionals and students who need a full array of ports who also need the freedom of carrying their notebook with them but want to avoid back pain.
Design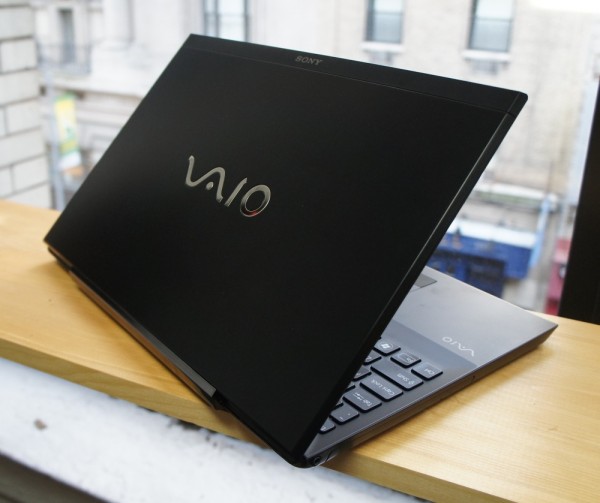 The big selling point of the VAIO SE is that it's a 15-inch notebook that aspires to ultraportable status. It's not going to compete with ultrabooks for thinnest and lightest, but for a full and robust system it still manages a relatively thin 0.9-inch thick profile and a manageable 4.4 pound weight. The overall footprint isn't bad, either, measuring 14.5 x 10.1 inches. This makes the VAIO SE portable enough to carry in a backpack, messenger, or briefcase without completely killing your back as long as trips aren't too lengthy.
Even with the size and weight-saving measures Sony took to get the SE slimmed down they didn't compromise on ports. Lining the left are three USB ports (one super speed 3.0), HDMI, VGA, Ethernet, plus SD card and MemoryStick slots. An optical drive sits on the right just forward of the headphone jack.
If you need more ports, Sony sells a port replicator compatible with this model. The connector is on the bottom so you have access to all the existing ports as well as the extras.
On the design front, the all-black chassis keeps it minimal with only a few touches of chrome at the back and in the VAIO logo. The matte finish looks great but doesn't completely eschew finger and palm prints. I like the way the edges taper down to further minimize the laptop's size, though the crowd of ports along the right kind of ruin the effect.
Keyboard and Touchpad
Sony's standard island-style keyboard graces the SE alongside a full number pad. As always, the keys offer good travel, though the tactile feedback isn't as strong as satisfying as a Lenovo keyboard. The bright backlighting is much appreciated, especially since it not only lights up the letters but also outlines the keys.
This being a larger laptop I also appreciate that Sony includes a large, wide touchpad and two fat mouse buttons underneath. The surface is responsive and accurate and responds well to two-finger multitouch gestures.
Though it's capable of two-finger scroll, which I'm used to, the Synaptics driver would rather you employ ChiralMotion scrolling where the finger moves in a circular motion. I find this less elegant than two-finger, but the feature does work.
The driver also includes good palm check with sensitivity that can be tweaked.
Display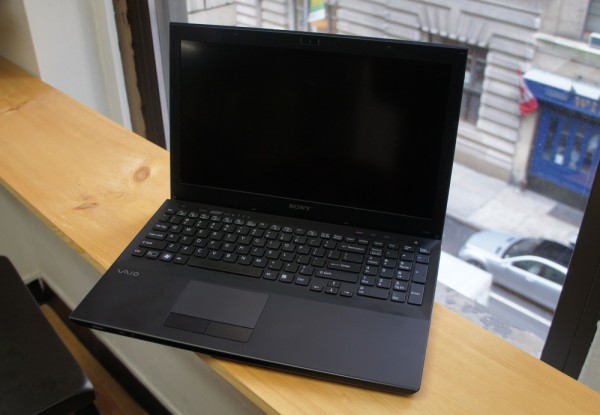 The 15.5-inch display's 1920 x 1080 resolution cinches the VAIO SE's chops as both a productivity and multimedia machine. Even the hyper-multitaskers who rock two displays will be able to get by without complaint thanks to all the screen real estate on offer.
Viewing angles are very wide – I went extreme to the left and right and didn't see color distortion – which is welcome but unusual with matte screens. The display only goes back about 20 degrees past a right angle, but even there I was able to see video and text clearly at every useful angle.
Colors pop nice and bright and blacks are true and deep, plus the high resolution offers crisp text even when fonts are small.
Multimedia
The big, beautiful display is perfect for watching video and playing games, especially if you opt for the Blu-ray drive instead of the standard DVD when customizing the laptop on Sony's website. Adding to the goodness is an AMD Radeon HD 6470M discrete graphics card backed by 512MB of VRAM. With these graphics you can watch full HD video without worrying about dropped frames or hitching and even play medium-intensity games at good framerates.
For some reason Sony saddled the VAIO SE with a physical switch for the switchable graphics. In Stamina mode you can switch to Intel's integrated graphics and save some battery life. Speed mode switches to the AMD chip for better graphics performance and less energy economy. It's not bad as the days when you had to reboot the computer to switch — when you flip the switch the screen flickers and it takes a few seconds to complete the process — but it's not as elegant as Nvidia's Optimus, which handles the switch automatically and seamlessly.
Another nice aspect to the SE's multimedia DNA is the inclusion of Intel's Wireless Display (WiDi) technology. If the user has the $99 Netgear reviver it's possible to wirelessly broadcast what's on the screen to an HDTV.
The only weak link in the media chain is the SE's speakers. They pump decent volume but the audio quality is tinny and flat. Output via the headphone jack is surprisingly round and full in comparison, so break out the external speakers for this one.
Performance and Battery Life
My review unit came with a 2.40GHz Intel Core i5-2430M processor capable of Turbo Boost up to 3.00GHz, 6GB of RAM (instead of the base 4GB), and a 650GB 5,400 rpm hard drive. In my time with this notebook I engaged in medium to heavy multitasking with dozens of tabs open in Chrome and Firefox, multiple images open in Paint.net, 10 PDFs on deck, plus Microsoft Office 2012 documents. The VAIO SE handled all of this speedily, opening apps in seconds, switching between tabs instantly, and performing image edits in good time.
When in Speed mode the GPU gave productivity a boost. Plus, I was able to transcode 22 minute 720p HD video clips from AVI to MPEG 4 in under 30 minutes each.
During normal use the bottom of the notebook got warm but not uncomfortably or dangerously hot.
The VAIO SE's battery life is the machine's other big disappointment. On Stamina mode is only lasted 3 hours and 13 minutes on the LAPTOP Magazine Battery Test (continuous surfing over Wi-Fi with brightness set to 40%). Not great, even for a larger machine like this.
A slice battery is available and promises up to 12 hours, though in reality it about doubles the battery life. It also adds about 0.25 inches to the bottom of the notebook and brings the overall weight up to about 5.5 pounds.
Suggested Customizations
If you buy the VAIO SE from Sony's website you can customize it to suit your needs, including choosing a silver case instead of black.
If this is going to be your sole computer and you hope to keep it for many years, I suggest you go ahead and upgrade to the more powerful Core i7 processor ($150 extra). If you go with 4GB of RAM you can always at up to 4GB more yourself, but if you're uncomfortable doing that I would get at least 6GB ($40 extra).
For users who intend to do graphics work, the base GPU model is fine for medium-intense editing, but upgrading to AMD Radeon HD 6630M GPU with 1GB VRAM ($50 extra) will speed up image and video editing.
The slice battery ($150 extra) is a must if you do a lot of work away from an outlet.
Multimedia hounds may be tempted by the Blu-ray drive option ($100 extra). If you don't already have a Blu-ray player, adding this will be less than buying a good one. Plus you have a full HD screen to enjoy them on.
Solid state drives are also available from $430 to $2,730 extra.
The cost of the VAIO SE with my recommended upgrades is $1389 without the Blu-ray, $1489 with that upgrade.
The Bottom Line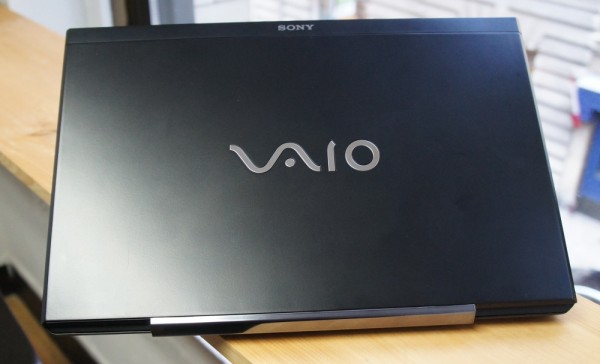 For $999 the Sony VAIO SE is a good value, especially given its features and design. The low battery life is a big mark against it, though it doesn't completely detract from the notebook's merits. Still, if you have to carry a power brick or an extra battery to ensure you won't run out of juice while you're out, it counts against the SE's portability wins.
Which is higher on your priority list, performance or portability? If the former, then this VAIO is worth your time.
Specs
CPU: 2.40GHz Intel Core i5-2430M (with Turbo Boost)
GPU: AMD Radeon HD 6470M (512MB VRAM)/Intel GMA 3000
RAM: 6GB (up to 8GB)
Hard Drive: 640GB (5400rpm)
OS: Windows 7 Home Premium 64-bit
Display: 15.5″ LED backlit
Resolution: 1920 x 1080
Optical Drive: CD/DVD player / burner
Wireless: Intel Wi-Fi b/g/n, Bluetooth 2.1 + EDR, Intel Wireless Display
Ports: 1 USB 3.0, 2 USB 2.0, HDMI, VGA, Ethernet, SD card, MemoryStick slot, headphone
Size: 14.9 x 10.1 x 0.9 inches
Weight: 4.4 pounds
Sony VAIO SE Gallery
Advertisement