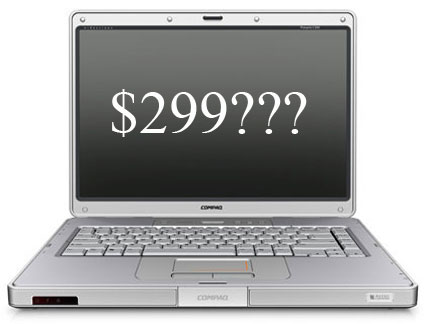 A leaked Black Friday ad from Circuit City has a Compaq Presario notebook listed for $299. We are trying to verify the details right now, but it will likely be the Compaq Presario C306US C303US (UPDATE: Here's a postwith all the correct info), a 15.4-inch widescreen, which is very similar to Walmartâ€â"¢s Compaq v305wm, but with a bigger hard drive and DVD burner.
The Compaq C306US is powered by an Intel Celeron M processor and includes 512MB of memory and 80GB 60GB hard drive. This is a decent notebook for basic home and student use.
The retailers are still duking it out over who will have the cheapest notebook for the holidays, but Circuit City holds the lead right now with the Compaq C306US. There are rumors flying around that at least one major retailer will sell a notebook for $199 on Black Friday.
If notebooks get any cheaper Negroponte should abandon the One Laptop Per Child program and just do some Christmas shopping….
Before you set your heart on this computer, remember youâ€â"¢ll have to wake up early as this price is only good from 5am to 11am on Black Friday. We'll try to verify this deal and update this post once we know more. Unfortunately, it looks like a rebate will be involved.
Advertisement