Samsung updated the Series 5 notebooks today with the latest Intel Core i 3rd generation of processors and a host of features for media loving notebook users.
The new Samsung Series 5 notebooks join the Series 9 and Series 3 notebooks with the latest Intel Core i family of processors. The Series 5 15.6-inch notebook comes with a Intel Core i7-3610QM processor while the smaller 14-inch model has an Intel Core i5-3210M processor.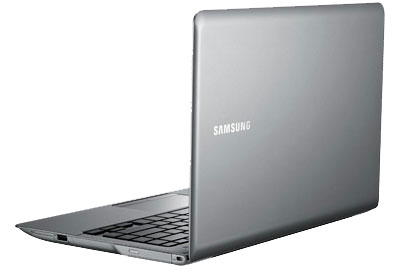 The Samsung Series 5 notebooks include NVIDIA discrete graphics to deliver a better entertainment and gaming experience. The notebooks include NVIDIA GT 630M graphics, which provide enough power for games like Dirt 3 and others, though users looking for a dedicated gaming computer may be left wanting on some titles. Here's a demo of DIRT 3 running on the NVIDIA GT 630M graphics solution.
15.6-inch Samsung Series 5
The 15.6-inch Samsung Series 5 notebook comes with 8GB RAM and a 750GB hard drive as well as JBL 3 speakers and sub-woofer to round out the entertainment package. The JBL speakers are complemented by software that lets users switch between various modes depending on what activity they are doing.
The 15.6-inch Sereis 5 notebook has a 1366 x 768 resolution display.
The 15.6-inch Series5 notebook starts at $899 and will go on sale in mid June.
14-inch Samsung Series 5
The 14-inch Series 5 includes the same graphics processor as the larger Series 5 notebook, and JBL speakers. The Series 5 14-inch notebook has 8GB of RAM and a 500GB hard drive.
The smaller Series 5 notebook gains a backlit keyboard and lighter weight, which will appeal to college students who want to carry the Series 5 to class.
Samsung rates the battery life of both notebooks over 6 hours, but users will want to discount this slightly for real world use.
The Samsung Series 5 notebooks both include a 1.3MP webcam.
Pick up the 14-inch Series 5 notebook in mid June for $799.
14-inch Series 5 500 Notebook

15.6-inch Series 5 Notebook

Model Number
NP500P4C-S01US
NP550P5C-T01US
Processor
Intel® Core™ i5-3210M Processor
Intel® Core™ i7-3610QM Processor
Operating System
Genuine Windows® 7 Home Premium (64-bit)
Genuine Windows® 7 Home Premium (64-bit)
Screen
14-inch
15.6-inch
Resolution
1366 x 768
1366 x 768
Memory
8GB
8GB
Storage
500GB
750GB
Graphics
NVIDIA® GeForce® GT 630M Graphics
NVIDIA® GeForce® GT 630M Graphics
Integrated Camera
1.3MP HD
1.3MP HD
Weight
5 pounds
5.5 pounds
Battery**
6+ hours
6+ hours
Connectivity
802.11 b/g/n
802.11 a/b/g/n
MSRP
$799.99
$899.99
Advertisement