Sony announced that the new Sony VAIO S ultraportable is now available for preorder from SonyStyle. The VAIO S was announced at CES 2011 and comes with 2nd Gen Intel Core i5 and Core i7 processor options as well as Intel WiDi 2.0 and the ability to last 15 hours with the optional slice battery.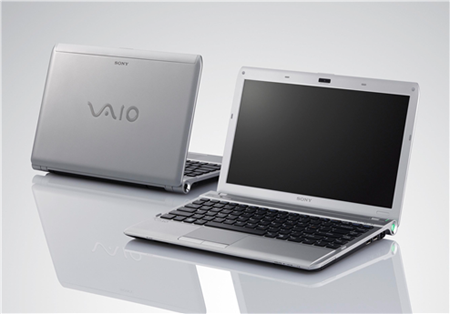 VAIO S Quick Specs:
The Sony VAIO S has a 13.3″ display with a 1366×768 resolution and comes in a black or white magnesium and aluminum chassis which is helps keep the weight of this thin and light down to 3.8 pounds. The VAIO S can be configured with up to a 2.7GHz Sandy Bridge Intel Core i7-2620M processors with TurboBoost 2.0 to deliver up to 3.4GHz of power when needed. The ultraportable can support up to 8GB DDR3 RAM.
The VAIO S can be configured with up to an AMD Radeon HD 6630 GPU with 1GB RAM for optimum video performance, that can switch over to the integrated Intel graphics solution to extend battery life.
The VAIO S comes with several storage options including twin SSDs with RAID 0 technology as well as numerous hard drive options including up to a 500GB 7200 hard drive or a 5400RPM 750GB hard drive.
There are also optical drive options including Blu-Ray, Intel WiDi 2.0 to stream wireless HD to your HDTV, Bluetooth and USB 3.0. The VAIO S models all have backlit keyboards and a multitouch mousepad as well as MOTION EYE webcams and the standard VAIO, WEB and Assist buttons.
VAIO S Battery Life:
The VAIO S comes with a standard battery rated at up to 7.5 hours with the default settings, or 6.5 hours on full brightness. While playing a DVD or Blu-Ray expect around 4.5 hours. You can double the VAIO S battery life by adding a "sheet" battery which is shown above and is similar to the slice batteries commonly found on business notebooks. The VAIO S Slice battery is an extra $150 and brings your battery life up to 15 hours with default settings and 13 hours at maximum brightness. The slice battery snaps on to the base of the notebook rather than sticking out the back, and brings the weight of the notebook up to 5 pounds.
Sony VAIO S Pricing and Availability:
The Sony VAIO S is available for preorder today starting at $970. The optional slice battery adds $150. No ship date has been formally announced.
Sony VAIO S Gallery:
Advertisement