The $1,399 Aspire Ethos AS5951G-9694 is the 15.6-inch version of Acer's ultimate multimedia line. With this bad boy you get a powerful Core i7 CPU, discrete Nvidia graphics and a touchpad that detaches to become a remote control. Not to mention it's got a pretty sweet design. So does this Ethos deserve the prime spot in your living room or dorm? Read on to find out.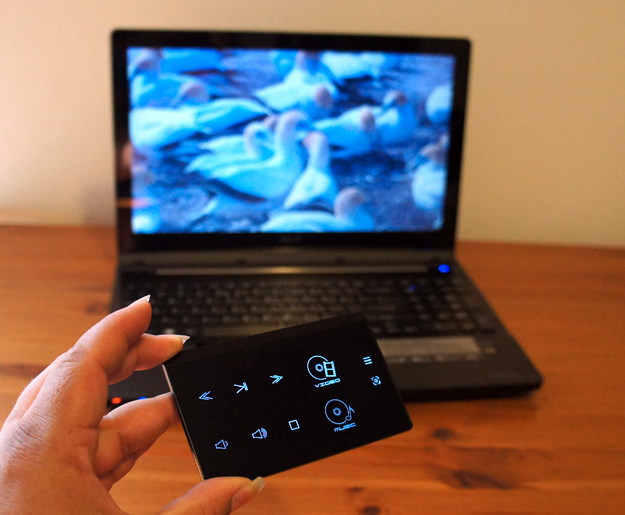 Design
The 15.6-inch Ethos still feels like a large machine even though it's not as massive as its 18.4-inch counterpart. It measures 15.0 x 10.6 x 1.2 inches and weighs 7.3 pounds, so it's still not the most portable laptop on the shelf. Thanks to its slick lines and slimming black frame, the Ethos doesn't come off as bulky. Since it's not made to tote around easily, who is this laptop for?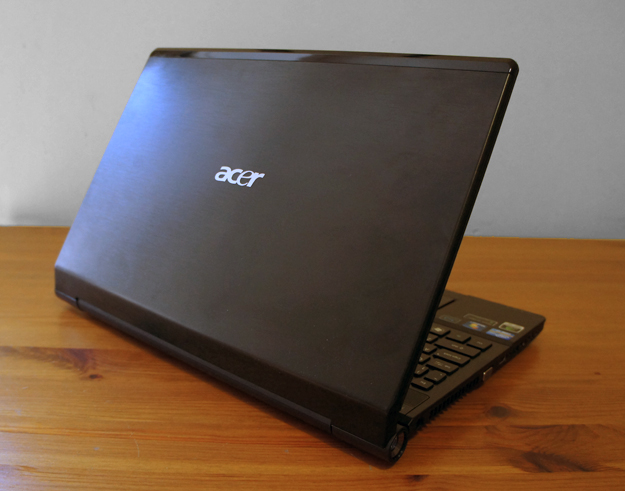 Multimedia rigs like this are for consumers looking to create a multitasking entertainment center yet still want the ability to carry the laptop in a normal-sized bag. The Ethos fits into this niche nicely due to the detachable touchpad/media remote (more on that in a bit). It's good for dorm rooms, small efficiency apartments or bedrooms where having a TV is impractical or not desirable. And thanks to the black, fingerprint-resistant aluminum and magnesium lid, it will make a nice centerpiece to the room.
As is fitting for a multimedia powerhouse, the Ethos comes with a wide array of ports, many of which offer speedy connectivity to peripherals, such as hard drives, so you can play media without a hitch. There are three USB 2.0 ports, a USB 3.0/Super Speed port, an eSATA/USB 2.0 port, and a Firewire 400 port plus a memory card slot and an Ethernet port. For display output there are both VGA and HDMI ports, so you can play Blu-ray movies from the optical drive on a much larger screen.


Keyboard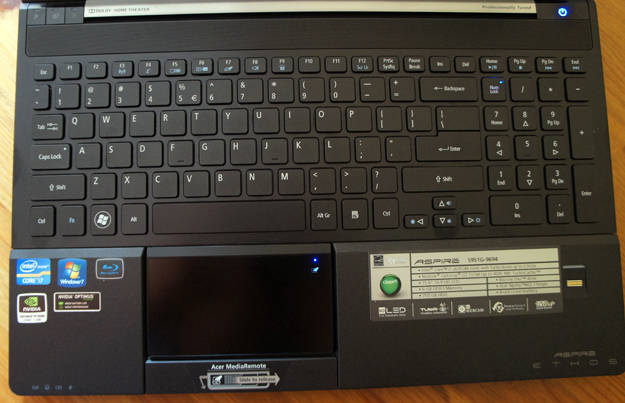 The Ethos sports a full size keyboard and number pad. The island-style keys are flat and slick, but not so much that I made many mistakes typing. Tactile feedback isn't super springy, nor is it mushy. Overall, it's a middle of the road keyboard that won't get in your way, whether you hunt and peck or touch type. The best feature is the backlit keys, which you can turn on and off via a button on the upper left of the deck.
Touchpad / Media Remote
The star of the Ethos line is the detachable touchpad, which also acts as a media remote. It's bigger than you'll find on most laptops — 4.25 x 2.25 inches — and very slick on the surface. Due to this I encountered a lot of friction, keeping me from moving my finger smoothly across the screen.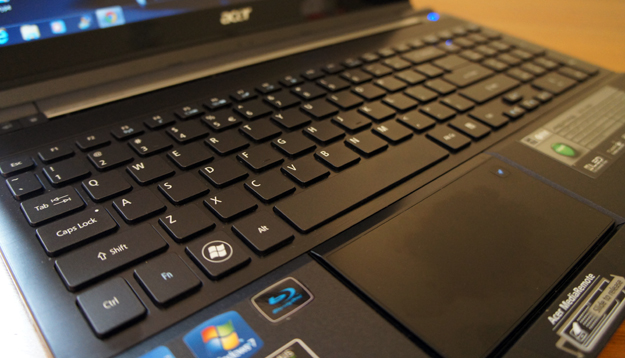 When docked in the machine the touchpad isn't always super responsive. I had a hard time pulling off multitouch gestures even though it should have been easier with a wider surface. Underneath there's a single mousebar that's the same width as the touchpad. It's thick, so using it without looking presented no problems.
The touchpad has three modes that you can activate whether it's docked or used as a remote. To toggle between them, tap the button on the upper right.
Normal touchpad mode is what you'd expect and active by default. Press once to activate the Acer clear.fi Music and Video launch icons. In this mode you can still use part of the touchpad surface for moving the cursor, presumably to choose your media. There are also two other icons for navigating the clear.fi library.
Press a second time to activate the media controls — forward, back, play/pause, stop, volume up and down – which disables touchpad functions, giving the entire surface over to multimedia. This third mode will activate automatically when you play music or a video.
If you're used to using your laptop to watch videos, you know annoying it can be to have to get up and go over to the computer when you want to pause, skip, or even select the next video. It's like the days before TV remotes all over again. So the idea here is a good one. The execution could use some work – this setup isn't quite as elegant or streamlined as it could be. There are either too few options or too many; the balance isn't right yet.
Plus, the controls won't work universally (except volume). They're designed to work with clear.fi, obviously, and can control Windows Media Player, but not Quicktime or web-based media like Netflix.
I was able to use the remote from up to 20 feet away, both as a touchpad and as a media controller, with no signal problems. In small rooms the couch or bed probably won't be that far away. I wish that Acer offered a way to tap a button to make the cursor much bigger to make is easy to use when a few feet away. Also, the ability to right-click while in remote mode would be nice.
Display
The 15.6-inch LED backlit display has a 1366 x 768 resolution, which is disappointing. A multimedia machine with a Blu-ray drive and a 15-inch screen should have at least 1600 x 900 to take advantage of all that space.
The glossy display offers nice, popping colors and deep blacks. It definitely has the chops to display beautiful video. However, the viewing angles aren't as wide as I'd like. To get the best angle, especially if you're a few feet away, you need to position the screen precisely, else you might encounter a darkening/distortion.
Sitting up close this isn't a problem – three people can comfortably share the screen. But if you're lying on the couch or bed, you'll likely have to tilt the screen forward close to a 90 degree angle instead of leaving it slightly tilted back as you would for normal use. Also, make sure to turn off any lights you don't need, as the gloss reflects light.
Audio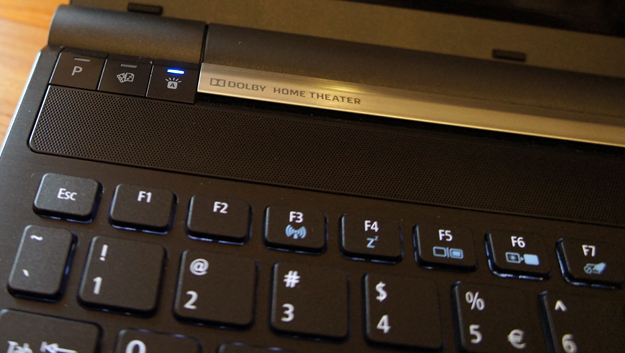 A long speaker bar runs across the deck above the keyboard, aiming sound right at you if you're sitting in front of the Ethos and up to the ceiling if you're not. The Dolby Audio enhancements make the audio quality a cut above the average laptop, but the speakers don't achieve a very deep or rounded sound. Certainly not as good as the Dell XPS 15z.
However, in small rooms it will provide enough volume and quality to satisfy most users when listening to music or watching video. If the room is bigger, opt for external speakers. Thanks to the sound drivers the output is good enough for anyone who's not a serious audiophile.
Other Features
Acer includes several media-focused programs with the Ethos. The company's own clear.fi app is a nice enough media player, but doesn't offer much that's different from Windows Media Player (except a better UI. One nice aspect is that it will easily connect to other Acer devices running clear.fi, such as an Iconia Tab, to share media. This only works with Acer products, though.
The company expects owners to do a lot of reading on the Ethos, so they pre-loaded the New York Times Reader, newsXpresso digital newsstand, and Barnes & Noble's Nook for PC.
For extra security (very useful in a dorm room situation), Acer includes a fingerprint reader so users can log on with a swipe.
The webcam above the display captures images with noticeable noise but not much blur. Good enough for Skype or ooVoo chats but not for those YouTube reaction videos (those need more clarity!).
Specs and Performance
The Ethos may be built for media, but users will need it for more than that to justify the $1399 price tag. Under the hood it's powered by a 2-GHz quad-core Intel Core i7 2630QM CPU, 6GB of RAM (max 16GB), an Nvidia GeForce GT 555M graphics card, 2GB of graphics memory, and a 750GB hard drive.
This amount of power meant that the Ethos easily handled everything I threw at it. I did some mega-multitasking by working with over two dozen tabs open across Firefox 6 and Google Chrome while playing a Blu-ray movie in the background and editing images with Adobe Photoshop CS5. While editing video with Adobe Premiere Elements 9 I didn't have to wait for the laptop to catch up to me when I wanted to make a cut, move around, or add an effect. And rendering the final product didn't take long at all.
While playing Batman: Arkham Asylum both cut scenes and fast movement/fighting moved smoothly without no dropped frames or hitching. The Ethos nicely rendered details on clothes and the environment.
Battery Life
The 8-cell battery is rated to last for 7 hours. However, it lasted for just 5 hours and 10 minutes while surfing on Wi-Fi continuously with the display set at 40% brightness. Granted, you likely won't carry this around somewhere you might need longer battery life, so this isn't a big drawback.
Value
For $1,399 the Acer Aspire Ethos AS5951G-9694 isn't a bad deal given the powerful components inside. However, the Dell XPS 15z has quite a few advantages over it, including a more portable design, better audio quality and speakers, and a better display available with a 1080p resolution. The unit we reviewed cost $1,499, just $100 more, but doesn't come with a remote or a Blu-ray drive, only DVD. The XPS 15z is configurable, though, and starts at just $999.
If you're really looking for a multimedia laptop that stays in place most of the time, why not go for something bigger? The Aspire Ethos AS8951G-9600 is $1,599 (less at many stores), just $200 more, and has a big, beautiful 18.4 inch display. You get all the same specs except 2GB more RAM and full 1920 x 1080 resolution.
Conclusion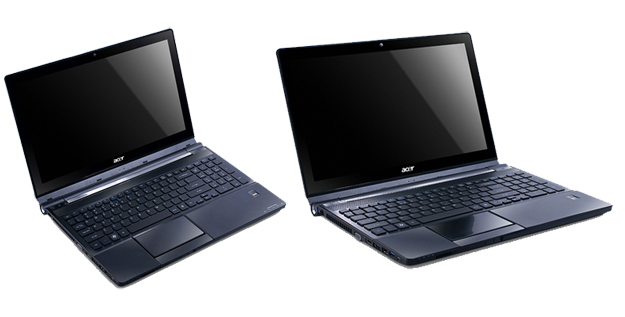 If you want a multimedia laptop that offers a sliver of portability, the Acer Aspire Ethos AS5951G-9694 is a decent choice, but not the best one in this price range. The detachable media remote is a good idea, but it's not a very good touchpad, meaning users will need an external one for real productivity. Combine that with the lackluster display and the 15-inch Ethos only gets a so-so from me. Look into its big brother if the media remote intrigues you or the Dell XPS 15z if you want your media with more portability.
Pros
Powerful overall and graphics performance
Remote media and touchpad control
Large port spread
Cons
Heavy and big
Underwhelming touchpad
Narrow viewing angles
Display needs higher resolution
Acer Aspire Ethos Gallery
Advertisement