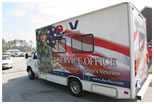 HP has outfitted mobile operation centers for the Disable American Veterans (DAV) organization in order to help the group reach veterans who need assistance maximizing or gaining benefits.
The DAV, which provides its services free of charge, uses these Mobile Service Offices that are outfitted with HP notebooks and printers to visit veterans face to face in communities across the country and educate the veterans and their families on the various benefits and services available.
Normally these types of transactions would require a phone call, online interaction or long trip but thanks to mobile gear like these HP notebooks the help can come to the veterans. In this case the DAV is using HP EliteBooks and HPO All in One printers to support the mobile operations. The EliteBooks are professional grade notebooks that offer road warriors and mobile professionals a powerful machine. For a closer look at an EliteBook check out our hands on with the ElitBook 2540p.
Advertisement