Replacing your traditional hard drive with an SSD, or solid state drive, is one of the latest ways to bring speed to your system allowing you to get into Windows faster, and thus get to work quicker. Intel was kind enough to send over one of their Intel X 25-M SSDs for us to test out, and another for us to give away to a Notebooks.com reader.
Keep reading for our Intel X25-M review and to find out how to win one of your own.
Intel X25-M SSD Quick Specs: The Intel X25-M SSD we have on hand is an 80GB model, specifically the Intel X25-M with a rated sustained sequential read of up to 250MB/s and a sustained sequential write of up to 70 MB/s. You can find this drive from many online retailers for around $200. If you want to pick it up in store, Best Buy carries it for $199.
Installation and Setup:
Installing and setting up the Intel SSD was simple thanks to the free Intel SSD Cloning Utility which made an exact copy of our old hard drive and transferred it to the SSD in about an hour. The hardest part was cutting down on multimedia files so that our used space was below 80GB, but the free utility TreeSize made that a snap.
Once we had our hard drive cloned to the SSD installing the SSD in our notebook only took a few minutes and required a small Phillips screwdriver. You can the video below that shows you how to install an SSD.
Perhaps my favorite part about this upgrade, aside from the speed that we'll touch on in a second, is that it is a very simple and easy process that most users can undertake in a Saturday afternoon.
SSD Benchmarks:
Since speed is the name of the game with SSDs we measured the speed of our old hard drive versus the new Intel X25-M solid state drive using CrystalDisk. This tool measures how fast the drive can read and write under several circumstances. Aside from the benchmarks, which show a big improvement, it is important to note that there was a significant speed boost that we could tell in using the computer so it's not all theoretical benchmarks.
Benchmarks for our old hard disk drive, a 500GB Western Digital Scorpio Blue 5400RPM drive: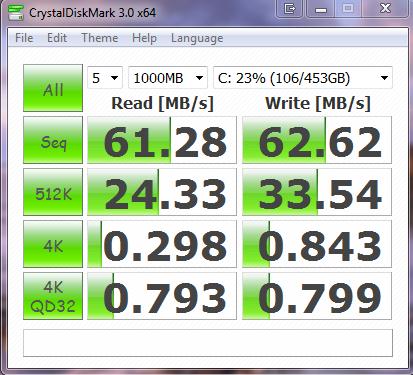 Benchmarks for our new 80GB Intel X25-M: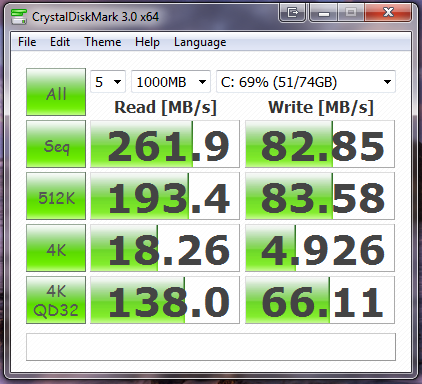 You'll notice that all of the benchmarked categories showed an increase, with the sequential read and sequential write categories showing a dramatic jump, even above the rated specs for the X25-M. The last option, 4k QD32 is another important one to look at as it shows how fast the disk can read and write a lot of small files in 32 parallel threads. If you don't understand that, just note the large difference, knowing that a higher number is better, and move on to the performance section below that deals specifically with what you will notice.
One final area we looked at in pure benchmarking was our Windows Experience Score, which remained at a 5.5 after the upgrade thanks to the Intel Core 2 Duo processor we are running but we did see the primary disk score jump from 5.8 to 7.6 after installing the Intel X25-M.
Performance:
When it comes to actual performance, I was surprised by how much I noticed the speed of the new SSD. Specifically we'll touch on startup and shutdown, performance during intensive tasks and general use.
When it comes to startup and shutdown, the Intel X25-M cut both in half. On average it took 29 seconds to boot into Windows and start working with the SSD compared to 63 seconds with the hard disk. When it came to shutting down th SSD could turn off in 16.2 seconds on average, while the hard drive took 38.1 seconds. These improvements are ones that you will notice every time you turn your computer on and off.
One of our readers wanted to know how the solid state drive held up during intensive tasks like video editing, so while we edited the how to install an SSD video embedded above, we used the system to do other tasks such as web browsing. Since we were still limited by our CPU we didn't notice a major difference between the solid state drive and the hard drive, but there were times where launching applications seemed snappier with the SSD.
In general use I am still amazed by the SSD. If you click a program, it's ready to go almost instantly which means that you won't be suffering from "Hourglass Syndrome" which accounts for up to 3 days of lost productivity a year. You literally click on a program and by the time you get your mouse to the file area it is launched. Of course more taxing programs like video editing software aren't as instantaneous, but they are ready to go faster than on the hard drive. I wanted to make sure that I wasn't just imagining the difference, so I went back to the old hard drive for an hour and it felt like molasses in wintertime compared to the SSD.
Size Does Matter:
The biggest drawback with switching to an SSD is size. The price per GB is still significantly higher than with a standard hard drive which means you may have to settle for a smaller drive. In our case we had to move a lot of media files over to an ExpressCard SSD, external USB hard drive and network attached storage. With our examples we are able to have all of our data with us at all times, but without our ExpressCard SSD (review coming) we would need to make sacrifices regarding what we could carry with us at all times.
Hopefully with the next generation of solid state drives we'll see an increase in size and a break on the price.
SSD Maintenance:
One area where Intel continues the good job of support is in solid state drive maintenance, with the Intel SSD Toolbox which allows you to run diagnostic scans and checks your settings to ensure optimum SSD performance. First off you can run the Intel SSD Optimizer which uses TRIM functionality to optimize your SSD and can run this on a weekly basis. This is an important function, that not all SSDs have.
The toolkit can also check your system configuration to make sure that Windows settings are tweaked for use with an SSD and that disk defragmentation is turned off.
Conclusion:
There are definitely tangible benefits to switching to an SSD as your main drive that go beyond the benchmark bragging of geeks. While the price of an SSD is more expensive than a hard drive counterpart and the sizes may make you feel like it's 1999 again, the switch is still an exciting one — so long as you have a second drive handy to store media files. We are eagerly awaiting cheap, large solid state drives, but if you can handle the disk size, there is a significant benefit to switching today.
Pros:
Noticeable Speed Improvements
TRIM Support
Ease of installation
Cons:
Size requires sacrifices for storage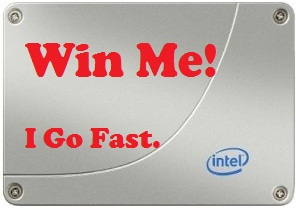 How to Win an Intel SSD:
Intel was nice enough to send over an extra 80GB Intel X25 SSD for us to give away! You can enter the Intel SSD giveaway by commenting below, or tweeting about the contest as shown below. You earn one entry for a comment and another for a Tweet. You cannot gain more than two entries. The winner will be chosen using a random number on October 31st at midnight Pacific time.
Comment below telling us how you would use an Intel SSD for one entry
Tweet – "I just entered to win an #Intel SSD from @Notebookscom #SSDcontest – Notebooks.com/go/IntelSSD"
This contest is valid in the U.S. only. If you tweet to enter you must be following @Notebookscom so that we can DM you for shipping details.
Advertisement