These days, shutting down your computer is a rarity. If you want to save power, but keep your computer ready to turn on, hibernation is an excellent option. I'll show you how to change power options and why you might want to change the default Start Menu Power options.
I hibernate my laptop which is the most power efficient option available and works closest to turning off the computer completely. Hibernation saves the computer's current state to disk.  When you start the computer, it returns Windows 7 to the way it was. The load time is much faster too, instead of going through the entire boot process of starting from scratch, you are back at the desktop in no time and operating like you never left.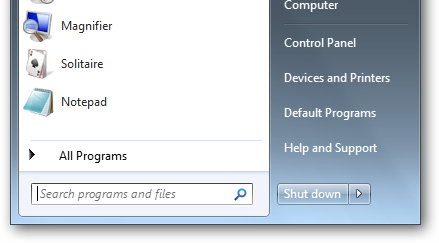 By default, the Power Option is set to Shut down, to change that follow the instructions below.

Click Start, type: taskbar

Hit Enter on your keyboard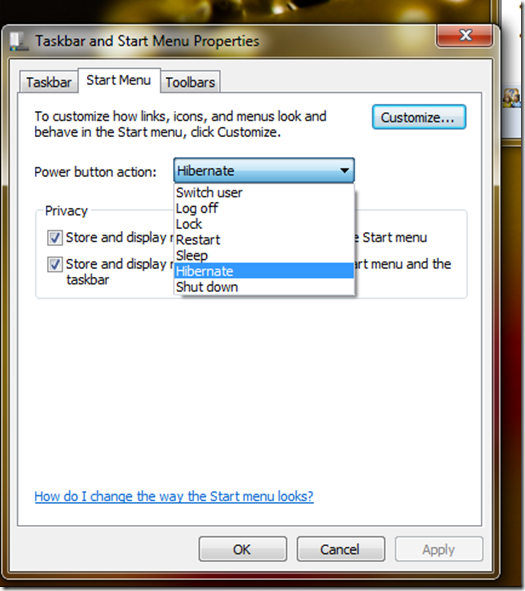 Go to the Start Menu tab, click in the Power button action: list box and choose from one of the available options. Click Apply and OK confirm changes.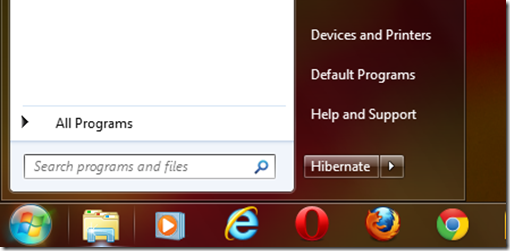 From now on you will see only Hibernate or whatever you choose as the default option. You can always go back and change it when you don't need it.
Advertisement