Have you ever wanted to search for more than one specific file at the same time based on the file extension? For example, Word Documents and Excel Spreadsheets only or .JPEG and .BMP files. Windows 7's Search and Organization tools makes this very easy. Here is how you search for multiple file types at one time.
You will need to use what is called a Boolean Syntax or Search Operator, which is a bit of programming lingo. A Boolean operator, if you do not know, is how the computer uses words or symbols to help us find or exclude certain information in our search queries. Say you want a list of all Word documents and Excel spreadsheet, you would type the syntax:
ext:.docx OR ext:.xlsx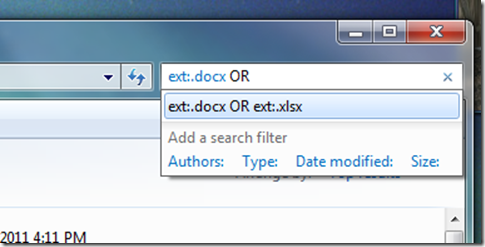 Automatically, you will see all files related to the search query listed in the window, see below: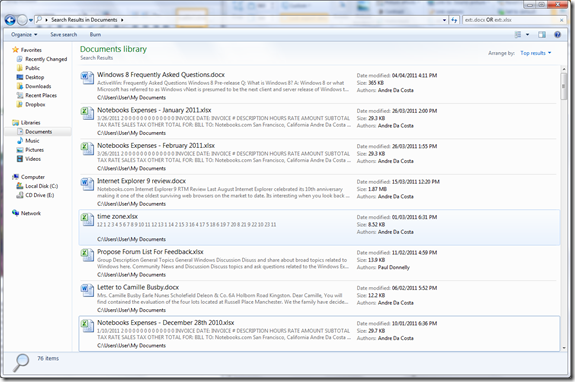 The above search query produced a list of all the Word documents and Excel spreadsheets in the folder.
You can do this with any file type you wish, all you need to know is the file extension, normally a 3 letter abbreviation at the end of a file name. Below is a list of common file types:
.doc, docx, .xlsx, .ppt, .pptx. .mdb, .accdb, .jpeg .png .psd .gif .mp3
You are not limited by just 2, you can search for 3 or more file types if you want and you can mix file types if you want, so if you want to search for a combination of .jpeg images and Word documents, you can do that too.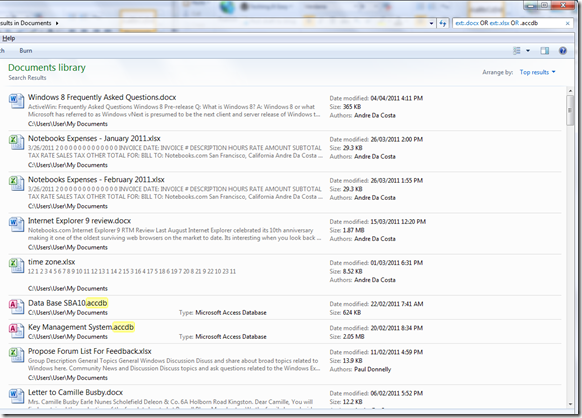 In the above screenshot, you can see that I am searching for different file types, which include Word documents, Excel Spreadsheets and Access databases.

When typing in the Boolean operator, you must remember to capitalize the OR. If you use a common 'or' you will not get any results. Also remember to add the ext: then the file extension "ext:.jpeg" when entering the query.
It takes a little practice, but it can a definitely boost to your search operations and make you more productive. For a list of other search syntaxes, check out the following article from the Windows Team Blog.
Advertisement