Apple is expected to debut its next major release of Mac OS X, the Company's flagship operating system for its Macintosh computer. Apple describes this release as advancing the world's most advanced operating system. When I look at some of the highly touted features, its hard not to point out that these features have been in Windows for a long time. Lets take a look at these new features and some of the hard to accept changes Mac users will have to face.
1. Full Screen Applications on Lion vs. Full Screen Applications on Windows 7
Apple marketed this like the greatest invention since the graphical user interface. Some Mac users have complained about the inability to fully maximize their applications. Windows users have been able to do this for a long time, here is a look at it in action;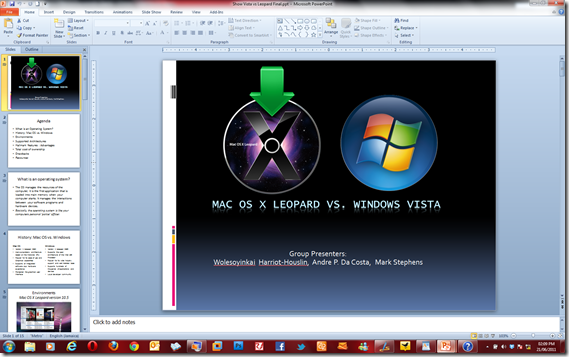 Here you can see I have a PowerPoint presentation set to full screen. If want to auto-hide the Windows 7 Taskbar, you do that too. Here is how you do it.
Click Start, type: taskbar
Hit Enter on your keyboard
Under Taskbar (tab) > Taskbar appearance, check the box 'Auto-hide the taskbar. Click Apply and OK
2. Purchasing Mac OS X digitally vs. purchasing Windows 7
I believe this is more of a disadvantage for Mac OS X Lion, since this is the only way to purchase the new version of Mac OS X. Microsoft has been offering Windows 7 as a digital download from the Microsoft Store since its debut in 2009. You can also purchase Windows 7 at almost any electronics store.
One of the immediate disadvantages is for people who don't have a fast enough Internet connection to purchase Mac OS X as a digital download. Microsoft realizes this and provides Windows 7 both as a digital download or a box license you can purchase in a store. In addition to that you can order a reinstallation disk if you need one from the Microsoft Store or download and burn your own.
Apple doesn't provide the option to burn an OS X Lion disk. Power users will likely find a workaround, but basic users will be left out.
3. Reinstalling Mac OS X Lion vs. Reinstalling Windows 7
Another problem with Mac OS X Lion when it comes to reinstallation is, in order to reinstall you must first connect to the Internet and validate your Mac's serial so Apple can determine if it's approved.
Windows 7 provides product activation too, but it's not strict like Mac OS X Lion. In fact, you can do a clean install or in place upgrade with the Windows 7 Upgrade disk if you wish, you are given 30 days activate or you can activate by telephone. In fact, if your 30 days are up, you can extend your activation grace period for up to 120 days. So if you are in some remote location where there is no Internet Access or telephone, you can use Windows 7 for a long period of time with ample time to get your installation reactivated.
Recently a Mac user emailed Steve Jobs asking about the options for doing a clean install with Mac OS X Lion:
On Jun 20, 2011, at 9:57 PM, xxxx wrote:
Steve,

I'm really exited about Lion, but I'm a bit anxious about the absence of any physical media in the event of a crash where I need to do a clean install. Will Lion still provide a way to make a bootable image in the event that I need to start from scratch?
And Steve's typically short response:
From: Steve Jobs
Subject: Re: Lion clean install
Date: June 21, 2011 7:55:05 AM PDT
To: xxxx

You can clean install Snow Leopaard [sic] first.

Sent from my iPhone
Microsoft license agreement does recommend that you have a qualifying operating system installed (Windows XP or Vista) in order the use the Windows 7 Upgrade disk, but based on my experience it is not required. You can do a clean install using the upgrade disc and reactivate by telephone. Also, you have the option of backing up a working image of your Windows 7 installation that's already activated and restore it without the need to reactivate. Mac OS X requires that you connect to the Internet to reactivate your Mac OS X installation use it.
Speaking of qualifying operating systems, users running older versions of Mac OS X such as Leopard or Tiger will have to upgrade to Snow Leopard to qualify to use Mac OS X Lion. In fact, Snow Leopard is the only way you can download Mac OS X Lion since the App Store it is only available on that version of OS X. So that's two upgrades required, which works out to more than the $29 Apple advertises for Lion. Windows 7 on the other hand requires either Windows XP or Vista as a qualifying operating system and you can do in place upgrades from Windows Vista.
4. Internet and Restore Utilities vs. Windows 7 System Recovery Environment
Apple describes its new Restore Partition as something new and unique to Mac OS X Lion, but these are features many Windows PC OEM's such as DELL, HP, Acer, Lenovo and many others have been offering for years, Apple just caught up in July of 2011. Windows has carried a recovery environment since the release of Vista, with the release of Windows 7, Microsoft made the system recovery environment installed on the hard disk boot drive. So you don't need to have your Windows installation disk to access it. Just start your computer, press F8, select 'Repair Computer' and Hit Enter on your keyboard.
The Apple Restore utilities will let you restore your Mac from a Time Machine backup, reinstall Mac OS X, run Disk Utility or use Safari.
Well, you can do most of these features in Windows 7 today, the System Recovery Environment in Windows 7 lets you fix start-up problems, restore a system image and do advanced task such as partition hard disk and other diagnostics tasks. Another great thing, if your hard disk dies or gets corrupted, you always have your Windows 7 reinstallation disk and you can even create your own System Repair disk if you need to repair your Windows 7 installation.
5. AirDrop vs. Windows 7 HomeGroups
AirDrop is Apples simple new solution for sharing files using your local area network. Windows 7 innovated on this front with its New HomeGroups feature which lets you easily network multiple Windows 7 PC's and share files and even stream media such as music and videos and movies to other PC's in the home. To even prove how amazing Windows 7 media streaming capabilities are, you can stream music and videos from your Home PC to your Work PC over the Internet. You can enhance this with free tools such as Windows Live Mesh and Windows Live Sync so you can remotely access your files on other computers and keep your files across multiple devices synced.
6. No more Rosetta vs. Compatibility Troubleshooter, Windows Virtual PC and Windows XP Mode
Application compatibility will be an interesting case with Lion; there have been numerous complaints amongst Mac users about how they will run their legacy applications that depend on PowerPC code. With the removal of the real time code translation technology Rosetta, many Apple users will not be able to run some of their favorites old apps. Examples include older versions of Office for Mac 2004, X and programs like Quicken 2007.
Work arounds have been suggested, such as dual booting Snow Leopard and Lion, which will be a chore for many or consider investing in a copy of Windows 7 and virtualization program such as Parallels or VMWare Fusion. One of the hallmarks of Windows has always been compatibility; Microsoft definitely ensures that many legacy programs or older applications can work with the latest version in the most convenient way possible. Some common options include Compatibility Troubleshooter, which allows you to run a program designed for an older version of Windows such as Windows XP or Vista.
Another option if you are running Windows 7 Professional or Ultimate is the free Windows Virtual PC with Windows XP Mode software. Windows XP Mode will let you seamlessly run older applications side by side with modern Windows 7 applications. You can pin them to your Taskbar and switch between them like you were running them natively.
7. Hardware Requirements
Windows 7 ultimately takes the cake here. I have Windows 7 running on my 7 year old Dell Dimension 8300 flawlessly. This computer is powered by an Intel Pentium 3.2 GHz Northwood 32 bit processor. The only computers Apple sold back in 2004 were PowerPC Macs, so obviously they could never run Mac OS X Lion or even Snow Leopard.
Mac OS X Lion calls for a Core 2 Duo, Xeon or Core 2 Quad capable Mac. That means, Intel Macintosh computers that came out in early 2006 won't be able to run the latest version of Mac OS X because they are 32 bit only, all Core Duo Macs are left behind. Windows 7 on the other hand runs on a variety of processor models, whether its Core Duo, Intel Pentium, Xeon, Core 2 Quad, Centrino and the next version of Windows will run on ARM processors from a variety of manufacturers. Unlike Mac OS X, Windows does not rule out still capable hardware and does not require a lot to run it. The minimum memory requirement for Lion is 2 GB of RAM, while Windows 7 requires a minimum 1 GB of RAM.
Conclusion
The intention of this article is not to put Apple in a bad light, but the execution of this release seems more troublesome than welcome. Upgrading to Lion seems more like a hassle than a necessity, the system requirements, the requirements to download and install it, the requirements to reinstall it if necessary make Windows 7 a better operating system almost two years after its release to market. When you compare the key feature set, Lion is just catching up with some of the features Windows had for years.
Advertisement