It seems like just yesterday Windows 7 was released to manufacturing. Time flies indeed! I remember my first experience with Windows 7 which was the developer preview build 6801 released at the Microsoft Public Developer Conference in October 2008.
Of course, it was still early in the development phase and you didn't see a lot of the key features we now enjoy in Windows 7. Functionality like the increased performance, enhanced Taskbar, desktop effects, new ways of sharing and enjoying media through HomeGroup networking and a more secure experience that's positive and informative. Windows 7 is no doubt an exceptional release and will define the PC going forward.
A lot has happened since Windows 7 was made generally available in late October 2009. It's now deployed on over 240 million systems world-wide, its driving the growth of 64 bit computing with 46% of PC's running the 64 bit variant.
Microsoft has continued to light up the Windows 7 experience with value added services such as Windows Live, which consist of Windows Live Essentials and online services such as Live Photos, Live Hotmail and more. The Windows Live cam recently released the latest version called  Windows Live Essentials 2011 which includes great improvements to working with videos, photos and sharing with family and friends. Windows Live Essentials 2011 includes features that take greater advantage of Windows 7 too.
So what has it been like for me since I upgraded to this release of Windows?
I have been running Windows 7 code since 2008, I upgraded to BETA in January 2009 and then the Release Candidate in May of 2009, I ran these pre-release versions of the OS every day on my systems. Windows 7 during its development was a different type of beta testing, it was more mainstream than past releases. Some would say this was because it was more of a iteration of Windows Vista, but I have to disagree. Windows Vista was architecturally important, and Windows 7 is too, but the difference I am realizing with Windows 7 is the teamwork that took place throughout the industry. Everybody seem to be on the same page from day one. Microsoft's Hardware and Software partners were more committed and intended to really shape their products and services around this release compared to past releases. Other than the industry support though, I was most excited by the focus on further innovating the user experience, the interaction between user and PC.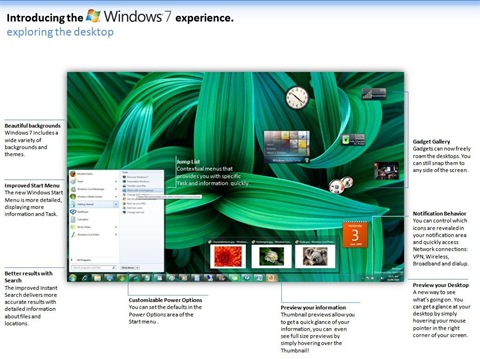 User Interface
Windows 7's new Taskbar is out the gate impressive, I don't see anything like it on any other other operating system. Taskbar effects such as Thumbnail previews are delightfully implemented with the ability to hover them and see large size previews, you can quickly close them and efficiently navigate the user interface more effectively and intuitively. You can also move around open window buttons on the Taskbar which is a feature users have requested for many years.
Also, I like how its so much is easier to control the Notification Area behaviours, you can also quickly access your Network Locations using the new View Available Networks menu in the notification area. Jump List is another plus when using the Windows 7 Taskbar and Start Menu, you can quickly access recent files or start new task, the immediate benefits there is the cohesiveness of how the Windows 7 user experience works.
Search results are contextual, HomeGroups makes it easier to find and share information, not to mention the simplicity it ads to tasks such as networking, you can stream media such as music, videos across your network or leave your PC on and stream the media to your PC at work, so you can always have access to your media library, anywhere.
Lets not forget about the productive features like Aero Peek for quickly viewing the desktop, Aero Snaps for data comparison (this is especially great when you are referencing information and Aero shake to quickly minimize windows in the background. Windows 7 is such a pleasant experience, and it gives you so much control while being simple to use. You are also able to resize gadgets, you have a wide collection of beautiful themes and you can even create your own slideshow themes or choose from a wide collection of pre-packaged themes on the Microsoft Personalize Gallery.
Security
Security is always important and its never been more important than now. Windows has a strong market penetration world wide and Microsoft realizes that its a target of many malicious attacks. I have been running Windows on the same desktop since March 2004, upgraded from Windows XP to Windows Vista and now Windows 7. I must say, there is partly a lot of FUD coming from the Open Source community about Windows. I have never had a compromised system running Windows. Yes I do take precautions which every user should do regardless of their OS platform of choice.
Windows really has a strong suite of security tools built in, mostly transparent and automated for the end user. The most controversial one that was introduced in Windows Vista that I can safely say is not the case anymore is User Account Control. Microsoft had good intentions when this was introduced in Windows Vista, but the implementation was a bit too aggressive and not intuitive with how it works. In Windows 7, I rarely encounter the UAC prompt over the past year, yes the occasional apps might bring it up during install (Apple iTunes/Adobe Acrobat). Apart from that its been smooth sailing, another lovely improvement, you can customize the UAC experience too, the only option you had in Windows Vista was on or off.
There are a number of improvements throughout Windows 7 where security is concerned, again features such as UAC, Address Space Layout Randomization, Data Execution Prevention are all there along with some new additions such as Stack Protection, Heap Protection and Structured Exception Handler Overwrite. Safe Unlinking prevents pool over-run attacks, which is a common exploit technique that happens when memory (on the heap) is dynamically allocated by the application at run-time and typically contains program data. The exploitation occurs by corrupting the data in a certain way causing an application to overwrite internal structures such as linked list pointers. (this is part is really for the super geeky) Safe Unlinking prevents this by performing a Bug Check as an over-run is detected, which will prevent further memory corruption, crashes and errors.
Although BitLocker is still limited to the Ultimate and Enterprise editions of Windows 7, once BitLocker to Go is enabled the device can still be used on any edition of Windows 7 in addition to Windows XP. BitLocker is also easier to install and configure, simply right-click a drive in Computer Explorer and click the 'Turn on BitLocker' option on the contextual menu. I noticed though that large devices 2 GBs or more can take a long time to encrypt, so I suggest you don't do it on a whim. Other improvements include no need for manual partitioning or use of third party tools. Windows 7 also creates a hidden partition for BitLocker instead of a new one like Vista.
AutoPlay will no longer support the AutoRun functionality for non-optical removable media. In other words, AutoPlay will still work for CD/DVDs but it will no longer work for USB drives. For example, if an infected USB drive is inserted on a machine then the AutoRun task will not be displayed. This will block the increasing social engineer threat highlighted in the SIR. The dialogs below highlight the difference that users will see after this change. Before the change, the malware was leveraging AutoRun (box in red) to confuse the user. After the change, AutoRun will no longer work, so the AutoPlay options are safe.
You also get full system imaging capability in all editions of Windows 7, so you backup the entire PC to an external hard disk and restore it when needed, (Vista Home Premium, Home Basic and Starter only has backup and restore).
Compatibility
Only one application I have is not working and that's Mobile Phone Tools, I need to upgrade to a better phone to use latest version 5x release which works on Windows 7. My Motorola C350 is old anyway, had it since 2000, but I have been able to work around it by using the free Windows XP Mode for Windows 7 Professional, Enterprise or Ultimate.
Windows XP Mode is probably the solution a lot of users have been looking for, the seamless experience it provides users running legacy applications alongside Windows 7 makes the compatibility story a better one. There is a minor level of complexity involved and at the same time I am disappointed to know this is only an option for certain Windows 7 SKU's. Since its introduction, Microsoft has removed an initial requirement that the CPU supports hardware assisted virtualization, although it is still recommended for enhanced performance, the removal should make it easier for end users who have complex compatibility requirements to embrace it.
Users must also remember that they are running another computer, which requires maintenance just as the physical machine, which includes installing an Antivirus and keeping it up to date along with keeping the OS updated too. I wish the coherence could be a bit more detailed where UI is concerned, such as making the windows of Virtual Applications adapt the Aero Glass window frames, just to match the look and feel of Windows 7. The ability to install legacy applications out of the Virtual Machine would have been a great option I would like to see. It's a minor complaint considering the boost it gives users to breathe new life into old applications while moving forward with the benefits of Windows 7.
Application Compatibility otherwise in Windows 7 is just great, the majority of applications I had running in Windows Vista continue to function just fine under Windows 7, I have a library of about 108 apps and I have tested everyone to come to a conclusion that Windows 7 has done an excellent job in this respect by bringing your investments forward. The same can be said for hardware devices, my old HP 840c printer works, so does my Canon A520 digital camera, my HP ScanJet 2400 Scanner, iPod Touch, external storage devices.
There might be some users with complex setups, so I can only speak for myself, but most times, all you need to do is go to the manufacturer's website to download the latest available drivers, you can check Windows Update which does a good job of providing the latest drivers for components such as your video and sound card.
One of the experiences I love in Windows 7 is the out of box compatibility, just like Vista, I have one of the cleanest Device Managers, there was basically nothing I had to install after installation. Just on the web browsing, tweeting, blogging and posting on Facebook, listening music right away. Windows 7 delivers a really sophisticated, out of box experience, you gotta give the Windows Team kudos there.
Windows Troubleshooting makes resolving common problems so much easier too, you get up 27 of them with additional ones available for download. Windows 7 is more efficient, if you are using a laptop in direct sunlight, it adjusts the brightness for optimal use. There is also better memory management, better use of multiple processors, a feature called trigger loading of services, so you use your hardware and components better. So, things like your network adapter are only in use when you need it or when you are going to play a DVD.
Performance
Faster resume from hibernation and sleep, you can customize your Windows 7 installation and remove components you don't use often, such as DVD Maker, Tablet features. Another feature of Search I love too is it keeps a history recently used queries when you search from explorer, you also see real time high light of key words, you can even create Search Connectors that search your favorite website's within Windows. Windows 7 really focuses on reducing the amount of mouse clicks required of previous releases.
Of course, performance is not just limited to how you interact with the user interface, but there are low level improvements that I definitely appreciate. Today, mobile PCs send energy to parts of the computer when they are not being used, such as sending power to the network adapter when you don't have an Ethernet cable plugged-in. Windows 7 automatically turns off power to the network adapter when the cable is disconnected and restores power when the cable is connected.
Making users aware of the battery life status is key in Windows 7 for a better; the Battery Life Notification Area applet provides prominent, timely information to ensure that you can use your notebook in tight situations where there is no power. You actually realize these benefits when you actually put a laptop to use in real world scenarios and I have to say I have seen it and appreciate it.
Some additional examples of this include reducing the amount of background activities by supporting the trigger-starting of services. Adaptive Display Brightness automatically reduces display brightness after a certain period of inactivity similar to cell phones. Less power is required to watch a DVD because Windows 7 requires less processing power which leads to a more efficient way to spinning the disk, this leads to benefits such as watching a full length movie on a single battery charge.
Going Forward
I honestly cannot cover everything, some of what I have even discussed here is just a foot note. Windows 7 continues to be an exceptional release one year later. Its success in the market place is a testament to that. Microsoft went through a period where I believe, certain things had to happen to produce this powerful release. Vista's initial market reception gave it the wrong life long reception it did not deserve, in some ways, Windows 7 is righting that wrong.
What does the future hold for Windows 7? Microsoft recently released a beta of the next version of its popular web browser, Internet Explorer 9, you can check out our preview here. Well, back in July, Microsoft released the first beta for the first major maintenance update called Service Pack 1 for Windows 7. This update promises to be a minor release in comparison to previous Service Packs for Windows. I have been running it daily since its availability and there is not much to see except for a few small changes here and there (increment of the build number from 7600 to 7601). Microsoft is expected to release a final version some time in the first quarter of 2011. Waiting on Service Pack 1 to upgrade to Windows 7 doesn't really make much sense, since you have most of what's in SP1 today through Windows Update. Windows 7 offers a truly immerse, engaging, delightful and powerful experience. It's definitely a pleasure to boot up my computer everyday and utilize its many capabilities, some of which I am still discovering!
Advertisement