I have been an avid user of Windows Live Messenger for many years now. It gives me the opportunity to stay in touch with family and friends along with catching up with old acquaintances. Some people look at Instant Messaging as one of the first forms of social networking and its one of the many improvements in this new release of Windows Live Messenger that is heavily emphasized. Windows Live Messenger is available as part of the Windows Live Essentials wave 4 beta which we took a look at recently.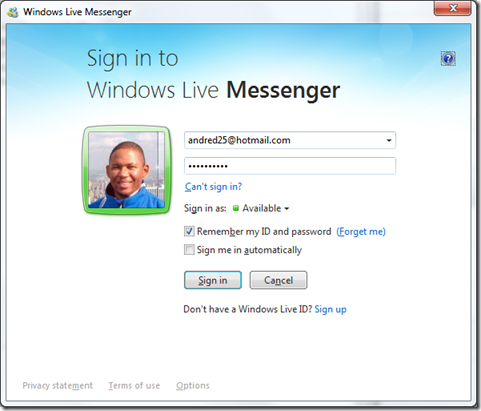 Windows Live Messenger wave 4 screen
The sign in screen has been updated for this release, featuring a much broader interface compared to its predecessor. You will also notice the new Wave 4 theme which is a minor update which features less waves and more lens flares. There is also an emphasis on the Messenger wording using a bold highlight. You will notice if you press Alt, the drop down menus are not available, normally, you wouldn't need access to these features, but if you would like to make some adjustments you can click on the Options link at the bottom of the Messenger window.
Sign in Experience
Well, it's not that different from past releases, but is more elegant through its simplicity. Of course, there might be more to come.
Signing into the new Windows Live Messenger
When you are signed in, you are presented with a well emphasized Social page of Windows Live Messenger, which displays an array of activities happening within your circle of friends. The interface is dynamic and lively presents various forms of media coming in from various networks. You will even see pictures, videos and post from your friends. It's a very exciting layout that is more interactive from the beginning. I notice the interface for Windows Live Messenger wave 4 is more worded than previous versions. This is something I first saw with the release of Windows 7, it's also a familiar experience that users of Microsoft's forth coming mobile operating system Windows Phone 7 will also notice. Surprisingly, the interface feels a lot like using Windows Live Messenger for iPhone which.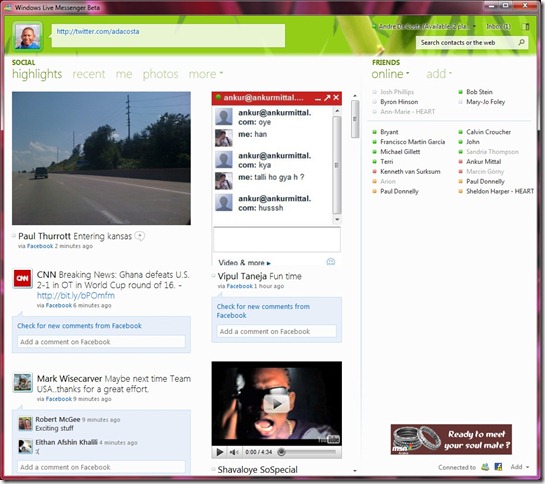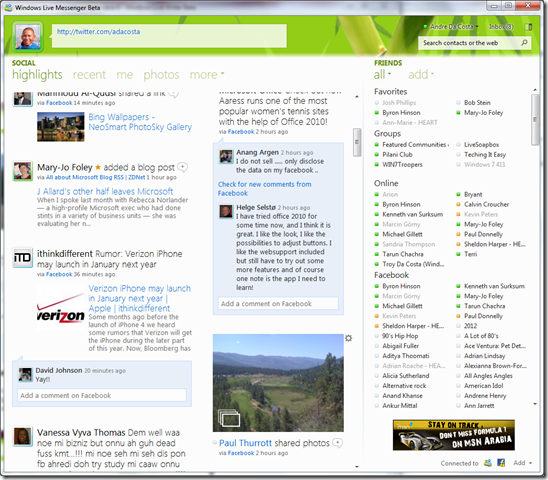 The interface is divided into two main sections, on the far right hand side, you will see the main Friends pane which list all your Messenger contacts. You will also notice in the lower right hand corner all the social networking services you are connected to in addition to an Add button for quickly adding other services.
See the latest photos from your friends!
You can keep a track of your social activities along with the latest blog entries from your friends too!
Highlights The most interesting happenings amongst your friends.
Recent – Displays all your most recent activities, these include social networking, blogs, photos you have posted and more.
Me – Displays all your social networking entries, along with Photos you have recently posted.
Photos Probably the best feature of social, I notice I have a lot of friends who love to take photos, I was so impressed with the exquisite photos I saw showing up in the Photos section of my Social from friends across Windows Live Skydrive and services such as Flickr.
More Displays links from the web shared by your friends along with their blog entries.

New Notification experience
Windows Live Messenger wave 4 introduced some long-awaited features, one of them is support tabbed chatting. It's great to finally see this feature because I am often chatting with multiple people and its hard to keep track of what's happening. The new tab window displays multiple contacts within tabs along with a status button to indicate whether they are away, offline or online. There are no significant changes to conversation view, but I notice that emoticons are more emotive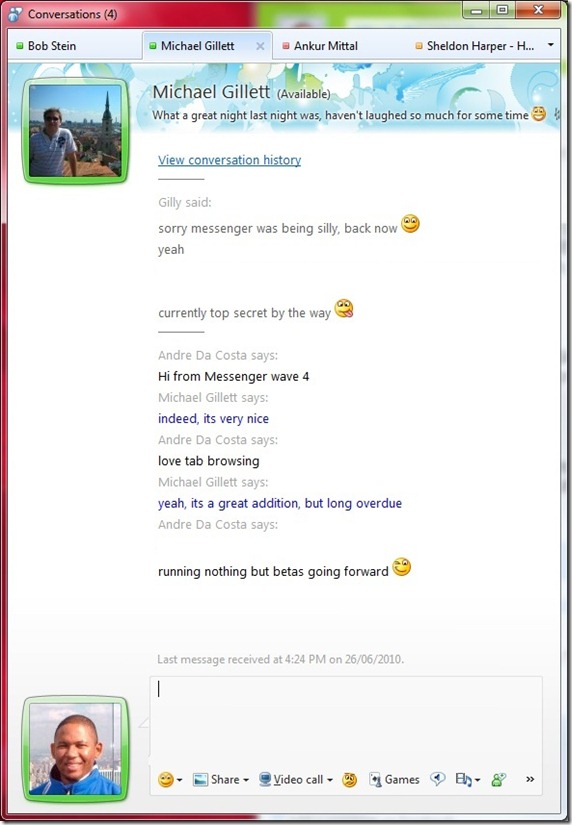 Windows Live Messenger works great on Windows 7, the screenshot below shows a cool synergy.

When you hover over the Messenger icon on the Taskbar, you will notice that there is an integrated status menu that you can quickly change on the fly. Very nice!
Messenger wave is customizable too, if you don't want to have the Social Page turned on, you simply click the single view button in the upper right hand corner of the window.
This is just an early impression of the new Messenger, and I like what I see in this release. It's obvious we are a more social networking type of users these days and the new Messenger allows you to capitalize on that by providing deeper ways of engaging with your family friends. Ironically Messenger wave 4 brings productivity to social networking (in a good way), the ability to easily see what's happening in your friends and family lives through photos and videos along with their interest along centralizing information shared through popular networks such as Facebook and Twitter really is a great experience that will definitely keep me a loyal user.
Advertisement