Microsoft has spent relatively half of a year discussing its upcoming Windows 10 operating system. In that time we've seen things that the company hopes will awe buyers. Those who joined the Windows Insiders Programs and downloaded the Windows 10 Technical Preview have experienced  running a half-baked operating system on their own hardware.
Read: What is Windows 10?
If you're excited about the features that'll be included in Windows 10, the only logical thing to do is to encourage you to not try out Windows 10 in its current form. However, that's not a good idea at this point.
Why You Shouldn't Download Windows 10 Right Now — Bugs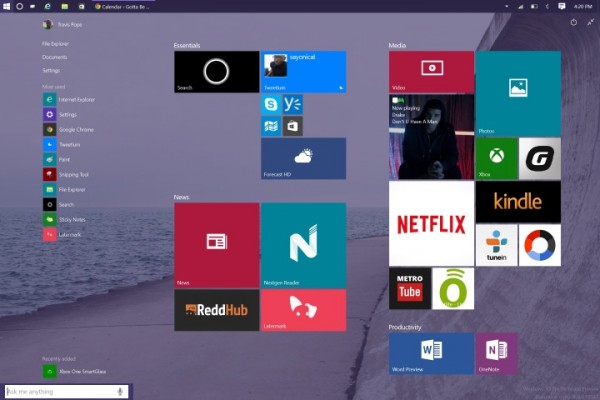 When Microsoft announced the Windows Insiders Program and the Windows 10 Technical Preview, it pledged to be as forthcoming with testers as it possibly could. It's delivered mostly, releasing new versions of Windows 10 publicly when it could and at least sharing why there were gaps in its release schedule.
In fact, the last time Microsoft confirmed that it didn't have a new version of Windows 10 for testers was just last month. Even when it did get around to release a new version of Windows 10 there were series issues. In Windows 10 10041 the lock screen sometimes stops working. Installing the operating system forced you to do enter the PowerShell and drop in lines of code to get some apps working. Microsoft Word breaks in some installations. Right now, the Start Screen is transparent and shows you all your open programs and apps. Download an app from the wrong Windows Store and you could end up breaking something mission critical.
To be clear, Microsoft and its online community have fixes for these issues already available online. Still, it underscores a reality I can't empress enough. Installing the Windows 10 Technical Preview on your machine right now isn't a very good idea if it's your only device.
Why You Shouldn't Download Windows 10 Right Now – Missing Apps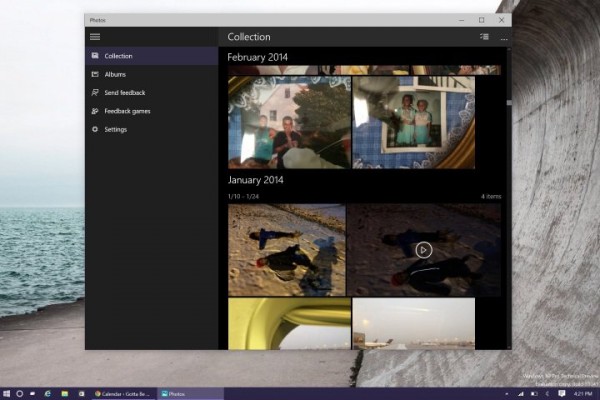 I won't lie to you. When you get past the somewhat incomplete interface and instability, Windows 10 is an absolutely amazing operating system. With Windows 8 and Windows 8.1 Microsoft tried to deliver a great experience for notebooks, tablets, desktops and 2-in-1s. It didn't fail necessarily, but what it landed on wasn't nearly as good as what's in this operating system. The Continuum interface that it announced last fall lets Windows Store apps run in the Desktop, but resize instantly for tablets. The new Start Screen puts everything you need in a place you can see it.
A big part of the Windows 10 experience will be the hugely different app platform. Where core Windows 8 apps – like the first version of Xbox Music – heavily leaned towards touch and horizontal scrolling, Windows 10 tries to find a middle ground. Photos and Maps have new designs that make them both touch and mouse friendly. None of the apps we've seen yet support the silly off-screen app bars that used to hide commands either. Unfortunately, the Windows 10 Technical Preview that we have right now doesn't include a lot of updated core apps. Besides Photos and Maps, every other core experience like Music, Video, OneDrive, Mail, Calendar and People still looks and behaves the same way it did in Windows 8.1.
It's entirely possible that we won't see refreshed versions of Windows Store apps until Windows 10 launches fully sometime later this summer. To get the best of Windows 10, we need those updated apps.
Why You Shouldn't Download Windows 10 Right Now – Frequent Updates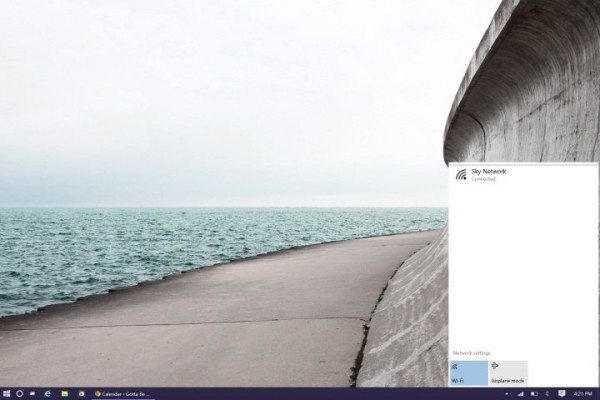 Lastly, you shouldn't download Windows 10 through the Windows Insider Program right now because there are always new versions coming. Microsoft wants people to test out new features and experience the latest version of what's coming next. It's also leaning heavily on testers to provide valuable feedback about what works and what doesn't work.
Because of the needed testing, there are two kinds of Windows 10 users currently. One group of people like to be on the bleeding edge and will get new versions of Windows 10 frequently going forward. Another group of Windows 10 users belong to the slow ring, and get updates around once a month. In either situation, you're looking at installing Windows more frequently than you're probably used to.
Look, I'm in no way saying that you shouldn't download Windows 10 at all. I have it on my personal computer. The changes it makes are essential to the future of the PC in general. I find it both easier to use and more acceptable than Windows 8 ever was, and I happened to like Windows 8 after the Windows 8.1 update.
Read: Windows 10 Price & Features Revealed
What I'm saying is wait. Hold off until Microsoft is ready to release a more complete vision of what it wants Windows 10 to be.
It turns out that might not be as long as we originally thought either. Microsoft says it expects to launch Windows 10 this summer, a bit earlier than the fall time frame we'd all been expecting.
Advertisement