Back in early July, Microsoft released the first beta for it's first major maintenance update for Windows 7 called Service Pack 1. To be honest, major is kind of a loaded word since there is not much to see on the client side of things. What you should expect is a collection of all updates that have been released for Windows 7 since the OS went to manufacturing July 22nd 2009.
I decided to try out the Release Candidate (RC) to see what's new, but there wasn't really anything new at all, I did notice that the installation took longer than the beta, approximately 2 hours. The offline installer was used for the installation, since my Internet connection is unreliable and I have a few machines to update, if I need to reinstall Windows 7 RTM for some unknown reason, I don't have to download every single update for the machine. I have managed to work around even such a situation by keeping recent in tip-top shape system images of my system to avoid doing such as thing. System Imaging is now included in all editions of Windows 7 and I find it very handy and convenient.
I loaded Service Pack 1 on a Acer laptop with the following specs:
AMD 2 GHZ Turion x2
4 GB of RAM
ATI Mobility Radeon 256 MBs of vRAM
160 GB hard disk
So what's changed?
Nothing of significance, the setup screen displays a 2011 Copyright instead of 2010 in the initial beta and as I noted early, it takes much longer to install, based on my experience on this particular system. The update was applied to a production Windows 7 Ultimate 64 bit RTM system last updated in June of 2010. One welcome change that has been introduced is the SP no longer requires that I remove Microsoft Security Essentials before proceeding with installation.
Windows 7 SP1 beta Copyright 2010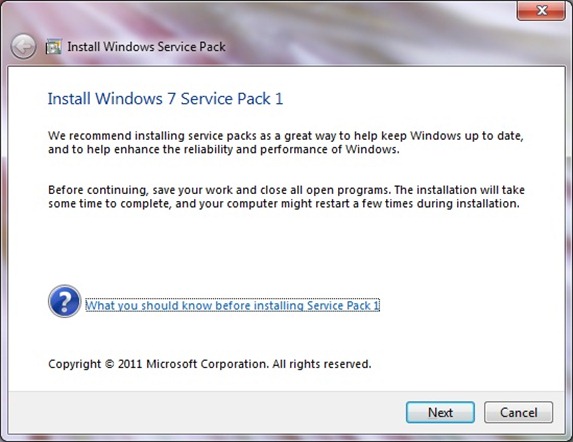 Windows 7 SP1 RC Copyright 2011
Installation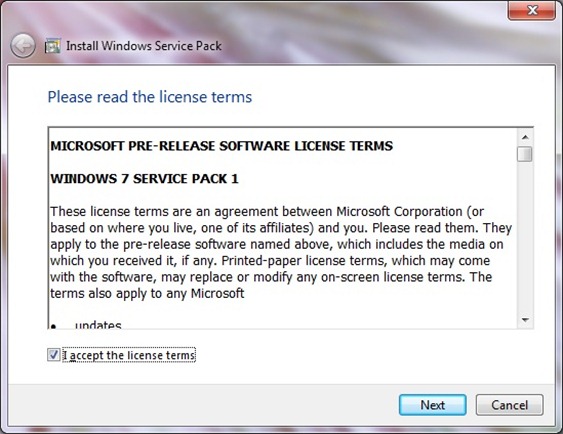 Preparing installation
After the installation is complete, your computer will go through a series of restarts and that's it! My applications and devices are functioning just fine so expect a smooth experience, although it's still pre-release software, so if you discover an issue, definitely send it in.
If you are using Windows Server 2008 R2 though, which is Microsoft's Network Operating system, you will see significant new features and functionality such as a Dynamic Memory Manager and Remote FX. Microsoft has not provided any information about when the final release will be available but rumor say it should be here in Q1 2011, but I would like to implore again, a lot of what you will see in SP1 is already available to you through Windows Update. Windows 7 RTM today is a great release, so if you have not upgraded to it, it's definitely the right time.
If you would like to try out Windows 7 Service Pack 1, you can download it here
Windows Team Blog: Windows 7 & Windows Server 2008 R2 SP1 Release Candidate
Advertisement