If you have recently upgraded to or want to upgrade to Microsoft's latest web browser, Windows Internet Explorer 9 and you are experiencing some technical difficulties with it, here are some tips to resolve some of the common problems you might experience.
1. Internet Explorer 9 Refuses to Install.
The first thing is to make sure you meet the minimum requirements, which is Windows Vista Service Pack 2 or later. Please remember, Internet Explorer 9 does not support Windows XP.
If you are attempting to install Internet Explorer 9 on supported operating systems and its still refusing to install, try disabling your Antivirus, it might be interfering with setup. Consult your Antivirus documentation for instructions about how to do this.
Make sure all open applications are closed and probably do a restart just before.
Make sure you are installing the right architecture. Internet Explorer 9 comes in 7 specific versions for different versions and architectures of Windows.
– Windows Internet Explorer 9 for Windows 7 32 bit
– Windows Internet Explorer 9 for Windows 7 64 bit
– Windows Internet Explorer 9 for Windows Server 2008 R2
– Windows Internet Explorer 9 for Windows Server 2008 64 bit
– Windows Internet Explorer 9 for Windows Server 2008 32 bit
– Windows Internet Explorer 9 for Windows Vista 64 bit
– Windows Internet Explorer 9 for Windows Vista 32 bit
You can find out which version and architecture of Windows you are running by clicking Start > right click Computer > click Properties. Take note of the Operating System Type:
I notice every version and edition and architecture of Windows I have installed IE 9 on, the browser needs to download pre-requisite components or it refuses to install. This means, you cannot do an off line install in some cases unless your Windows installation is fully updated or you are running Windows 7 with SP1 installed.
A work around for this is to download the necessary pre-requisite updates first for Internet Explorer 9 or run Windows Update and make sure Windows is full updated.
2. Internet Explorer 9 Takes too Long to Startup
You can try resolving this by disabling items that load when you open Internet Explorer.
If there are additional browser objects you believe might be affecting the browser performance, you can disable them by accessing the Manage Add-Ons menu at any time.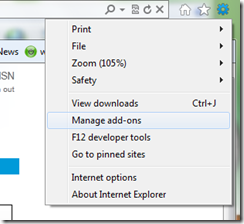 Click Tools > Manage add-ons.
3. Cannot view some of my favorite websites in Internet Explorer 9
Internet Explorer 9 is very new and there are many websites that support the browser, but there few unique ones that might still be optimizing their sites to support the browser. The best recommendation is to try viewing site in compatibility mode. Press Alt on your keyboard > click Tools > Compatibility View Settings > Check, Display all websites in Compatibility View
If the site still refuses to load, turn off ActiveX filtering or Tracking Protection from the Safety dropdown menu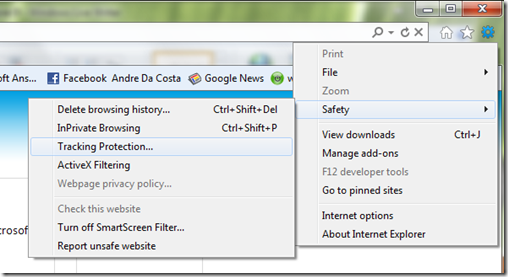 If you continue to experience problems viewing your favorite website in Internet Explorer 9, Compatibility Mode is a great feature that allows you to view sites designed for older versions of the web browser.

To do this, go to website, in the Address bar, a Compatibility view button will appear in the address bar which indicates that the site might have some problems being viewed in IE 9. Click it and it will refresh the page and display it properly.
4. Compatibility Mode Still Does Not Help When Trying to View Sites Properly.
Its possible the side has coded to support a much older version of Internet Explorer. Holding down the alt key, and pressing 5, 6, 7 or 8 will let you choose an older version of Internet Explorer to render the site in.
5. Cannot View Video and Access Certain Web Applications in Internet Explorer 9
If you are unable to view video from sites such as YouTube or any site that utilizes Flash, you need to update your Adobe Flash Player. Adobe recently updated Flash with optimizations just for Internet Explorer 9. You can download it

here.

If you are running a 64 bit version of Windows, make sure you are using the 32 bit version of Internet Explorer 9 since Flash is currently not commercially supported on Internet Explorer 9 64 bit. Click Start > All Programs > Click Internet Explorer (the one that is not listed as 64 bit).

If your desire is to use Internet Explorer 9 64 bit and you would like to view Flash content, Adobe has a preview release of Flash Player for 64 bit Windows, please learn more here. Please understand, this is software is still in development.

Many desktop and web applications are built on top of the JAVA Virtual Machine which is a platform for writing special programs that are cross platform aware. Meaning, a program written using the JAVA Virtual Machine can run on Windows, Mac OS X or Linux without alteration. Unlike certain applications, where you have to get the operating system specific version. Some uses for JAVA include, playing online games, running small applications such as a web page counter and uploading photos to Facebook. If you unable to access JAVA based applications in Internet Explorer 9, try updating your installation of JAVA. Please learn more from our Notebooks.com article about how to update JAVA

Here.
6. Internet Explorer 9 is Unstable From Time to Time
If Internet Explorer 9 becomes unresponsive or closes unexpectedly, then it is most certainly attributed to a installed extension (or what is known as a add on). My recommendation is to reset Internet Explorer 9 to its default factory settings and reinstall any extensions as needed.
To reset Internet Explorer 9 to its default factory settings, click Start, type: Internet Options
Hit Enter on your keyboard
Go to the Advanced (tab)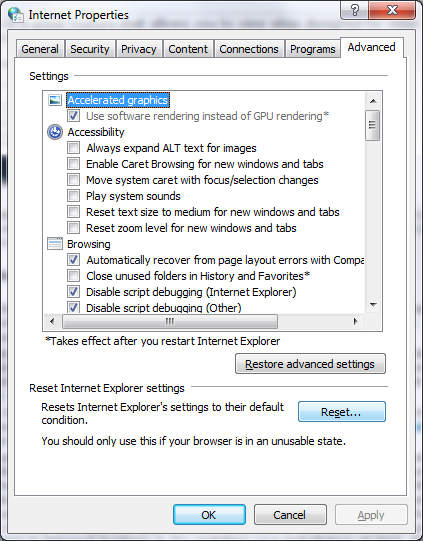 Under Reset Internet Explorer settings, click the Reset… button.
7. After Installing Internet Explorer 9 and Restarting My Computer, Windows 7 is Reporting it is Non-genuine.
There could be a number of reasons attributed this, it is possible that Windows could indeed be non-genuine and you do not realize. It is possible this is also an anomaly and restart of your computer will resolve the problem.
Another thing you can do is to check the validation of your computer. Run the Microsoft Genuine Diagnostics Tool to find out.  It will generate a report of your Windows 7 license. If any of the product keys match any of the known black listed keys blocked by Microsoft, this means you are victim of piracy.
Example: 00000-065-0000000-00000
The unique product id is represented by the 3 digits, in the above example, it is 065. If you product id matches any of the following unique id's (065, 066, 067, 068 for Ultimate, 220, 221 area for Pro and the 230, 231, 221, 232 area for Home Premium), then you are using a license that was not intended for use outside of its licensing agreement. Your best course of action to resolve this problem is the following:
You can confirm that your software is genuine now. It's quick and easy. Click the 'Validate Windows' button, if the validation check fails, then click on the 'Get Genuine' button to get a WGA Kit.
8. After I installed Internet Explorer 9, My Internet Connection is Not Functioning Properly
This should be a rare one, but if you do experience problems connecting to the Internet after installation, you can try a number of things.
– Click Start, type: CMD
– Right click CMD and click Run as administrator
– At the command prompt, type the following:
ipconfig/release then ipconfig/renew then ipconfig/flushdns
Type EXIT to close the command prompt, restart your system and try connecting again.
If the problem persist, I would suggest resetting your wired or wireless router if you are connected to one. First power it down, disconnect it, reset it using the reset button. Wait 10 mins. Reconnect it, start it up and try connecting again. Depending on the router model and brand, you should consult your owner's manual for details.
9. Internet Explorer 9 Seems to Not Be Installed Properly, How Can I Reinstall It?

Click Start, type: view installed updates
Hit Enter on your keyboard
Search for windows internet explorer
Select it, right click it and click uninstall
Restart the machine, then reinstall Internet Explorer 9
Advertisement